Happy Friday! I am excited to be today's stop on the TLC Book Tour for America the Beautiful, a gorgeous new book from National Geographic. Accompanying my review is a recipe for a tasty Fluffy Caramel Apple Dip inspired by the book and perfect for noshing on while you read it.
Publisher's Blurb:

This glorious book of photography, featuring more than 200 magnificent National Geographic images of all 50 states, is a gift-worthy celebration of America's unique natural and cultural treasures.
America the Beautiful showcases the stunning spaces closest to our nation's heart–from the woods in the Great Appalachian Valley that Davy Crockett once called home to the breathtaking sweep of California's Big Sur coast to the wilds of Alaska. It also celebrates the people who have made this country what it is, featuring a wide range of images including the Arikara Nation in the early 1900s and scientists preparing for travel to Mars on a Hawaiian island. Culled from more than 130 years of National Geographic's vaunted archives, this provocative collection depicts the splendor of this great nation as only National Geographic can, with a dramatic combination of modern and historical imagery–from the creation of architectural icons like the Golden Gate Bridge and Lady Liberty to the last of the country's wild places currently preserved in our national parks.
Organized by chapters focused on region (west coast and the Pacific, east coast, the south, and the Midwest) that are themselves inspired by verses of the original poem America the Beautiful, this book also features a moving introduction offering perspective on the country's unique journey. You'll also find behind-the-scenes commentary from the world-renowned photographers who captured this unforgettable imagery, and observations from the conservationists, activists, and historians who help keep America beautiful today. Profound and inspiring, this is a book for everyone who has ever marveled at the beauty of the United States.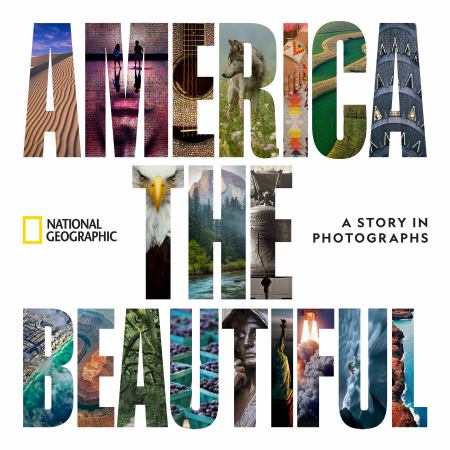 Hardcover : 400 pages
Publisher : National Geographic (October 20, 2020)
My Review
National Geographic knows how to make a gorgeous coffee table book and America the Beautiful is no exception. It is visually stunning, with gorgeous photos and insights about each of the states by a famous person (Barack Obama, John Irving, Jimmy Buffet, Maya Rudolph and Robin Roberts to name a few) who loves it. I found myself paging through it and then looking through it again and again, each time caught up in the beauty of the country we live in. At a time when America doesn't always feel beautiful, it's a way to remember places visited and loved and perfect for the armchair traveler during a time when travel isn't possible or desirable for many of us. I have included a few photos below so you can see how impressive this book is. America the Beautiful would make a great gift but I am going to hang on to my copy--it's too pretty not to keep it around.
"The Mayflower II, a reproduction of the 17th-century Mayflower ship, enters the New York Harbor after a solitary voyage across the Atlantic. Upon arrival, the captain and crew received a ticker tape parade in New York City."
Photograph by B. Anthony Stewart, 1957
"Under the light of a full moon, water cascades from rocky tidal pools at Northern Mariana Islands's Puntan Laggua (Parrotfish Point), in the Pacific Ocean."

Photograph by Mark D. Robertson, National Geographic Image Collection
"No place else could have provided me with the environment in which I could not only grow, but also get a sense of being loved. There is no doubt that the residue of Hawaii will always stay with me; it's a part of my core. What's best in me, and what's best in my message, is consistent with the tradition of Hawaii."
---By Barack Obama, 44th U.S. president
"A pod of spinner dolphins swims through the tropical waters off the coast of Oahu in Hawaii."


Photograph by Brian Skerry, National Geographic Image Collection
Food Inspiration:
There's not a ton of food inspiration in the book but there was some in pictures and in the writing and picture captions such as grapes from Oregon's wine country, pineapple from Hawaii, the delicious local food in Guam, diving for clams and sea urchins in Samoa, lobsters and/or lobster rolls mentioned in Maine, Massachusetts (along with Bloody Marys), and Rhode island (also from Rhode Island there were celery-salt dogs, pickles, frozen lemonade, clam strips, jelly stick donuts, coffee, milk, clams, corn and potatoes noted), pears from Connecticut, cabbages growing in Arkansas, and sunflower fields in North Dakota.
For my bookish dish, it was a photo of a young girl eating a caramel apple in New Hampshire that I took inspiration from. Halloween is tomorrow, people are vibing on Fall, and my favorite fall flavor is apple and caramel apple. Since I didn't want to fuss, caramel apples seems like way too much hassle and then I was going to dip apple slices which also seemed like a pain. So then I thought "what about a caramel apple dip?" and found one on Taste of Home that sounded good.
Fluffy Caramel Apple Dip
(Makes about 2 cups)
1 (8 oz) package cream cheese, softened
1/2 cup packed brown sugar (I reduced to 1/4 cup)
1/4 cup caramel ice cream topping
Beat the cream cheese, brown sugar, caramel topping and vanilla together in a small bowl until smooth. Fold in marshmallow creme. Cut apple into slices.
In a small bowl combine the lemon juice and water and toss apples in the mixture and drain.
Serve apple (and/or pear) slices with the dip and add any other toppings you like for extra fun.

Notes/Results: I thought that this dip might be too sweet to be enjoyable so I cut the brown sugar down by half and crossed my fingers. It turned out really delicious and fairly addicting, especially with the crisp, slightly tart apple slices. I tried two new-to-me apples, a Sugar Bee (a HoneyCrisp variation) and a Green Dragon (a small sweet-tart green apple) and liked both of them. For serving the apple slices, I thought it would be fun to enjoy it with a few topping dippers--I used what I had on hand, mini vegan chocolate chips, sliced almonds, and Heath toffee bits. Sure it's a lot of sugar but it's a fun and tasty occasional indulgence. I actually liked it even before the marshmallow fluff was stirred in, so you could leave that out and still have a creamy dip.
Since dips don't feel quite COVID-friendly for a small group and especially for kids, I thought a fun way to serve it would be in a watercolor paint palette which you can buy for a $1-$2 each at a craft store. I put the dip into the water cup in the center and put the topping dippers in each paint compartment-which holds about a teaspoon of each. Each person could use their own dip and dippers and you can vary your dippers by what you like. (I think other nuts, sunflower seeds, sprinkles, and even flavored oatmeal or puffed cereal would be fun.) I will be enjoying this dip with a Halloween movie tomorrow and I would happily make it again.
I'm also sharing this post with the Weekend Cooking event being hosted by Marg at The Adventures of An Intrepid Reader. It's a weekly event that is open to anyone who has any kind of food-related post to share. Here's a link to the current post.
Note: A review copy of "America the Beautiful" was provided to me by the author and the publisher via TLC Book Tours. I was not compensated for my review and as always, my thoughts and opinions are my own.

You can see the other stops for this TLC Book Tour and what other bloggers thought of the book here.