Happy Thursday! I am so looking forward to the weekend, but first I have the pleasure of being today's stop on the TLC Book Tour for Daughter of Black Lake by Cathy Marie Buchanan. Accompanying my review of this gorgeous fantasy novel is an excerpt from the book and a recipe for Warm Barley Salad with Herb Pesto, a dish inspired by my reading.
Publisher's Blurb:
In a world of pagan traditions and deeply rooted love, a girl in jeopardy must save her family and community. A transporting historical novel by New York Times-bestselling author Cathy Marie Buchanan.
It's the season of Fallow, in the era of iron. In a northern misty bog surrounded by woodlands and wheat fields, a settlement lies far beyond the reach of the Romans invading hundreds of miles to the southeast. Here, life is simple–or so it seems to the tightly knit community. Sow. Reap. Honor Mother Earth, who will provide at harvest time. A girl named Devout comes of age, sweetly flirting with the young man she's tilled alongside all her life, and envisions a future of love and abundance. Seventeen years later, though, the settlement is a changed place. Famine has brought struggle, and outsiders, with their foreign ways and military might, have arrived at the doorstep. For Devout's young daughter, life is more troubled than her mother ever anticipated. But this girl has an extraordinary gift. As worlds collide and peril threatens, it will be up to her to save her family and community.
Set in a time long forgotten, Daughter of Black Lake brings the ancient world to life and introduces us to an unforgettable family facing an unimaginable trial.
Hardcover: 320 pages
Publisher: Riverhead Books (October 6, 2020)
My Review:
I don't read a lot of fantasy as a rule but something about Daughter of Black Lake pretty much enthralled me from the start--actually from receiving my copy with its gorgeous cover. The author immediately had me caught up in the world of bog dwellers in first-century Britannia. I could picture life at Black Lake and The story is told by Hobble, a young field hand, and her mother, Devout in a time and place where people often got their names from their features or their talents, qualities or work. Devout was given her name for her devotion to Mother Earth and Hobble has a limp. Her father is Smith, a blacksmith. They live a hard scrabble life in a remote settlement, very much tied to the earth with Pagan rituals and belief in magic. Roman soldiers conquered Britain seventeen years prior, and their relationship with the Druids and village communities is an uneasy one. Hobble is a Seer and her gift is what keeps her safe as ancient rituals favor the sacrificing of the runts or weak ones--both animals and people, to appease their deities. Hobble is thirteen and narrates the present day chapters of the novel while Devout tells of her girlhood fourteen years prior.
I ended up enjoying both characters although it took me longer to warm up to Devout because I wasn't pleased with how she kept her distance from her husband, her second mate, after her first love is killed by the Romans. I felt like some of her choices were selfish and self-serving although the love and care she has for Hobble made up for that. The drama comes both from the Roman soldiers Hobble sees in a vision, and a ruthless Druid who arrives at Black Lake determined to incite the settlement into a revolution against the Romans. There is drama and magic and secrets and although the detailed world building slowed down the story in the beginning, it picked up pace and had me not wanting to put the book down.
I don't think you need to be a fantasy fan to love this book--an appreciation for history and ancient lore is helpful, but at it's heart, Daughter of Black Lake is a story about a mother and a daughter, and a girl coming of age in a often dark and brutal time. It is evocative and atmospheric, and a great October read with Samhain and Halloween around the corner. It's a great curl up on a rainy day and lose yourself kind of book. (Check out the book excerpt below for a glimpse of the story.)

-----

Author Notes: Cathy Marie Buchanan's previous novels, The Painted Girls and The Day the Falls Stood Still, were both New York Times bestsellers, with The Painted Girls named a best book of the year by NPR, Good Housekeeping, and Goodreads. Buchanan's work has been translated into nine languages. She lives in Toronto.
Find out more about Cathy at her website, and connect with her on Facebook and Instagram.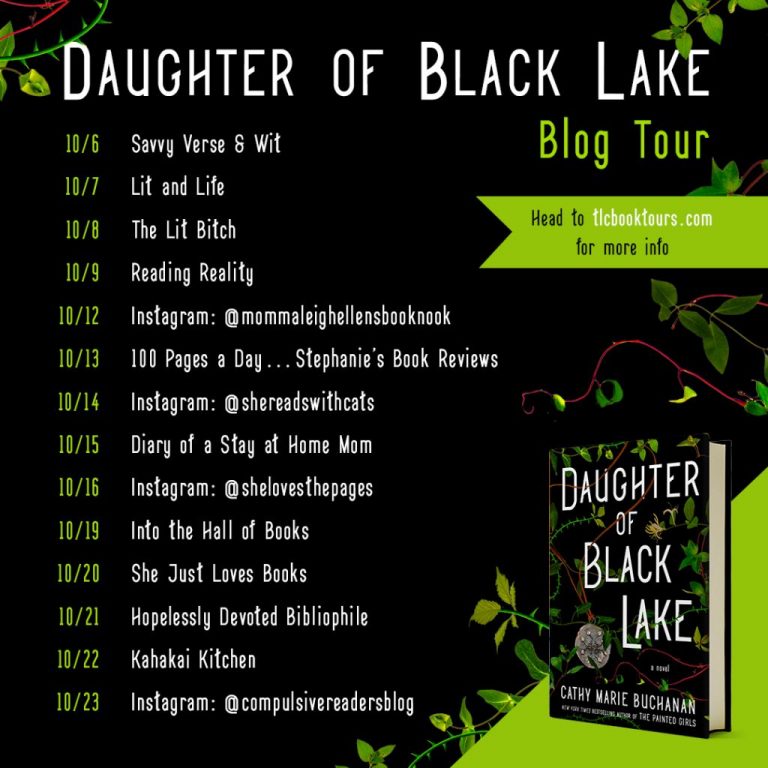 This book tour features progressive excerpts from the book. I have the last excerpt, #10 and you can find excerpt #9 at Hopelessly Devoted Bibliophile. Here is the complete list of excerpts and bloggers.
Book Excerpt: