It's only the start of October, it's warm and humid as all get out this week and yet, I am channeling the holidays by being today's stop on the TLC Book Tour for Christmas Ever After by Karen Schaler. It's a Hallmark movie in book form, and while it is set at a snowy Christmas-themed lodge in Colorado where a hot beverage would be most welcome, I am pairing my review with a more Hawaii weather-friendly Iced Cinnamon-Mocha Cocoa inspired by the book.

Publisher's Blurb:
From Karen Schaler, the writer of the Netflix phenomenon A Christmas Prince and Hallmark's Christmas Camp comes this new heartwarming holiday romance. Mamma Mia meets The Bachelorette in Christmas Ever After…
While promoting her next novel, a Christmas love story, author Riley Reynolds is caught off guard when she's asked during a live national television interview how she can write about romance when she still hasn't found "the one" herself. Scrambling for an answer, she quickly answers that she has had great love in her past and that love inspired her novels. Little does she know that this one offhanded remark will turn her world upside down. Three of her ex-boyfriends see the interview, and each, believing she's talking about him, shows up for her Christmas Camp book event at the Christmas Lake Lodge, determined to rewrite his happily-ever-after with her! Over the festive weekend, Riley's old boyfriends compete to win her heart, pulling out all the stops while planning the most romantic Christmas dates on the planet. Despite herself, Riley starts falling for each guy- again-but for different reasons. As Riley revisits each relationship and discovers more about herself, she embraces the magic of Christmas and finally finds true love and her own Christmas ever after…
Bonus Content: Christmas Ever After includes delicious original Christmas recipes and fun holiday crafts and activities.

Paperback: 396 pages
Publisher: Hawktale Publishing (September 29, 2020)

My Review:
On one hand I am probably not the target for this book as I am not a big romance reader or Hallmark Christmas movie fan, and I tend to be slightly Grinch-ish about the holidays in that like them in small doses andI don't want holiday music, decorations or festivity until WAY after Thanksgiving. Why jump on this tour then? Honestly, the state of the world has me wanting more simple and happy-ending books right now, my best friend is a Hallmark Channel Super-Fan, and I was promised food and recipes!
Happily Ever After really is like a Hallmark Christmas Movie, not surprising given the author has written several of them for Hallmark, Netflix and Lifetime. So those who love them are pretty well guaranteed to love this book. I liked it. There was clean romance, likable secondary characters, a very appealing hero, an adorable dog, and even some humor. While I didn't immediately like the main character (I found her a tad whiny) she grew on me as the book went along. Our weather this week made the whole winter lodge and holiday-decorated Colorado town with snowstorms setting very appealing--I SO wanted to make snow angels!
Was it predictable? Yes, but charmingly so. It's why my friend Barb loves these movies--you know going into it that a happy ending is well in sight. I'm going to send it to her and insist she make me the Christmas Lake Blueberry Cinnamon Rolls from the recipes and activities in the back of the book as she's a baker too. (Sometimes our best friends are our antithesis!) There's also a recipe for Christmas Lake Gingerbread XOXO Cookies, two recipes for bird-friendly ornaments and a list of ecofriendly Christmas tips. If you do have the Christmas spirit or need to get some and/or are looking for a lighter read, this is a great curl-up-under-a-blanket-with-a-cup-of-cocoa kind of book.
-----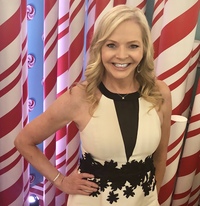 Author Notes: Karen Schaler is a three-time Emmy Award–winning storyteller, screenwriter, author, journalist, and national TV host. Karen has written original Christmas movies for Netflix, Hallmark, and Lifetime, including the Netflix sensation A Christmas Prince, Hallmark's Christmas Camp, and four books, Christmas Ever After, Finding Christmas, Christmas Camp, and Christmas Camp Wedding, earning her the nickname "Christmas Karen" in the press. Karen has also created a real-life Christmas Camp experience for grown-ups, held around the world, where she carefully curates and hosts magical holiday activities from her movies and books and the show Christmas Karen: Behind the Story. For Karen's novel Finding Christmas she also wrote the movie. Traveling to more than sixty-five countries, Karen is the creator and host of Travel Therapy TV. All of Karen's stories are uplifting and filled with heart and hope.
Find out more about Karen at her website, and connect with her on Facebook, Twitter, Instagram, and YouTube.
-----

Food Inspiration:
I am not going to lie, I thought there would be more food in the book and I wanted it there. I am that weird food-loving reader who likes to read what people ate for breakfast--not just that they had it. Besides the aforementioned recipes, there was still some food inspiration in the book that included, spiked hot cocoa, baking cookies, tapas and wine, mulled wine, Parmesan truffle fries, churros with extra sugar, gingerbread xoxo cookies, coffee and sugar cookies, candy canes, champagne, assorted movie candy treats, granola bars, homemade croissants and fresh fruit, chocolate-covered strawberries, fresh oysters and mussels, steak, lobster and crème brûlée.
For my book-inspired dish, I decided to go with a combination of all of the hot cocoas consumed in the book, along with all the coffee laced with a lot of cinnamon that the main character Riley drank throughout the story. Since it's so hot and humid here this week, I wanted an icy drink, but you could easily heat up the milk and add the other ingredients (leaving out the ice of course) for a cold-weather treat.
I used instant coffee (Starbucks Via Italian Roast) to make my iced coffee--simple and no fuss as it dissolves pretty well in cold liquids (running the ingredients through the blender helps mix it and the cinnamon nicely), but you could use any instant coffee or espresso or cold brew coffee.
Iced Cinnamon-Mocha Cocoa
By Deb, Kahakai Kitchen

(Makes 1-2 Servings)
1 packet Zia Instant coffee or enough cold-brewed coffee or instant coffee to make up about 1 1/2 cups strong coffee
1 tsp cinnamon or to taste + more for garnish
3 Tbsp chocolate syrup of choice
1 1/2 cup milk of choice (I used almond milk)

whipped cream to garnish

Put the instant coffee cinnamon, chocolate syrup, almond milk, and ice to a blender jar. Blend until smooth. Pour into glasses or mugs and garnish with whipped cream and a light dusting of cinnamon.
Notes/Results: Coffee, chocolate and cinnamon might seem like one good thing too many to combine into one drink but it works really well together, Riley in the book dumped tons of cinnamon into her coffee, but I kept it to a normal level. Certainly you can adjust it for your tastes. This hit the spot on a hot afternoon and I would happily make it again!

I'm sharing this post with the Weekend Cooking event being hosted by Marg at The Adventures of An Intrepid Reader. It's a weekly event that is open to anyone who has any kind of food-related post to share. Here's a link to this week's post.
Note: A review copy of "Christmas Ever After" was provided to me by the author and the publisher via TLC Book Tours. I was not compensated for my review and as always, my thoughts and opinions are my own.

You can see the other stops for this TLC Book Tour and what other bloggers thought of the book here.

Happy Weekend!