Happy Aloha Friday! I am happy to be today's TLC Book Tours stop for The Widows of Champagne, a new historical fiction novel by Renee Ryan. Accompanying my review is an excerpt from the book and a Jacques Pepin recipe for Cooked Grapes with Cream.
Publisher's Blurb:
For readers of Lilac Girls and The Lost Girls of Paris comes a captivating novel of resilience, as three generations of women battle to save their family's vineyard during WWII.
Champagne, 1939
Gabrielle Leblanc Dupree is taking her family's future into her hands. While she should be preparing for a lavish party to celebrate two centuries of champagne making, she secretly hides Chateau Fouché-Leblanc's most precious vintages behind a fake wall in the cellar in preparation for the looming war. But when she joins the resistance, the coveted champagne isn't the most dangerous secret her cellar must conceal…
A former Parisian socialite, Gabrielle's mother, Hélène, lost her husband to another war. Now her home has been requisitioned by the Germans, who pillage vineyards to satisfy the Third Reich's thirst for the finest champagne. There's even more at stake than Hélène dares admit. She has kept her heritage a secret…and no one is safe in Nazi-occupied France.
Josephine, the family matriarch, watches as her beloved vineyard faces its most difficult harvest yet. As her daughter-in-law and granddaughters contend with the enemies and unexpected allies in their midst, Josephine's deep faith leads to her own path of resistance.
Across years and continents, the Leblanc women will draw on their courage and wits, determined against all odds to preserve their lives, their freedom and their legacy…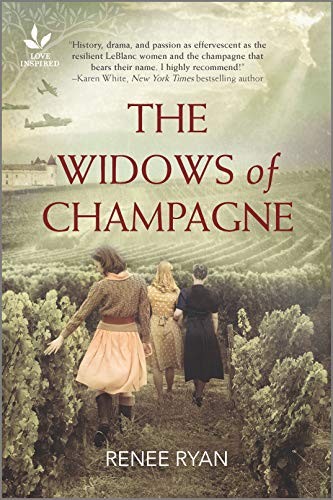 Publisher: Love Inspired (July 27, 2021)
-----

Excerpt #6
Her feet were cold.
Josephine looked down. She was standing in mud that wanted to claim the top of her boots. How long had she been frozen in this moment to have sunk so far into the earth? A few minutes? An hour? The sky with its deceptive cloud cover gave her few clues.
Go home.
Josephine hurried back to the house. It was a fifteen-minute walk, enough time to gather her thoughts into some semblance of order. Back in the kitchen, routine took over. She stripped off her coat, then climbed out of her muddy boots to pull on thick, dry socks. She made a pot of strong coffee, then moved to the scarred table, cupping the steaming mug between her palms.
Her thoughts grew fuzzy again. Luring her, always so en­ticing. Her mind wanted to drift back across time, back to happier days full of nothing but brightness. She would not allow such frailty of spirit. Still so much to do for the party tonight.
Tonight? Was the party tonight? She thought maybe yes.
How had she missed the passage of two whole days?
She stood on shaky legs, glancing around at her surround­ings. She'd come to the kitchen for a reason. Brushing the wet strands of hair off her face, she paced a bit until she re­membered. The list. The one she'd begun the night before. Remembering now, she snatched it out from beneath a stack of other papers on her writing desk. Placing her mug on the table, she sat and studied the empty page.
Empty page? Her list had somehow vanished in the jour­ney from desk to table.
No matter. She would start again.
Pencil poised over the paper, she forced herself to concen­trate on the party. The champagne would flow freely, that much Josephine promised herself. They would serve only the best. Definitely the 1928. She wrote it down. The '37, possibly the '26. She made another series of notations. Once started, the ideas poured quickly from brain to hand to list.
Preparing for the anniversary party made Josephine proud of the past and gave her hope for the future. Perhaps all was not lost. Château Fouché-LeBlanc had survived tragedy be­fore. Bad harvests had given way to better ones. Economic crises had forced them to move into international markets. Even untimely death had taught those left behind to fend for themselves.
There was much to celebrate.
A fragment of paper, torn from somewhere—she couldn't remember where—slipped from tabletop to floor. Josephine reached for it. Words blurred as she laid the ragged page gently back on the table. She ran her fingertips over the looping text. Her handwriting. That was her handwriting.
When had she made this list? Today? Yesterday?
Unearthly silence settled over her. Darkness beckoned, se­ductive and full of false promises. Shutting her eyes, she con­fronted the familiar battle with her legendary iron will. One day, she would lose this fight, but not today.
No, she vowed. Not today.
-----
My Review:
Historical fiction is one of my favorite genres and WWII and stories from different perspectives always interests me. I liked the look at the experiences of three generations of a French family--its elderly matriarch, Josephine, her daughter-in-law, Helene, and granddaughter Gabrielle. All of these women are widows and they operate the family's successful vineyards in Champagne, each tough and resilient in her own right. They are still feeling the effects of The Great War as WWII looms on the horizon and soon they are faced with their worst fear when a Nazi officer takes requisition of their chateau, moving in and controlling their lives. It's a calculated move on his part as he was once a German wine merchant who is acquainted with the success of the 200-year-old vineyard. Gabrielle took a preemptive measure by building a false wall behind which she hid much of the family's best vintages before the Germans invaded. Josephine is determined to fight as well and uses her memory loss to make her seem harmless while she gathers information in a journal to give to Gabrielle to pass on to the resistance, helped by Marta, the family's longtime servant. Helene has spent her time on her art and shopping and socializing in Paris with her teenage daughter and Gabrielle's spoiled sister, Paulette. Each woman must make difficult choices to protect their family, legacy, and secrets that the others do not always understand.
The story is told from their alternating points of view, which gives the reader a glimpse into their actions and motivations. For the most part it works, although it is hard to get too deep into each character with the jumps back and forth. The story is not a happy one, as most WWII stories tend not to be and although suspenseful, it's not always an easy book to read, but the story is compelling. I also didn't realize it was a faith-based, Christian historical novel and at times that emphasis was a bit much for me. While not a heathen savage, I am not particularly religious and the many mentions of God and The Lord became a distraction for me, which is why I tend to stay away from books with a push for religion. This could be all me--others may not be bothered by it or may not think it was excessive. And in the end, I am glad I read it and got a glimpse into the lives of these strong and brave women.
Note: The Widows of Champagne is a Walmart Exclusive Paperback, so only available in paperback at Walmart, or it can be purchased online from your favorite audio or ebook retailer.
-----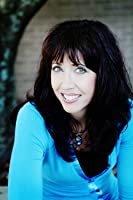 Author Notes: Renee Ryan grew up in a Florida beach town where she learned how to surf and skateboard very poorly. As a teenager, she gave up on both pursuits and began entertaining herself during countless hours of "laying-out" by reading all the classics.
After graduating college, with a degree in Economics and Religion, she explored various career opportunities at a Florida theme park and a modeling agency. She moved on to teach high school Economics, American Government and Latin while coaching award-winning cheerleading teams.
You can connect with Renee on her website, Facebook, Twitter, Instagram.

-----
Food Inspiration:

Although set in the midst of war, there is food mentioned throughout the book. Mentions included a pot of strong coffee, champagne, grape juice, grapes, a rosé recipe made from "blending pinot noir with white champagne instead of the usual elderberry juice, ham goat cheese and freshly baked croissants, champagne with a hint of pears or maybe apricots, French onion soup, spinach soufflé, rich chocolate mousse, caviar, poached salmon, oysters in nests of ice, duck in orange sauce, seabass, cherries jubilee, watery soup and moldy bread.
For my bookish dish, I thought abut a soup, the spinach soufflé's or chocolate mousse but ultimately, I wanted to make something with grapes. I looked online for French grape recipes and found one from Jacques Pepin that sounded interesting, Cooked Grapes with Cream. It also looked quick and easy, which I always like.
(Serves 6)

1 1/2 lbs
seedless Red Flame grapes, stems removed (approx 4 cups)
1
tablespoon red-wine vinegar
1/2
cup water
2
tsp grated lemon rind
1 1/2 Tbsp
lemon juice
1 Tbsp
honey
1 Tbsp
shredded mint leaves
1 Tbsp
Cognac or other brandy (optional)
1/2
cup sour cream
Place grapes, vinegar and water in a stainless-steel saucepan and bring to a boil over high heat. Reduce heat to low, cover and cook gently for about 5 minutes. The grapes will lose their red color and begin to crack open.
Meanwhile, in a bowl combine the lemon rind, lemon juice, honey and mint leaves. When grapes are cooked, add them to lemon-honey mixture and stir well. When cool, add the Cognac. Serve in wine glasses, garnished with a spoonful of sour cream.
Notes/Results: This is a simple little recipe that works as a dessert or refreshing little palate cleanser. The vinegar, lemon juice and cognac or brandy (Should you choose to use it) give it a bit of tangy acidity and keep the grapes and honey from being too sweet, as does the sour cream on top. You could also use yogurt I think, skip the alcohol and eat this for breakfast. I like the combination of flavors and would happily make it again.
Linking up this Jacques Pepin recipe at I Heart Cooking Clubs for July Potluck.

I
'm also sharing this post with the
Weekend Cooking
event being hosted by Marg at
The Adventures of An Intrepid Reader
. It's a weekly
event that is open to anyone who has any kind of food-related post to share. Here's a link to last week's post.
Note: A review e-book copy of The Widows of Champagne was provided to me by the author and the publisher via TLC Book Tours. I was not compensated for this review and as always, my thoughts and opinions are my own.

You can see the stops for the rest of this TLC Book Tour and what other reviewers thought about the book here.