Happy Thursday! It's a crazy work week, I have half of a cold left and I'm in need of the serious comfort of a great book like The Oysterville Sewing Circle a new novel by Susan Wiggs. The best accompaniment to a comforting book is a classic comfort food like Tuna Casserole, inspired by my reading.
The #1 New York Times bestselling author brings us her most ambitious and provocative work yet—a searing and timely novel that explores the most volatile issue of our time—domestic violence.
At the break of dawn, Caroline Shelby rolls into Oysterville, Washington, a tiny hamlet at the edge of the raging Pacific.
She's come home.
Home to a place she thought she'd left forever, home of her heart and memories, but not her future. Ten years ago, Caroline launched a career in the glamorous fashion world of Manhattan. But her success in New York imploded on a wave of scandal and tragedy, forcing her to flee to the only safe place she knows.
And in the backseat of Caroline's car are two children who were orphaned in a single chilling moment—five-year-old Addie and six-year-old Flick. She's now their legal guardian—a role she's not sure she's ready for.
But the Oysterville she left behind has changed. Her siblings have their own complicated lives and her aging parents are hoping to pass on their thriving seafood restaurant to the next generation. And there's Will Jensen, a decorated Navy SEAL who's also returned home after being wounded overseas. Will and Caroline were forever friends as children, with the promise of something more . . . until he fell in love with Sierra, Caroline's best friend and the most beautiful girl in town. With her modeling jobs drying up, Sierra, too, is on the cusp of reinventing herself.
Caroline returns to her favorite place: the sewing shop owned by Mrs. Lindy Bloom, the woman who inspired her and taught her to sew. There she discovers that even in an idyllic beach town, there are women living with the deepest of secrets. Thus begins the Oysterville Sewing Circle—where women can join forces to support each other through the troubles they keep hidden.
Yet just as Caroline regains her creativity and fighting spirit, and the children begin to heal from their loss, an unexpected challenge tests her courage and her heart. This time, though, Caroline is not going to run away. She's going to stand and fight for everything—and everyone—she loves.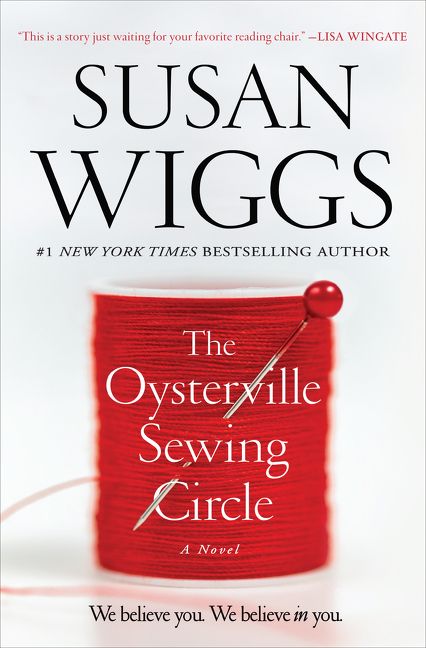 Hardcover: 384 pages
Publisher: William Morrow; First Edition edition (August 13, 2019)
My Review:
Although she is a prolific writer, The Oysterville Sewing Circle is only the second Wiggs book that I have read and blogged about (I reviewed her Family Tree a few years ago) and I am sorry it took me so long to pick up another of her books. She writes engaging stories about likable characters, often looking for a second chance or new purpose in their lives and both books have had some tasty sounding food worked into the story. I was drawn to her coastal Washington setting, having lived in the Pacific Northwest for many years and loved the town of Oysterville and the charming houses, shops and restaurants she described. Caroline is a great character, suffering the loss of her career while taking responsibility and custody of her friend's two young children when she overdoses. Caroline noticed signs that her friend was in an abusive relationship but wasn't sure and didn't act on them beyond taking her and her children in. Regretting that she couldn't help Angelique, Caroline and her friend and sisters start the titular group, not to sew but to help and support women going through abusive situations and survivors. Wiggs tackles the difficult subject of domestic abuse in this book but she does it in a way that focuses on the strength of these women and although not a completely light read, it is a hopeful tone. Caroline's family is there to support her and she also finds herself back in the orbit of her first crush, now married to her best friend. None of the characters are perfect but I enjoyed all of them, particularly the children, Flick and Addie. I liked the flow of the story--swinging from past to present and found myself caught up in Caroline's journey with the nearly 400 pages flying by. I found The Oysterville Sewing Circle enjoyable and it is a good transitional read, working both for an end-of-summer book bag or a curl-up-and-get lost-in-fall book to have waiting for cooler weather and a cup of tea.
-----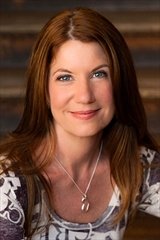 Author Notes: Susan Wiggs's life is all about family, friends…and fiction. She lives at the water's edge on an island in Puget Sound, and in good weather, she commutes to her writers' group in a 21-foot motorboat. She's been featured in the national media, including NPR, PRI, and USA Today, has given programs for the US Embassies in Buenos Aires and Montevideo, and is a popular speaker locally, nationally, internationally, and on the high seas.
From the very start, her writings have illuminated the everyday dramas of ordinary people facing extraordinary circumstances. Her books celebrate the power of love, the timeless bonds of family and the fascinating nuances of human nature. Today, she is an international best-selling, award-winning author, with millions of copies of her books in print in numerous countries and languages. According to Publishers Weekly, Wiggs writes with "refreshingly honest emotion," and the Salem Statesman Journal adds that she is "one of our best observers of stories of the heart [who] knows how to capture emotion on virtually every page of every book." Booklist characterizes her books as "real and true and unforgettable."
Her novels have appeared in the #1 spot on the New York Times Bestseller List, and have captured readers' hearts around the globe with translations into more than 20 languages and 30 countries. She is a three-time winner of the RITA Award,. Her recent novel, The Apple Orchard, is currently being made into a film, and The Lakeshore Chronicles has been optioned for adaptation into a series.
The author is a former teacher, a Harvard graduate, an avid hiker, an amateur photographer, a good skier and terrible golfer, yet her favorite form of exercise is curling up with a good book. She lives on an island in Puget Sound, where she divides her time between sleeping and waking.
Visit her website at www.SusanWiggs.com, and connect with Susan on Facebook, Twitter, and Instagram.
-----
Food Inspiration:
Caroline's family owns a popular seafood restaurant known for their fresh seafood and breakfasts among other things so there was plenty of food inspiration to be found including marshmallows for s'mores, Willlapa Bay oyster breading and fish fry, kettle corn, blueberry pancakes with real syrup, sustainable seafood, IPA beer and claret, cranberry scones with brown butter, buckwheat griddle cakes with bourbon-barrel--aged maple syrup, fried green tomato Benedict, hot chocolate, strawberry-rhubarb jam, lemonade and pecan sandies, black and whites and oatmeal cranberry cookies with white chocolate chips, yearling oysters, Otter Pops, iced raisin bars, lemon squares and espresso brownies, razor clams, egg salad sandwiched, burgers, deviled eggs, root beer, cranberry crunch and sea salt caramel fudge ice cream, fruity drinks, pupu platters and platters of grilled fish and vegetables.
Although the baked goods and that fried green tomato Benedict were very tempting, I wanted something simple and quick. Caroline described the tuna casserole at the restaurant

as tuna casserole with her uncle's fresh catch and little English peas and I was sold. I made a tuna casserole not too long ago that I didn't blog and was craving it again. I didn't want to go to the grocery store so I put one together from my fridge and pantry using jarred Alfredo sauce in place of the Campbell's cream soup of my childhood.
Tuna Casserole
By Deb, Kahakai Kitchen
(Serves 4)
8 oz dried pasta of choice (I used farfalle)
salt
1 (15 oz)

jar Alfredo pasta sauce (I used Bertolli Mushroom Alfredo)
1/2 cup Greek yogurt or sour cream
1 (7oz) can of oil packed tuna, drained and chunked into large pieces
2 Tbsp capers, drained
1 1/2 cup frozen peas
2 tsp Trader Joe's Umami Seasoning Powder (optional)
1 tsp roasted garlic powder
1/2 tsp celery seed
black pepper to taste
1/4 cup dry breadcrumbs (I used herb-seasoned panko breadcrumbs)
1 1/2 Tbsp melted butter
Preheat oven to 400 degrees F. Cook pasta in salted water according to package instructions.
Mix sauce, yogurt/sour cream, tuna capers, frozen peas and all seasoning in a large bowl. Drain pasta and stir together until mixed. Pour the mixture into a small casserole dish. Bake the tuna mixture or about 20 minutes or until it's hot and bubbling.
Stir breadcrumbs and butter in a small bowl until well mixed. Sprinkle evenly on top of the tuna mixture and bake another 5-6 minutes until golden brown.
Notes/Results: This tuna casserole made me happy as it has lots of great flavor and really hit the spot. The jarred mushroom Alfredo is the perfect substitute and with some added Greek yogurt, made the casserole rich and creamy, In addition to the peas in the casserole in the book, I added capers, canned Italian tuna in oil, and some extra spices to my casserole and was very pleased with the results and wished I made a bigger recipe. ;-) I will happily make it again.
I'm sharing this post with the Weekend Cooking event at Beth Fish Reads, a

weekly

event that is open to anyone who has any kind of food-related post to share. For more information, see the

welcome post

.
Note: A review copy of "The Oysterville Sewing Circle" was provided to me by the author and the publisher, via TLC Book Tours. I was not compensated for my review and as always, my thoughts and opinions are my own.
You can see the other stops for this TLC Book Tour and what other bloggers thought of the book here.