Happy Friday! I can't believe that we are midway through October already, the time is just flying by. Today I am happy to be a stop on the TLC Book Tour for The Outlook for Earthlings, a novel by Joan Frank. Accompanying my review is a recipe for Shredded Tofu Egg-less Salad.
Publisher's Blurb:
The Outlook For Earthlings traces a difficult friendship across a lifetime. Melanie Taper is rule-bound, timid, self-erasing. Yet in unguarded moments she demonstrates such deadly insight into human foibles as to suggest a strength that has, for dark reasons, deliberately hidden itself lifelong. Scarlet Rand is rash, willful, abrasive—vexed by "demure" traits and "small fussing motions." Shocked by Mel's passivity and near-archaic saintliness, Scarlet disbelieves it. Their friendship suggests to each a final frontier, a saving sanctuary. Yet at its core each woman takes a secret, moral offense at the other's inmost nature—and her choices. Against the deadline of the illness which is slowly destroying one of them, a reckoning must occur.
The Outlook for Earthlings considers the limits of friendship—and of witnessing. It asks how we may finally measure a life—and who should do the measuring.

Publisher:
Regal House Publishing (October 2, 2020)
My Review:
The most surprising thing about The Outlook for Earthlings is the amount of story that the author packs into about 230 pages. She covers decades in the friendship between two very different women, and their lives and their choices. Children of the sixties, Mel and Scarlet meet on the school bus and remain friends throughout the years even as their paths diverge and each goes their own way. Mel takes the more traditional route of marriage and a family while Scarlet is a journalist who travels the world. After a couple decades apart, they reunite, but that reunion is not without a lot of judgment about the decisions the other has made.
Women's friendship is an interesting thing--who we choose as friends, who we choose to stay friends with, and how that friendship ebbs and flows over the years, changing and evolving. Frank captures the story of these two women in beautiful, slightly melancholy prose. Although I didn't really connect and identify with either Mel or Scarlet, I enjoyed reading about their lives and friendship. I could easily relate to how it feels to reconnect with a childhood friend who has a completely different view on life than I do, but whom I love--even while I can't help but wonder at (and yes, sometimes judge) their choices. This one gave me plenty to think about.
-----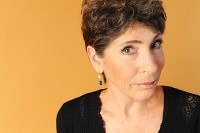 A
uthor Notes: Joan Frank is the author of ten books: eight of literary fiction and two essay collections. Her recent books are WHERE YOU'RE ALL GOING: FOUR NOVELLAS and TRY TO GET LOST: ESSAYS ON TRAVEL AND PLACE. A MacDowell Fellow and recipient of many honors and awards, Joan also reviews literary fiction and nonfiction for the Washington Post.
Find out more about Joan at her website.
-----

Food Inspiration:
Since it is such a short book, I wondered if there would be much food in it and there actually was with mentions including rigatoni, cereal, fish on Fridays, persimmons, plums, chestnuts, popped wheat with skimmed milk, coffee, oranges, Chinese food, ice cream, eggs, ginger, fried onions, chicken, a really bad sounding meatloaf dinner, toast with butter, oatmeal, tea, tequila and orange juice, muffins, pound cake, crackers, beef stew, Calvados, chocolate biscuits, crepes, pizza slices with an egg cooked onto them, burgers, pomegranate juice, quiche. The catch up meal for Scarlet and Mel from which I took my inspiration was:
"Upon it, glasses of iced black currant tea, homemade carrot soup--these from Mel. The wheat bagels, organic wine, fake egg salad made of tofu, organic pears, red and green grapes, brick of Gruyere, rye crackers, tub of chive and garlic hummus, diet tonic water, Kalamata olives, small package of baby carrots, organic Fuji apples, fresh-squeezed orange juice, whole grain chocolate chip cookies, raw cashews. salted pistachios, low-fat popcorn, menthol cough drops (in case throats got sore)--these were from Scarlet. In the tiny fridge, a box of organic spinach and a bottle of diet root beer."
For my bookish dish I decided to go with the "fake egg salad made of tofu." I like egg salad with eggs and sometimes, I like a vegan or egg-less egg salad. I used to buy some pre-made at Whole Foods but I haven't seen it there in a while. I'm a little picky that I don't like it too gloppy or big crumbles of tofu. I had seen Heidi Swanson's Quick Shredded Tofu Stir-Fry and had been meaning to try it. I wondered if pressing and grating the tofu would make it lighter in the egg salad. I found a couple of recipes online but I ended up making up my own. With a vegan mayo, you can keep it vegan of course or just use your favorite mayo or yogurt if you want to keep to a no-egg theme.
(Makes About 2-ish Cups of Salad)
1 block extra-firm tofu, water pressed out and patted dry
1/3 cup vegan mayo or to taste
1 medium celery stalk, finely diced
1 Tbsp dried or fresh shallots, chopped
2 Tbsp chives, finely chopped
1 tsp coarse ground mustard or mustard of choice
sea salt and black pepper to taste
Mix the mayo, celery, shallots chives, mustard, celery salt and salt and pepper in a medium bowl. Using a box grater, grate the pressed tofu into the mixture. Some tofu may crumble and that's OK. (I found it easier and less messy to cut the tofu into quarters and grate each quarter section). Gently stir until combined. Taste and season with additional salt and pepper as desired.
Serve on bread, lettuce, or crackers. I used some locally made sesame lavosh crackers. Enjoy!
Notes/Results: I really liked this tofu egg-less salad. The texture was light and the flavor really good. I normally like my egg salad simple--mayo, tiny dab of mustard, salt & pepper but since there is no yolk, the extra flavor from the chives, shallots and celery salt is welcome with the tofu. It was great on the crackers and I think the leftovers will be excellent in a sandwich. I will happily make it again and I plan to experiment more with grated tofu.

Linking up with Novel Meals # 40 hosted by my friend Simona of briciole, an event celebrating food inspired by the written word. The deadline for this round is Sunday, October 18th.
I'm linking up to Souper Sundays here at Kahakai Kitchen where we highlight soups, salads and sandwiches from bloggers who join in. Here's the link to this week's link up post.
Note: A review copy of "The Outlook for Earthlings" was provided to me by the author and the publisher via TLC Book Tours. I was not compensated for my review and as always, my thoughts and opinions are my own.

You can see the other stops for this TLC Book Tour and what other bloggers thought of the book here.