Happy Aloha Friday! Once again, my week has been crazy and I am more than ready for the weekend. To kick it off, I am happy to be today's stop on the TLC Book Tour for The Lucky One, a mystery/suspense novel by Lori Rader-Day. Accompanying my review is a recipe for homemade Mac 'n Cheese with Greek Yogurt in the sauce, to make it just slightly healthier. ;-)
Publisher's Blurb:
Most people who go missing are never found. But Alice was the lucky one…
As a child, Alice was stolen from her backyard in a tiny Indiana community, but against the odds, her policeman father tracked her down within twenty-four hours and rescued her from harm. In the aftermath of the crime, her family decided to move to Chicago and close the door on that horrible day.
Yet Alice hasn't forgotten. She devotes her spare time volunteering for a website called The Doe Pages scrolling through pages upon pages of unidentified people, searching for clues that could help reunite families with their missing loved ones. When a face appears on Alice's screen that she recognizes, she's stunned to realize it's the same man who kidnapped her decades ago. The post is deleted as quickly as it appeared, leaving Alice with more questions than answers.
Embarking on a search for the truth, she enlists the help of friends from The Doe Pages to connect the dots and find her kidnapper before he hurts someone else. Then Alice crosses paths with Merrily Cruz, another woman who's been hunting for answers of her own. Together, they begin to unravel a dark, painful web of lies that will change what they thought they knew—and could cost them everything.
Twisting and compulsively readable,

The Lucky One

explores the lies we tell ourselves to feel safe.
Publisher:

William Morrow Paperbacks (February 18, 2020)
My Review:
The Lucky One is my first book from Lori Rader-Day and I was pulled in by the premise and the fact that I am always fascinated by missing person cases and the non-law enforcement, civilians who try to solve them. The book starts with Alice who speeds much of her time on The doe Pages, a website devoted to the often cold cases of missing persons. A reason she wants to reunite people with their loved ones is that she was taken as a toddler but was tracked down and returned to her family--"the lucky one." On the website she sees the face of the man who kidnapped her, recently reported missing, and she and a couple of friends she has met through the network start searching for answers. Merrily is the young woman who reported her sorta stepfather missing on the site and soon Alice and Merrily's paths have crossed and they are looking for a man who impacted both of their lives. I don't want to go into any more details due to spoilers but I will say that many twists and turns kept me guessing throughout the book, and I guessed mostly wrong up until the very end--and I like when an author can make me doubt my crime-solving skills! ;-) It did take me about a third of the book or so to truly get into the story and the characters--at first I didn't like either Alice or Merrily, or any of the characters all that much, and I felt that it was taking too long to get to the action and suspense. What pulled me along were the twists and turns the story was taking--I really needed to know how it was all going to end up and I am glad I rode it out, because once the pace picked up, I was fully into it and didn't want to put it down. If you like a dark and twisty thriller, give this one a try. I will definitely be looking for more books from Rader-Day.
-----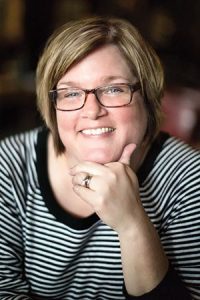 Author Notes:
Lori Rader-Day is the author of
Under a Dark Sky
,
The Day I Died
,
Little Pretty Things
, and
The Black Hour
. She is a three-time Mary Higgins Clark Award nominee, winning the award in 2016. Lori lives in Chicago.
-----
Food Inspiration:
There was not a lot of tempting food in the book but there were some mentions like soup, coffee, chocolate cake, Prosecco, little umbrella drinks, bacon, white wine, a Chicago hot dog, milkshakes, PBJ sandwiches with the crusts caught off that a construction worker brings for lunch, curry, cheeseburgers, corn, McDonald's fries and Coke, cereal, tea, pancakes with a bacon smile, beer, carrots in a garden, cake and lemonade.
For my bookish dish, Alice is thinking about the night she was going to spend reviewing details on the missing persons website she volunteers with and macaroni and cheese from a box.
I was not that inspired by the food in the book but I am always up for macaroni and cheese and I had seen a recipe that incorporated Greek yogurt in an email that I wanted to try. Although Alice's macaroni and cheese was from a box, a good easy stove top version is quick and easy easy enough for a weeknight dinner.
Greek Yogurt Mac 'n Cheese
Slightly Adapted from StoneyfieldYogurt.com
(Makes 8 Servings)
1 medium Spanish onion (diced)
4 Tbsp butter
2 Tbsp olive oil
1/2 cup flour
2 cups Stonyfield Organic milk
1 tsp Tabasco or similar
1 tsp dry mustard powder
1 tsp Worcestershire Sauce
1/4 cup chicken or vegetable stock (optional)
3/4 lb sharp cheddar cheese (shredded)
1/4 lb Jack cheese or other favorite (shredded)
2 cups Stonyfield Organic Greek plain Whole Milk yogurt
16 oz pasta macaroni (cooked per instructions and set aside)
1/2 cup seasoned breadcrumbs
1/2 cup
grated Parmesan cheese
kosher salt and white pepper (to taste)
In a sauce pan, melt butter slowly and add diced onions and saute lightly for about 2 minutes. Strain onions out (you can discard them now) and return butter to pan.
Add olive oil and flour and whisk until fully combined. Add milk 1 cup at a time and whisk to work out any lumps. Bring to simmer. Add spices and gently fold in cheeses then set aside to cool slightly. Once slightly cooled, add in yogurt one cup at a time.
Pour sauce over pasta and toss to coat. Garnish with toasted bread crumbs and Parmesan before serving.
Notes/Results:
A tasty and easy macaroni and cheese. It's maybe not quite as cheesy as some mac 'n cheeses I have made but it's plenty creamy and there is an appealing tang to it from the Greek yogurt. I confess that my store did not carry Stonyfield yogurt so I used another brand--although I did use the milk.
I definitely suggest buying the sharpest cheddar you have and topping it with the Parmesan and adding the ground mustard, Tabasco and Worcestershire sauce to pump up the flavor. I bought seasoned panko for the top--another good idea for the crunchy bits. I happily ate a bowl for dinner and it was even better for lunch the next day. I would happily make it again.
I'm sharing this post with the Weekend Cooking event at Beth Fish Reads, a weekly

event that is open to anyone who has any kind of food-related post to share. For more information, see the

welcome post

.
Note:
A review copy of "The Lucky One" was provided to me by the author and the publisher via TLC Book Tours. I was not compensated for this review and as always, my thoughts and opinions are my own.
You can see the stops for the rest of this TLC Book Tour and what other reviewers thought about the book here.