I adore Isa Chandra Moskowitz and own all of her cookbook so I was extremely excited to see that her newest book, I Can Cook Vegan, was part of the cookbooks I was receiving from Abrams Books as part of the Abrams Dinner Party. I was even more excited to find a recipe for Creamy Chickpea Bow Tie Soup in the book as it happened to be just what I was craving this weekend. A creamy soup with what Moskowitz calls "pot pie vibes."
But first, a little bit about the book. Isa starts it with saying that after a few decades of writing cookbooks, she realizes that, "People want streamlined recipes with easy-to-follow instructions and accessible ingredients." I think she is exactly right. Since I moved back into the regular working world after nearly a decade of working freelance as a consultant, I just don't have the time and energy to come cook most weeknights. I still love to cook and love good food and eat a mostly plant-based diet so I Can Cook Vegan is right up my alley. Although the book is set up with the chapters serving as building blocks to teach the basics of vegan cooking to make for more confident home cooks, there is plenty in here for the more experienced cook. Isa wrote it with a few categories of cooks in mind:
The just-born, brand-new cook

The tried-and-true seasoned cook who is tofu-curious

The busy weeknight pantry cook

The farmers' market junkie who looks at all the pretty colors

The reluctant parent to a vegan child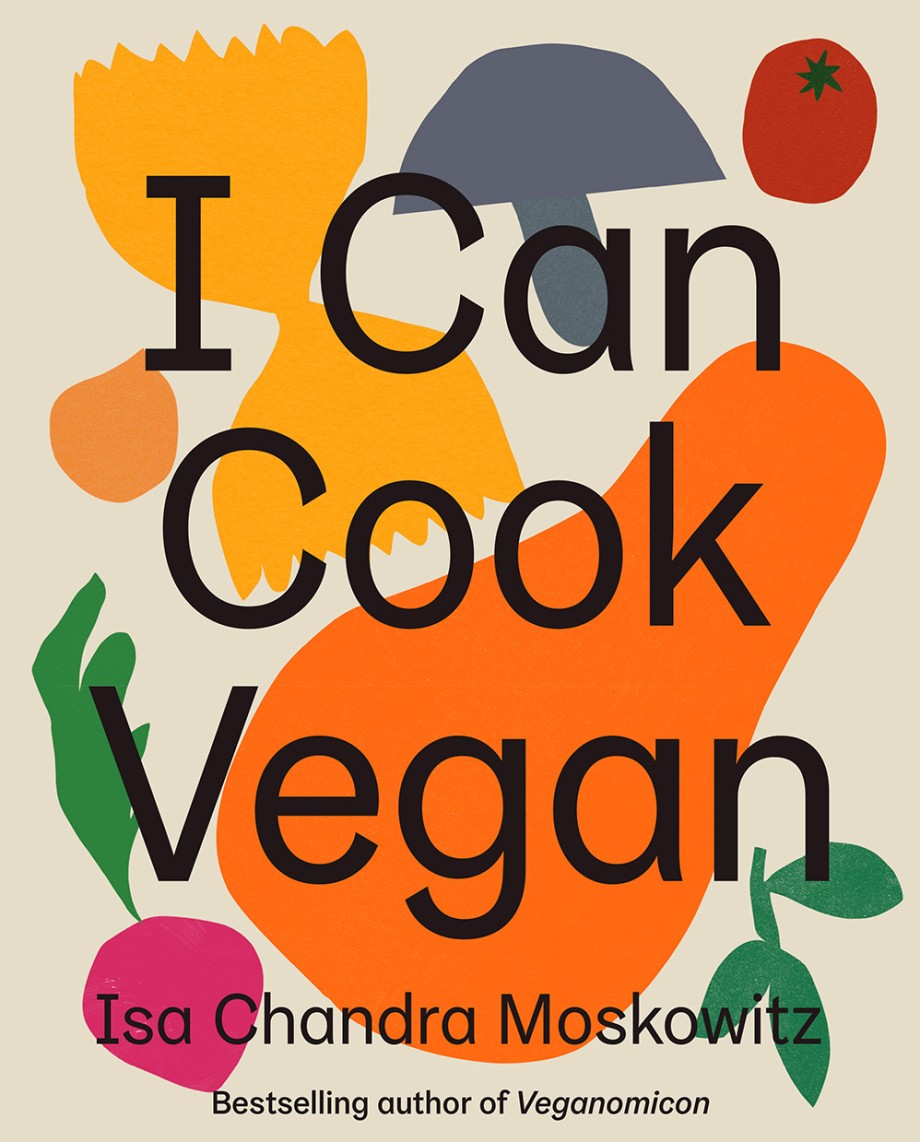 Abrams Books (October 29, 2019)
Hardcover 288 pages, 150 Color Potographs
Chapters are set up as Ingredients & Philosophy, Pasta & Noodles, Salads Big & Small, Sandwiches, Soups & Stews, Bowls & Sautes, From the Oven, On the Side, Sweets and A Few Staples. As promised (besides a few ingredients that either the ingredients themselves or their uses in vegan cooking may be less familiar to new-to-vegan
cooks that she explains: Kala Namak (Himalayan Black Salt), Nutritional Yeast Flakes, Vital Wheat Gluten & Seitan, Tofu, and Nori) most of the ingredients are easy to find in any grocery store. There are lovely color photos for almost all of the recipes and Isa's introductions as well as the chapter heading give the background and tips for the recipes and ideas for serving it.
I tagged a variety of recipes to make: Shroom and White Bean Scampi, Brussels Sprouts Pad Thai, Chickpea Alfredo, Taco Salad Chorizo, Buffalo Cauliflower Ranch Salad, Grilled Curry Tofu Banh Mi, Chickpea Tuna Melt with Avocado and Dill, Tortilla Soup with Black beans and Artichokes, Souther Comfort Bowl, Sushi Bowl with Five-Spice Tempeh, Green Enchilada Lasagna, Swedish Tofu Balls, Tofu Fish Sticks with Tarter Sauce, Coconut Creamed Corn, Raspberry Pretzel Thumbprints with Chocolate Drizzle, Banana Cinnamon Swirl Muffins, and Homemade Vegan Mayo. L
The recipe that I did try of course was this comforting soup. I don't eat chicken anymore but I get cravings for chicken pot pie and knew I had to try it. The only changes I made to the recipe were using leeks instead of onion (I love leeks) and adding a little roasted garlic powder to the mix--mainly as my one-and-only garlic bulb was mostly bad and only about 2 cloves were salvageable.
Creamy Chickpea Bow Tie Soup
From I Can Cook Vegan by Isa Chandra Moskowitz (reprinted with the publisher's permission)
(Serves 6)
1 medium yellow onion, thinly sliced
1 Tbsp olive oil
salt
3 cloves garlic, minced
2 Tbsp chopped fresh thyme, plus extra for garnish
6 cups (1.4 L) vegetable broth
1 cup (140 g) peeled carrots, chopped into 3/4-inch (2 cm) chunks
1 cup (55 g) farfalle
freshly ground black pepper
1/2 cup (60 g) whole unroasted cashews
1 (24-oz/680 g) can chickpeas, drained and rinsed
1 cup (135 g) frozen peas
Preheat a 4-quart (3.8 L) soup pot over medium heat. Saute onion in the oil with a pinch of salt until soft, about 5 minutes. Add garlic and thyme and cook until fragrant, 30 seconds or so. Add broth and carrots and bring to a boil.
Once boiling, add pasta, 1 teaspoon salt, and pepper to taste. Cook until pasta is done, about 8-10 minutes.
In the meantime, place cashews in a high-speed blender with 1 cup (140 ml) water. Blend until completely smooth, occasionally scraping down the sides with a rubber spatula to make sure you get everything.
When pasta is cooked, add chickpeas, cashew cream mixture, and peas. Lower heat and simmer for 5 minutes. Turn off heat and let sit for 10 minutes. Taste for salt and pepper and serve. Garnish for extra thyme.
Notes/Results: Oh yeah, this soup is like a brothy pot pie, rich but not heavy and really, really good. Perfect comfort food and I think you could please vegans and carnivores alike with it. My only regret is not making biscuits to go on top. ;-) The recipe was easy to follow and relatively quick to make. If you don't have a high-speed blender, Isa suggests soaking the cashew for a few hours or overnight. If you have not made or used cashew cream before, this is a great starter recipe to learn the joys. I would definitely make it again.
Many thank to Abrams Books and #AbramsDinner Party for this great new cookbook that I know will get a lot of use at my house. This post is sponsored by Abrams Books, as part of the Abrams Dinner Party however my thoughts, feelings and experiences cooking from it are my own. #sponsored
I''m also sharing this post with the Weekend Cooking event at Beth Fish Reads, a

weekly

event that is open to anyone who has any kind of food-related post to share. For more information, see the

welcome post

.
Now let's look into the Souper Sundays kitchen and see who is here.
Judee of Gluten Free A - Z Blog shared Lebanese Moussaka and said, "Do you love Middle Eastern cooking? I do, and this Lebanese Moussaka is fabulous! It's entirely different than the more commonly known Greek Moussaka, and there is a reason why!! ... It turns out Moussaka is actually an Arabic, not Greek, word and many Mediterranean countries make their own unique versions of a Moussaka. Lebanese Moussaka is called "Maghmour" which means "stew" in Arabic. As you can see from the photo, the Lebanese Moussaka is like a stew."
Simona of briciole brought a soupish Fresh Beans in Fresh Tomato Sauce and said, "
Schiavone does not have an Adelina in his life and his cooking skills are limited, so my dish was inspired not so much by something mentioned in the novels, as by the wish to prepare something Roman-style for their protagonist. The sight at the Berkeley farmers' market of several varieties of fresh beans, out of which I chose to try Coco Bianco2, plus the availability of Early Girl tomatoes, suggested pasta e fagioli alla romana to me. I prepared the beans in tomato sauce without pasta."
Thanks to Judee and Simona for joining in this week!
(If you ar

en'

t familiar with Souper Sundays, you can read about of the origins of it here.
If you would like to join in Souper (Soup, Salad, and Sammie) Sundays, I would love to have you

!
Here's

how...
To

j

oin in this week's Souper Sunday's linkup with

your

soup, salad or sandwich:
Link up your soup (stew, chili, soupy curries, etc. are fine), salad, or sandwich dish, (preferably one from the current week or month

--

but we'll take older posts too) on the picture link below and leave a comment on this post

so I am sure not to miss you

.

Also please see below for what to do on your blog post that you link up to Souper Sundays in order to be included in the weekly round-up.
and
On your entry post (on your blog):
Mention Souper

(Soup, Salad & Sammies)

Sundays at Kahakai Kitchen and add a link back to this post. (Not to be a pain but it's polite and only fair to link back to events you link up at--so if you link a post up here without linking back to this post or my blog on your post, it will be removed.)

You are welcome to add the

Souper Sundays logo to your post and/or blog (

completely optional

).
Have a happy, healthy week!