Happy Aloha Friday! I feel like I have been so busy at work lately that I haven't had much time for reading or blogging. Hopefully October will be a bit calmer and I am happy to kick the weekend off with a great book and an easy dinner/breakfast. I am excited to be on the TLC Book Tour for The Lying Room by Nicci French and I am pairing my review with Sour-Cream Scrambled Egg

Toasts inspired by the book.
Publisher's Blurb:
In this thrilling standalone from the internationally bestselling author of the Frieda Klein series, a married woman's affair with her boss spirals into a dangerous game of chess with the police when she discovers he's been murdered and she clears the crime scene of all evidence.

One little secret between a married woman, her lover, and a killer.
It should have been just a mid-life fling. A guilty indiscretion that Neve Connolly could have weathered. An escape from twenty years of routine marriage to her overworked husband, and from her increasingly distant children. But when Neve pays a morning-after visit to her lover, Saul, and finds him brutally murdered, their pied-à-terre still heady with her perfume, all the lies she has so painstakingly stitched together threaten to unravel.
After scrubbing clean every trace of her existence from Saul's life—and death—Neve believes she can return to normal, shaken but intact. But she can't get out of her head the one tormenting question: what was she forgetting?
An investigation into the slaying could provide the answer. It's brought Detective Chief Inspector Alastair Hitching, and Neve's worst fears, to her door. But with every new lie, every new misdirection to save herself, Neve descends further into the darkness of her betrayal—and into more danger than she ever imagined. Because Hitching isn't the only one watching Neve. So is a determined killer who's about to make the next terrifying move in a deadly affair….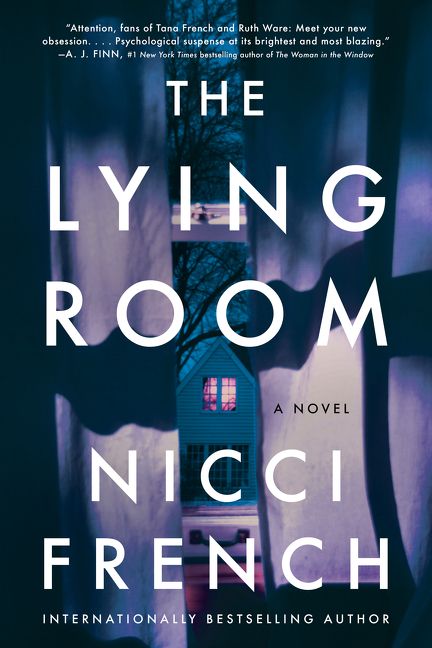 Paperback: 432 pages
Publisher: William Morrow Paperbacks (October 1, 2019)
My Review:
I have only read one other Nicci French book, Secret Smile, but I enjoyed it and wanted to sign up for this book tour based on it and on the description of the book which from the publisher's blurb sounded like it might be a bit of a nail-biter—something I had been craving. The Lying Room is probably best described as a domestic thriller although it is also a psychological thriller and leans to a police procedural too. Neve Connolly is the main character who risks her twenty-year marriage on an affair with her boss. Does she love Saul? It's not clear but she certainly loves how he makes her feel and since she and Fletcher her husband aren't looking at each other much anymore, her oldest daughter has issues and is leaving for university (or threatening not to), her younger boys have some growing-up challenges, and her friends are a bit needy, Neve likes her stolen moments with Saul. Then she finds him dead at his flat. What would you do if you walked in and found someone, someone you cared for dead? In neve's case she has too much to lose if an affair came out, so she scrubs the crime scene, removing all traces of her from his flat. Unfortunately, that opens a whole can of worms with the investigator on the case looking closely at Neve and her friends and coworkers and she begins to wonder if she was the intended victim instead of Saul and who might want her dead.
At first, I wasn't sure I particularly liked Neve. There was the cheating thing, the lying and the many bad decisions she kept making, but she slowly won me over. In her group of university friends (three of whom are her co-workers and one is her husband), Neve is the one they gravitate too and sometimes confess their secrets. She is someone who cares deeply for the people in her life and maybe it is that burnout that has her seeking solace in her boss's arms. In any case, I was rooting for her at the end. I liked the pacing of the book—it was difficult to stop reading to do life stuff and it kept me guessing on who the murderer was throughout. In the end, I was wrong although I had a few bits right and I liked the way the different clues and twists came together. If you already like the husband-wife team that are Nicci French or you just like a good thriller, you will likely enjoy The Lying Room.
-----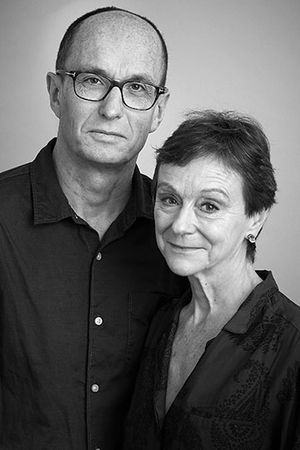 Author Notes: Nicci French is the pseudonym of English wife-and-husband team Nicci Gerrard and Sean French. Their acclaimed novels of psychological suspense have sold more than 8 million copies around the world.
Follow them on Facebook and Twitter.
-----
Food Inspiration:
For a thriller, there is a lot of focus on food in The Lying Room. Neve is a nurturer constantly making breakfast for her family, packing lunches for her children and making dinners. Mentions included cornflakes and milk, porridge with golden syrup, toast with marmalade and tea, coffee, cheese, fish and chips, blueberries, tangerines, hearty soup, collard greens and sticky toffee pudding, cakes and biscuits, cheese sandwiches, apples and oat biscuits, a nectarine with yoghurt, Earl Grey tea, bagels, assorted vegetables from an allotment, oranges, lemon cake, vegetable lasagna with mushroom, cherries, steam cauliflower with yoghurt and tahini, bottles of red and white wine and plates of cheese and smoked meat, pasta, baba ganoush, raspberry and white chocolate cheesecake, roast lamb, wild mushroom risotto, blue cheese on crackers, fish in a spicy, garlicky marinade, roasted squash with ginger

with yoghurt and lime sauce, rice, croissants and cinnamon buns, mangoes, milk and eggs, a Bloody Mary, pale ale, peanut butter, Thai takeaway, an aubergine and chickpea salad, green juice, poached eggs, roasted vegetables, a tuna and mayo salad, beans on toast, stuffed courgette flowers with ricotta and grated parmesan, tomato and avocado salad, hummus and flat breads, olives, cheese and prosciutto
For my book inspired dish, I was considering a few options and planning on stopping by the grocery store, but traffic was ugly, and it took me an hour to even get close to home. I thought of a passage in the book where Neve tries to think of something to make for a group of people at her house based on what she has:
"There was some bread left, and a couple of half-baked baguettes, sour cream, a few cherry tomatoes, a knob of ginger, butter, a bag of spinach, some parsley. It was hard to make a meal out of that. She thought of all the vegetables in the allotment waiting to be harvested. There were the eggs she had bought this morning though. 'Scrambled eggs?' she said to Renata, but Renata was gone, and so was Louis."
I had eggs and was thinking about what was in my pantry when I realized that like Neve, I had sour cream, a few cherry tomatoes, baguette, butter, and instead of parsley, fresh chives. I decided to skip the grocery store, make my book-inspired dish out of my pantry, and ended up with Sour Cream-Scrambled Egg Toasts with cherry tomatoes on the side.
I don't think there needs to be a formal recipe for these scrambled egg toasts but this is what I did:
Sour-Cream Scrambled Egg Toasts
2 oz shredded cheese of choice
small baguette, split horizontally
cherry tomatoes and chives to garnish
Brush baguette halves lightly with olive oil and toast in a pan or toaster oven until lightly browned. Set aside.
Mix eggs and sour cream together in a small bowl--it's OK if some sour cream "lumps" remain. Sprinkle with salt and pepper and mix well.
Melt the butter in a nonstick pan over medium-low heat. Add the eggs and gently scramble. When almost done, sprinkle with grated cheese and allow to melt. Remove from the heat, sprinkle with the chives and serve with cherry tomatoes on the side.
Notes/Results:
Perfectly creamy and cheesy scrambled eggs on crisp toast—what's not to like. Good for breakfast, dinner, lunch…any meal of the day. I was too lazy to stir the sour cream in thoroughly with the eggs, but I liked biting into the occasional sour cream clump.
😉
Quick, easy, really good, I will happily make these toasts again.
I'm sharing this post with the Weekend Cooking event at Beth Fish Reads, a

weekly

event that is open to anyone who has any kind of food-related post to share. For more information, see the

welcome post

.
I'm also sharing this open-faced breakfast sandwiches at Souper (Soup, Salad & Sammie) Sundays a weekly event hosted here at Kahakai Kitchen. Here's the link to this week's post.
Note: A review copy of "The Lying Room" was provided to me by the author and the publisher Harper Collins, via TLC Book Tours. I was not compensated for my review and as always, my thoughts and opinions are my own.
You can see the other stops for this TLC Book Tour and what other bloggers thought of the book here.