I'm excited to be a stop on the TLC Book Tours for Lies in White Dresses by Sofia Grant, a novel that taught me about a tidbit of U.S. cultural history that I was unaware of. Along with my review, I have a recipe for a tasty Chop Suey inspired by the book.
Publisher's Blurb:
Award winning author Sofia Grant weaves an entrancing tale of female friendship and new beginnings inspired by the true stories of those who "took the Reno cure".
In the 1940s and 50s, women who needed a fast divorce went to Nevada to live on a ranch with other women in the same boat.
"Sofia Grant entices us into following three women seeking the Reno Cure, as they overcome their disillusionment over the lives they expected to have and summon the bravery to embrace new and unexpected paths." –Marie Benedict, New York Times bestselling author of The Only Woman in the Room
Francie Meeker and Vi Carothers were sold a bill of goods: find a man, marry him in a white wedding gown, and live happily ever after. These best friends never expected to be on the train to Reno, those "lies in white dresses" shattered, their marriages over.
On board the train they meet June Samples, who is fleeing an abusive husband with her daughter, and take the vulnerable young mother under their wing. The three decide to wait out the required six weeks together, and then they can toss their wedding bands into the Truckee River and start new lives as divorcees.
But as they settle in at the ranch, one shocking moment will change their lives forever. As it brings their deceptions and fears into focus, it will also demand a reckoning with the past, and the choices that a person in love can be driven to make.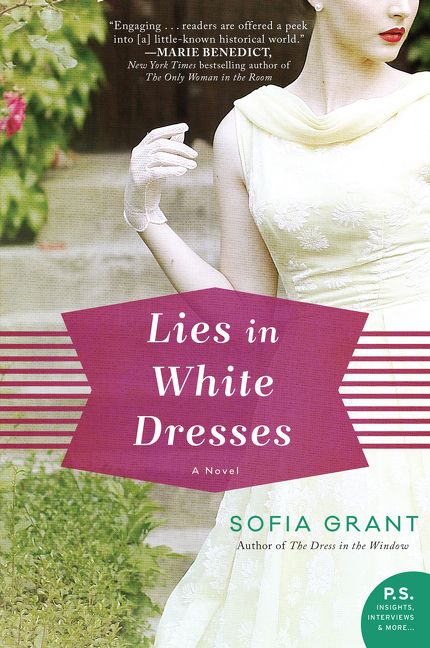 Paperback: 384 pages
Publisher: William Morrow Paperbacks (September 17, 2019)
My Review:
I jumped on this tour because I really enjoyed one of the author's previous book, The Daisy Children (see my review here) and because I knew little about Reno, Nevada's role in divorce in the United States. Growing up I knew Nevada was the place for a quick, uncontested divorce but I had not heard the term "the Reno cure" or known Reno was considered "The Divorce Capital of the World" for over six decades. At it's heyday, many women (including actresses and heiresses) came to the city and surrounding communities for the Reno cure and stayed for six weeks or more in order to get their residency established and get an uncontested divorce.
Here's a great article about it I found online.
Set in 1952, Lies in White Dresses tells the stories of Vi and Francie, two long-time best friends seeking divorces from marriages they expected to last forever. They befriend June, a young woman fleeing her marriage with her young daughter Patty, and take her under their wings and into the hotel they reside at in Reno that caters to women taking the cure. Chapters are told from their alternating perspectives, as well as the perspectives of Virgie, the budding Nancy Drew daughter of the hotel's owner, Willy a singer and the other woman in Vi's marriage, and Charlie, Vi's son. I found each of their stories absorbing, as was this look at women's history during a time when they didn't have a lot of options for getting out of a bad situation--especially if they didn't have the money to do so.
There is humor and tragedy and a bit of mystery and intrigue thrown into Lies in White Dresses. Although there were a few things that seemed implausible, especially toward the end, I liked how Sofia Grant tied the stories together and created a not-perfect but satisfying ending for the characters I had grown to care about. If you like historical fiction, books set in the 1950s,stories about women's friendship and strong female characters, you will likely enjoy it too.
-----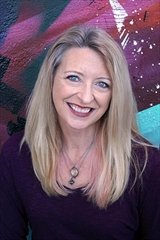 Author Notes: Sofia Grant has the heart of a homemaker, the curiosity of a cat, and the keen eye of a scout. She works from an urban aerie in Oakland, California.
Find out more about Sofia at her website, and connect with her on Facebook, Twitter, and Instagram.
-----
Food Inspiration:
There was a good amount of food in Lies in White Dresses with many dishes indicative of the time. Mentions included a cottage cheese and pineapple plate, veal chop in paprika cream sauce, ham and cheese sandwich, fried chicken, broiled sole, iced tea, Shirley temples, hot cocoa and toasted cheese sandwiches, lemonade and cookies, sherry, lichee black tea, whiskey, rabbit, asparagus with creamy sauce, rolls, chicken divan, New York strip, Saddle Sores (a cocktail with rum, chartreuse and ginger ale), ginger cookies and hot tea, lemon meringue pie, coffee, chicken salad sandwiches, chicken and scalloped potatoes, scotch, mulled wine, ravioli and spaghetti, Manhattans, broiled chicken, steaks and boilermakers, pork chops with creamed onions, cake, brisket, meatloaf and corned beef sandwiches.
For my book inspired dish I had to go with Chop Suey from a conversation between Francie, Vi and June about things Francie wants to try while waiting for and after her divorce in Reno.
"Well I want to try some new things."
"Like what?" June asked.
"Chinese food," Francie said immediately. "It sounds so interesting. Even the names sound so exotic--chop suey and the like."
I remember when going out to eat at the very Americanized Chinese restaurant in town when I was a child in the seventies and my mom making chop suey and chow mein at home and how very exotic it felt so I wanted to recreate that, only using shrimp instead of the thinly cut beef my mom used since I don't eat meat. I looked on line for recipes and found several, but ended up making my own based on what I had on hand.
Chop Suey
By Deb, Kahakai Kitchen
(Serves 2 to 3)
1 1/2 Tbsp canola oil
sea salt and ground black pepper
4 green onions, sliced, white and green parts separated
1 stalk celery, thinly sliced
1 medium carrot, julienned
1 red bell pepper, julienned
1 can sliced water chestnuts
1 cup snow peas, trimmed and sliced in half
2 cups cabbage, thinly sliced
2 cups bean sprouts
1 lb large shrimp, peeled and deveined
Sauce
1/3 cup veggie broth or water
3 Tbsp low-sodium soy sauce or tamari
1 Tbsp mirin or cooking sherry
2 tsp oyster sauce
2 tsp toasted sesame oil
1 tsp chili oil
2 Tbsp corn starch
Cooked noodles or rice and sesame seeds to serve.
Heat the oil in a large wok over medium-high high and add the white parts of the green onion, celery, carrot and salt and pepper and cook about 3 minutes, stirring occasionally. Add the red bell pepper and water chestnuts and cook another 3 minutes, then add the snow peas and cabbage and cook for a minute or two.
Meanwhile combine sauce ingredients in a small bowl and stir until blended. Add to the stir fry mixture along with the shrimp, stirring gently to combine. Cook for 5 to 6 minutes--until sauce has thickened and shrimp are pink and cooked through. Taste for seasoning and serve over rice or chow mein noodles with green onions and sesame seeds sprinkled on to garnish. Enjoy!
Notes/Results:
Simple and tasty, it took me back to the dinners I ate as a child, just a bit more crisp and fresh tasting. ;-) I added a bit of chili oil and I liked the little kick and the sweetness from the mirin and oyster sauce in the chop suey sauce. (If you don't have mirin and oyster sauce available you could just add a bit of sugar and a tiny touch of vinegar.) At our house this was served with crunchy chow mein noodles but I have never been a fan so i used fresh packaged chow mein noodles instead. Fast and good for a weeknight, I will happily make it again.
I am sharing this book and food pairing with Novel Foods #37,
an event celebrating food inspired by the written word and hosted by my friend Simona at Briciole. This deadline for this round of Novel Food ends

Sunday, October

20th.
I''m also sharing this post with the Weekend Cooking event at Beth Fish Reads, a

weekly

event that is open to anyone who has any kind of food-related post to share. For more information, see the

welcome post

.
Note: A review copy of "Lies in White Dresses" was provided to me by the author and the publisher Harper Collins, via TLC Book Tours. I was not compensated for my review and as always, my thoughts and opinions are my own.
You can see the other stops for this TLC Book Tour and what other bloggers thought of the book here.