It's Tuesday which means it is one day closer to Friday! If you need a little not quite midweek escape, I have the perfect book for you The Summer House by Lauren K. Denton. I am excited to be a stop on the TLC Book Tour for this lovely new novel. Accompanying my review is a recipe for a tasty Pimiento Cheese and Shrimp Dip inspired by the book.
Publisher's Blurb:
Sometimes it takes losing everything to find yourself again.
Lily Bishop wakes up one morning to find a good-bye note and divorce papers from her husband on the kitchen counter. Having moved to Alabama for his job only weeks before, Lily is devastated, but a flyer at the grocery store for a hair stylist position in a local retirement community provides a refuge while she contemplates her next steps.
Rose Carrigan built the small retirement village of Safe Harbor years ago—just before her husband ran off with his assistant. Now she runs a tight ship, making sure the residents follow her strict rules. Rose keeps everyone at arm's length, including her own family. But when Lily shows up asking for a job and a place to live, Rose's cold exterior begins to thaw.
Lily and Rose form an unlikely friendship, and Lily's salon soon becomes the place where residents share town gossip, as well as a few secrets. Lily soon finds herself drawn to Rose's nephew, Rawlins—a single dad and shrimper who's had some practice at starting over—and one of the residents may be carrying a torch for Rose as well.
Neither Lily nor Rose is where she expected to be, but the summer makes them both wonder if there's more to life and love than what they've experienced so far. The Summer House weaves Lauren K. Denton's inviting Southern charm around a woman's journey to find herself.
Hardcover: 352 Pages
Publisher: Thomas Nelson (June 2, 2020)
My Review:
Lauren K. Denton's books are an automatic read for me. I get excited and happy when she has a new one coming out--usually starting with the gorgeous covers that grace them and then excited for the escape I find in them. This is her fourth book and the fourth one I have reviewed for TLC Book Tours. I love that they are hopeful, usually about second starts and chances and finding your place in the world, and they are filled with quirky and endearing characters. She also manages to work in delicious food and have me longing to move to a small Southern town or community despite having spent almost no time in the south. Take The Summer House for example, if someone asked me if I wanted to become a hairstylist in a retirement village in coastal Alabama, I'd think they were crazy but by the end of the book, I want to do just that. ;-)
In The Summer House, Lily awakes one morning to find her husband has left her with a brief note and signed divorce papers. Not sure what she is going to do, she knows she doesn't want to move back to her hometown or go to his family in Georgia, but they just moved to Alabama for him to take a new job and she knows almost no one. She stumbles across a flyer advertising for a hair stylist--something she grew up doing in her single mother's salon and something she has missed since her mother passed away. The position is in a retirement community and soon she is interviewing with Rose, the owner and caretaker of Safe Harbor, a woman who has known her own heartache and has closed up to others because of it. Something in Lily causes Rose to take a chance on her and she is soon living above the hair salon and becoming friends with the colorful group of seniors that live in Safe Harbor. The story is told from the points of view of both Lily and Rose, and each begins to craft a new life.
I think this may be my new favorite of Denton's books--something about the setting and characters and their stories that made me devour this book and wish for more than one summer with Lily and Rose. There is romance for each character, but friendship and personal growth are the main players in the story. Set in the summer on Alabama's coast, it's a perfect summer book for tucking in a beach bag or curling up on the lanai with a cold glass of lemonade or sweet tea, and immersing yourself in Safe Harbor. I recommend The Summer House to anyone looking for a brief, languid escape from all of the crazy in the world lately and I am already looking forward to the author's next book.
Here are my reviews and accompanying recipes of the first three books, The Hideaway, Hurricane Season, and Glory Road. They are each separate books and stories so you can dip into them as you please.
-----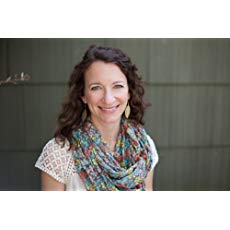 Author Notes:
Born and raised in Mobile, Alabama, Lauren now lives with her husband and two daughters in Homewood, just outside Birmingham. In addition to her fiction, she writes a monthly newspaper column about life, faith, and how funny (and hard) it is to be a parent. On any given day, she'd rather be at the beach with her family and a stack of books. Her debut novel, THE HIDEAWAY, was a Wall Street Journal, USA Today, and Amazon Charts bestseller. Her second novel, HURRICANE SEASON, released in spring of 2018, is a USA Today bestseller and her third, GLORY ROAD released in March, 2019.
Connect with Lauren on her website, Facebook, Twitter, and Instagram.
-----
Food Inspiration:
Lauren K. Denton's books are usually filled with good Southern food and The Summer House is no exception. Food mentions included Columbian roast coffee, salad and pasta, whiskey, wine, a shopping cart with buttermilk, flour, eggs, butter, a package of bacon, and a handful of kiwis, lemons, The Sunrise Cafe's Menus with spaghetti & meatballs, shrimp & grits, Mississippi pot roast, honey-glazed carrots, fried okra, butter beans, macaroni & cheese, chocolate icebox pie, layered lemon cake and peach cobbler, lemon tea, sunflower seeds and rice cakes, Krispy Kreme doughnuts, gumbo, oysters, corn chowder, a platter of fried chicken, Sazeracs, microwave dinners, cans of soup and crackers, Cajun fish fillets, chicken, buttered rice and asparagus, pound cake with orange flower water and milk, cheeseburgers, cornbread muffins with homemade butter, cucumber salad, fresh baked bread, apples, cheese balls, pigs in a blanket, barbecue cocktail weenies, sweet tea and lemonade, coffee cake, deviled eggs, Coke floats with chocolate chip ice cream, potato salad, chocolate cake, Alabama Slammers, Hurricanes, macaroni and
cheese, rosé, Watermelon Bellinis, Strawberry Sundays and Lemon Sparklers, pimiento cheese dip, fudge pie, snickerdoodles, hushpuppies, passion fruit La Croix, chocolate muffins, milkshake, a Reuben, fish sandwiches, fried crab claws, The Sunrise Cafe's Foods of the Caribbean Menu: saltfish, plantains, rice pudding, ackee, conch fritters, Jamaican jerk chicken, rice and peas, callaloo, flan, and Christmas cake, hot dog, carrot sticks and watermelon, hummus and crackers, a strawberry Popsicle, shrimp, sausage and vegetable skewers, olive oil sprinkled with black pepper and bread, redfish and crispy potatoes, salted bread pudding, lasagna, Bushwackers, Jell-O, Sunrise Cafe's menu with chicken-fried steak, gumbo with lump crabmeat, fried catfish, collards, field peas, coleslaw, bourbon bread pudding, chess pie, and key lime pie, fruit and cheese, Firecrackers (Saltines, canola oil, spices...), and a dish of fried fish, green beans and cornbread. Whew! I am so hungry now!
There were so many things to choose from for this book. I was especially tempted by the Coke Float with chocolate chip ice cream (I am betting that will still happen on one of our warmer weekends) and the Firecrackers (seasoned saltines--who knew?! I'm sure that will happen in my kitchen too!). I knew that I wanted to include shrimp as it is what Rose's family did, especially her nephew Rawlins and was featured heavily. There was a somewhat dubious pimiento cheese dip made by someone named Donna for a big community summer kick-off party and one of the chararcters complained it gave her a stomach ache but I started craving it. Pimiento cheese or pimento cheese (depending on your spelling preferences) pops up periodically on this blog in various interpretations--from the dip itself here and here, to inside a grilled cheese sandwich, in deviled eggs, and even Pimento-Cheesy Eggs on Toast, made for one of the author's previous novels. I was going to make pimiento cheese grits and serve it with shrimp but I wondered if I could add shrimp to it as a dip. As in most things, I found that many people do this online as a quick search online uncovered quite a few variations.
I ended up using this Pimento Shrimp Dip from The Elevated Palate as my guideline, swapping or adding in a couple of ingredients. I thought it would be a great place to use some of my Where The Crawdads Zing Gulf Coast Bay Seasoning, a Book Blend from the BookClubcookbook to give it a bit of zing. (It's a mix of celery seed, sea salt, cayenne pepper, ginger and bay leaves.)
Pimiento Cheese and Shrimp Dip
Based on Pimento Shrimp Dip by The Elevated Palate
(Makes About 4 Cups)
8 oz cream cheese, softened
3/4 cup mayo of choice
16 oz sharp cheddar cheese, grated (I used 1 4oz block extra sharp & 1 4 oz block sharp white cheddar)
4 oz jar pimentos, drained and chopped
2 Tbsp green onion, chopped + more for garnish
1 1/2 tsp Where the Crawdads Zing, Old Bay, or other seasoning blend of choice
1 Tbsp fresh lemon juice
sea salt and black pepper to taste
about a dozen medium shrimp, cooked and shelled, tails removed & coarsely chopped
Soften cream cheese in a large mixing bowl and stir in the mayonaise. Coarsely grate cheddar cheese and add it to the bowl along with the pimentos, green onion, seasoning blend, lemon juice and sea salt and black pepper to taste. Mix together until well combined. Gently but thoroughly fold in the chopped shrimp until everything is well-combined. Taste and add more seasoning or lemon juice if desired.
Cover and chill for at least 1 hour. Serve, garnished with green onion with your favorite crackers (maybe Firecrackers!), or baguette. I used black pepper table water crackers. Enjoy. Store tightly covered for up to 3 days. (I will be trying this in a sandwich too!)
Notes/Results:
Yes, I know pimiento cheese is not at all healthy but dang, it sure tastes good! This dip is rich and creamy and decadent but with enough zip from the seasoning and the lemon juice to keep it from being too much. The shrimp are a nice tradition with their slight sweetness. I would happily station myself by a bowl of this at a summer party and scoop it up with happy abandon. I'll definitely make it again.
I'm linking up this review and recipe to Novel Food #39, hosted by my friend Simona of briciole,
an event celebrating food inspired by the written word. The deadline for this round is Sunday, July 12th.
I'm also sharing this post with the Weekend Cooking event that was held at Beth Fish Reads, but is now being hosted with Marg at The Adventures of An Intrepid Reader. It's a weekly event that is open to anyone who has any kind of food-related post to share. You can see this past week's post here.
Note: A review copy of "The Summer House" was provided to me by the author and the publisher via TLC Book Tours. I was not compensated for my review and as always, my thoughts and opinions are my own.
You can see the other stops for this TLC Book Tour and what other bloggers thought of the book here.