Happy Aloha Friday! It's been another long and busy week and I am very happy the weekend is here. Weekends are a good time for indulging a bit so I am going to enjoy a few of these Coconut Ladwa with a cup of chai. They are one of the treats in JD in the Kitchen: Indian Sweet Snacks by Jasmine Daya, and I am today's stop on the TLC Book Tour for this little cookbook.
Publisher's Blurb:
Jasmine Daya is a seasoned home cook who loves creating sweet treats while collaborating in the kitchen with her mother, Shan. In her third cookbook, Daya shares recipes for delicious Indian sweet snacks with East African influences that include almond halva (a special occasion dish), coconut ladwa (an Indian macaroon), crushed bundhi ladwa (a soft, delightful treat often given at weddings), jalebi (a festive sticky treat known for its bright color and immense sweetness), pera (a saffron flavored snack), thepla (an Indian cookie that pairs perfectly with an afternoon cup of tea), and many more recipes for satisfying concoctions that tantalize the taste buds while comforting the soul. JD in the Kitchen: Indian Sweet Snacks is a collection of easy-to-follow recipes that will guide home cooks of all ages to create tasty treats that will leave their guests content and wanting more.
Paperback: 70 pages
Publisher: Lulu Publishing Services (January 22, 2020)
My Review:
I don't buy a lot of specialty cookbooks that delve only into one food item or category but I am always intrigued by Indian cooking and like to broaden my knowledge and cooking repertoire, always looking to learn in the kitchen. That's what I was looking for with JD in the Kitchen: Indian Sweet Snacks and I wish there was more information included in the book. I think there are probably two groups of people most interested in this type of cookbook--either those who grew up with these snacks and treats and are looking for easy recipes for how to create them, and those of us who maybe enjoyed some halva or burfi at a restaurant and are looking to know more about them and try them in our kitchens. The book would meet the needs of the first group, but not so much the second. It is basically a collection of 31 recipes for sweet treats and snacks. There is a brief, mostly one-sentence description of the recipe with an occasional note about when it might be served or that it is a favorite of the author and her family. What's missing for me is a list of unfamiliar ingredients. I recognized the basics and even some of the slightly less known, but I am not sure the average home cook who hasn't grown up with ingredients like semolina, custard powder, chickpea flour, milk powder, jaggery, and fried gundh (edible gum believed to have healing properties) will know what they are, and where to get them. So an ingredient list and resources to buy would be helpful including information about candy molds and sizes and other tools. I liked that there were good color photos of the snacks but some of them had embellishments that a home cook would probably not achieve without help. The burfi below is a good example--there is no mention of the decorative chocolate topping. A "this is what I use to make it festive but you could also serve it plain or with scattered ______ on top" would be helpful. There was mention of optional edible silver leaves on the Cardamon Burfi recipe but not on the other few recipes that used them later in the book.
I wanted more detail and more stories as the author's background very interesting as a practicing lawyer and her mother was born in East Africa and immigrated to Canada. More detail about the food and her background is available on her blog, but I would have liked it in the book. The recipes are listed in alphabetical order and I would have liked an index of some sort to accompany them by ingredient. I did like the cover--perfect for wiping spills off and the spiral binding as it lays flat perfectly when you are reading and cooking from it. The recipes themselves are pretty clearly written and many could be made with a visit to a decent grocery store and a well-stocked spice rack, however others do require molds and other equipment. All in all, if you are looking for some Indian sweets recipes, this is a good compact book of them, just don't go into it expecting more than that.
-----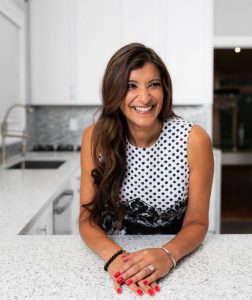 Author Notes: Jasmine Daya is the mother of three children and a practicing lawyer.

She is passionate about her work, life and children but doing it all means that her day starts early and ends late.

Jasmine decided to start a blog to share how she balances spending quality time with her children every day while accomplishing her career goals, enjoying time with friends and having a little time to herself in the hopes that aspiring young women can realize that they too can have it all.
Find out more about her at her website, and connect with her on Facebook and Instagram.
-----
I tabbed several recipes to try from the book like the fudges--Burfi, more of a milk fudge and the Cashew Burfi with cardamom and cashews, and the Coconut Paak, a pretty pink coconut based fudge and Pistachio Paak--a crunchy and nutty fudge. I also thought about making the Jugu Paak, an easy peanut brittle, the Kokotende, an Indian cookie coated with a sugar glaze, the decadent (2 cups of butter) Mesub which is one of the author's mother's favorite treats or the intriguing Sev Paak, a sweet treat made with vermicelli.
Ultimately with timing and easy availability of ingredients, I decided to make the Coconut Ladwa, essentially an Indian version of a macaroon. They required only six ingredients including water and no baking--just cooking and time to set up.
Coconut Ladwa (An Indian Macaroon)
Printed With Permission From JD in the Kitchen: Indian Sweet Snacks by Jasmine Daya
1 cup sugar
1/2 cup water
2 cups sweetened shredded coconut
2 tsp ground cardamom
1 Tbsp fennel seeds
1 Tbsp unsalted butter
Line a baking sheet with parchment paper.
In a pot over low heat, combine the sugar and water, stirring periodically until the sugar dissolves. Add the the coconut and ground cardamom and stir to combine cooking for about 5 minutes. Add the fennel seeds and butter and stir to combine, cooking for about 2 minutes.
Remove from the heat. Once cooled, take 1 tablespoon of the mixture and roll it into a ball. Place on the prepared baking sheet and repeat until all the mixture is used. Let set and place on a serving dish.
Notes/Results: These are tasty little macaroons. I love cardamom and fennel and coconut and all of those flavors are at the forefront so if you don't like any of those flavors, these are not your macaroon. I did have some challenges getting them to stick together to form a ball (it could have been the store-brand shredded sweetened coconut I had to buy as it seemed coarser & dryer than the Baker's brand I usually use) but I used my small ice cream scoop and once they were packed in, they held together well once set up. They did have a slightly gray-green cast to them that doesn't show up as much in the pictures, but I think with the two teaspoons of dried cardamom powder in the mix, that color is a given. With the way the week went, I didn't get a chance to make a cup of chai to enjoy with these treats, but I will this weekend.
I'm sharing this post with the Weekend Cooking event that was held at Beth Fish Reads, but is now being hosted with Marg at The Adventures of An Intrepid Reader. It's a weekly event that is open to anyone who has any kind of food-related post to share. You can see this past week's post here.
Note: A review copy of "JD in the Kitchen: Indian Sweet Snacks" was provided to me by the author and the publisher via TLC Book Tours. I was not compensated for my review and as always, my thoughts and opinions are my own.
You can see the other stops for this TLC Book Tour and what other bloggers thought of the book here.