Happy Thursday! It's been such a crazy week work-wise that I am just counting down the minutes until Friday afternoon and the weekend. To distract me, I am happy to be on the TLC Book Tour for Masquerade at Middlecrest Abbey, a delightful new Regency romance by Abigail Wilson. Accompanying my review is a recipe for Oatmeal with Cinnamon-Apple Compote, inspired by my reading.
Publisher's Blurb
In this new Regency romance, Elizabeth knows she must protect her heart from the charm of her new husband, Lord Torrington. She is not, however, prepared to protect her life.
When the widowed Lord Torrington agreed to spy for the crown, he never planned to impersonate a highwayman, let alone rob the wrong carriage. Stranded on the road with an unconscious young woman, he is forced to propose marriage to protect his identity and her reputation, as well as his dangerous mission.
Trapped not only by her duty to her country but also by her limited options as an unwed mother, Miss Elizabeth Cantrell and her infant son are whisked away to Middlecrest Abbey by none other than the elder brother of her son's absent father. There she is met by Torrington's beautiful grown daughters, a vicious murderer, and an urgent hunt for the missing intelligence that could turn the war with France. Meanwhile she must convince everyone that her marriage is a genuine love match if her new husband has any hope of uncovering the enemy.
Determined to keep her son's true identity a secret, Elizabeth will need to remain one step ahead of her fragile heart, her uncertain future, and the relentless fiend bent on her new family's ruin.
Paperback: 336 Pages
Publisher: Thomas Nelson (May 26, 2020)
My Review:
Masquerade at Middlecrest Abbey was tagged as a historical romance with some suspense and mystery which sounded light and perfect for my mood. Although Regency romance is not necessarily my go-to genre outside of Jane Austen and retellings of her work,
I found myself quickly caught up in the story and intrigue. Elizabeth is on her way to a governess position with her toddler son when her coach is waylaid by a highway man and tips over. When she awakens in an inn with him by her side, and finds out he is instead, working for British Intelligence and was sent to intercept her carriage, she accepts his proposal of marriage to cover up the incident. He's a widower with two nearly grown daughters and she is a young, unwed mother protecting her son with secrets of her own, but soon they are working together to find a murder, stop the French and find out what was on the carriage that both the French and English want.
I was a bit bummed to find out that this book was part of a series with two books preceding it as I have an obsession for reading books in order and it seriously bugs me when I don't have all of the history and backstory. I became willing to overlook it in this case because I really enjoyed Elizabeth and Lord Torrington and there was a little recapping done of some of the characters that were mentioned from the other books, so it is possible to read and enjoy this one on its own. That being said, I will likely try to find the previous books when the library opens up again and read them. At 336 pages, it is a fairly quick read and it's paced well, so I found myself speeding through it. I did have the mystery figured out fairly quickly, causing me to yell in my head at Elizabeth and Adrian. (Oh why do book characters never listen to me?!) ;-) Overall it was an engaging book with clean romance, and likable and interesting characters--a nice escape.
-----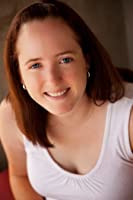 Author Notes: Abigail Wilson combines her passion for Regency England with intrigue and adventure to pen historical mysteries with a heart. A registered nurse, chai tea addict, and mother of two crazy kids, Abigail fills her spare time hiking the national parks, attending her daughter's gymnastic meets, and curling up with a great book. In 2017, Abigail won WisRWA's Fab Five contest and in 2016, ACFW's First Impressions contest as well as placing as a 2017 finalist in the Daphne du Maurier Award for Excellence in Mystery/Suspense. She is a cum laude graduate of the University of Texas at Austin and currently lives in Dripping Springs, Texas, with her husband and children.
Connect with Abigail on her website, Facebook, Twitter and Instagram.
-----
Food Inspiration:
There was not a tremendous amount of food in Masquerade at Middlecrest Abbey but there were mentions of rosemary, hot chocolate, bread and spices, sandwiches, kneading dough, tea and cakes, plum tarts, meat and a few vegetables, soup, gruel, a aroma of "a delightful splash of cinnamon and apples," white cake, and a person who "can't abide strong cheese, nor too many spices."
I ended up taking inspiration for my bookish dish from the gruel and the apple-cinnamon aroma, making Oatmeal with Apple Cinnamon Compote. It's not an exact fit for a dish but I didn't have the time or inclination to make plum tarts and it accomplishes my desire to use up ingredients I have on hand and not run to the store. For the compote, I added cinnamon to the recipe for Apples a la Mode from Mark Bittman's Kitchen Express. And the oatmeal, I cooked in coconut milk for extra flavor and creaminess.
Apples a la Mode Topping
Slightly Adapted from Mark Bittman's Kitchen Express
Peel and core 4 apples and cut them into quarter-inch slices

(I used 1 Honeycrisp apple and cut it into chunks)

. In a few tablespoons of butter, cook the apples about 4 minutes (longer if in chunks); add about a quarter cup of calvados

(apple brandy--I added a small splash),

sprinkle with

(cinnamon)

and brow sugar. When the apples have softened and browned, turn up the heat and reduce the liquid to a syrup. Serve over vanilla ice cream or a bowl of oatmeal). ;-)
For the oatmeal, I used old-fashioned oats and replaced the water/milk with coconut milk and cooked them to package instructions. I topped it with the apples and a few glazed pecans.
Notes/Results: This turned out to be a great way to use up a getting-not-so-crisp apple from the pantry & it was enough for two bowls of oatmeal, or ice cream or whatever you want to put the tasty apples over. I used a splash of apple brandy which may not seem very breakfasty, it fits the week I have been having. ;-) The oatmeal was creamy and good, the apples a good mix of sweet and tart and the pecans added crunch. I will happily make it again.
I'm linking up to I Heart Cooking Clubs where we are still doing Needs Must cooking along with Julia Child and 19 other featured chefs including Mark Bittman.
I'm also sharing this post with the Weekend Cooking event that was held at Beth Fish Reads, but is now being hosted with Marg at The Adventures of An Intrepid Reader. It's a weekly event that is open to anyone who has any kind of food-related post to share. You can see this past week's post here.
Note: A review copy of "Masquerade at Middlecrest Abbey" was provided to me by the author and the publisher via TLC Book Tours. I was not compensated for my review and as always, my thoughts and opinions are my own.
You can see the other stops for this TLC Book Tour and what other bloggers thought of the book here.