Happy Aloha Friday! I am glad it's finally the weekend as it was a long and busy week and I'm gladder still to be kicking it off as a stop on the TLC Book Tour for Simon the Fiddler by Paulette Jiles. Accompanying my review of this Civil War era novel is a recipe for Fried Hominy served with Cornbread.
Publisher's Blurb:
The critically acclaimed, bestselling author of

News of the World

and

Enemy Women

returns to Texas in this atmospheric story, set at the end of the Civil War, about an itinerant fiddle player, a ragtag band of musicians with whom he travels trying to make a living, and the charming young Irish lass who steals his heart.
In March 1865, the long and bitter War between the States is winding down. Till now, twenty-three-year-old Simon Boudlin has evaded military duty thanks to his slight stature, youthful appearance, and utter lack of compunction about bending the truth. But following a barroom brawl in Victoria, Texas, Simon finds himself conscripted, however belatedly, into the Confederate Army. Luckily his talent with a fiddle gets him a comparatively easy position in a regimental band.
Weeks later, on the eve of the Confederate surrender, Simon and his bandmates are called to play for officers and their families from both sides of the conflict. There the quick-thinking, audacious fiddler can't help but notice the lovely Doris Mary Dillon, an indentured girl from Ireland, who is governess to a Union colonel's daughter.
After the surrender, Simon and Doris go their separate ways. He will travel around Texas seeking fame and fortune as a musician. She must accompany the colonel's family to finish her three years of service. But Simon cannot forget the fair Irish maiden, and vows that someday he will find her again.
Incandescent in its beauty, told in Paulette Jiles's trademark spare yet lilting style,

Simon the Fiddler

is a captivating, bittersweet tale of the chances a devoted man will take, and the lengths he will go to fulfill his heart's yearning.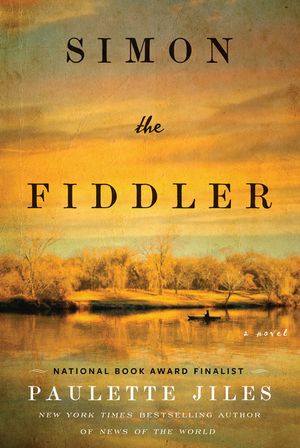 Publisher:

William Morrow (April 14, 2020)
My Review:
I signed up for this tour based on how much I loved News of the World when I reviewed it a few years ago. I'm not usually a western fan or Civil War buff but Jiles writes with such beauty and creates characters that you can't help love and her books transcend genres and are a pleasure to read. It was easy to get caught up in Simon's story. He's a young man who has used his talent, looks and stealthy evasion skills keep him out of fighting in the Civil War until close to the end, when he is conscripted into the Confederate Army. He finds companions in the regiment band and when the war ends, he sets out with some of them to make their way in the new after-the-war world. At a dinner for officers from both sides, he sees a beautiful Irish girl, an indentured au pair for a corrupt colonel. I suppose it is

cliché

to say that she makes him want to be a better man and he begins to work toward his dream of building a life with her while waiting out her three years of service. I

feel like we get to know Simon much more than his fair Doris, and to be honest I was more interested in his friendships with his bandmates Patrick, Doroteo and Damon than the romantic aspects of the book. My hope is that Jiles writes another book that focuses on Damon. It's possible as my beloved
Captain Jefferson Kyle Kidd from News of the World, pops up briefly in this one. I was sorry to end my time with Simon the Fiddler. If you love historical fiction, Civil War fiction, Texas setting, and beautiful writing, you'll enjoy being swept away by this one.
-----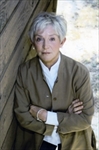 Author Notes:

Paulette Jiles is a novelist, poet, and memoirist. She is the author of

Cousins

, a memoir, and the novels

Enemy Women, Stormy Weather, The Color of Lightning, Lighthouse Island

, and

News of the World

, which was a finalist for the 2016 National Book Award

.

She lives on a ranch near San Antonio, Texas.
Find out more about Paulette at her website.
-----
Food Inspiration:
There was a fair amount of food in Simon the Fiddler, mostly Civil War and regional Texas food from the era and some dishes served at the gatherings Simon plays at. Mentions included beans, cornbread and hominy, iced drinks, jerky meat, bread and bacon, beefsteaks, corn pudding, a jelly made from aggravate berries (a regional Texas berry that looks a bit like holly leaves and berries), apple, hardtack (aka ship's biscuits), redfish, achiote, bread and butter, salt pork, bait shrimp, turnips, hard bread with lard and sugar, guava, red snapper (huachinanga), oxtails and shin meat, gin, bone marrow on toast, tiny meatballs swimming in red sauce, herring in a peppered cream, tubes of rolled ham, German Harzer cheese on toasted rye bread, pigs-in-a-blanket, miniature sandwiches, cheese with chopped bacon and fresh spinach, tea and lemonade, smoked brisket, milk, salt pork, fried catfish in lard, candies (taffies, ribbon candy, lozenges and lemon drops), beef loin, jalapeños, shelled corn, pulled pork, tamales, carne guisada (a sort-of beef stew), arrachera (Mexican skirt steak), tres leches cake, tortillas, scrambled eggs, frybread and bacon, oranges, roast beef, boiled potatoes with butter, white bread, pan-fried squash and an entire melon for dessert, nopales, pecan taffies, tomatoes, cabbages, cinnamon twist, salsa verde with tomatillos, and broth.
For my bookish dish, I went with a mention of the soldiers' rations including beans, cornbread and hominy. The hominy could have referred to the dried kernels or the kernels ground down into grits. Since I was craving hominy and had a can in the pantry, I chose to think of it that way. I found a hog n' hominy recipe online but since I don't eat meat, I just ended up doing my own fried hominy recipe with herbs and a bit of butter at the end. Not that traditional but rather a nod to the foods in the book. I also know cornbread is not hard to make but it's much cheaper to buy a box mix. I used the Krusteaz Honey Cornbread & Muffin Mix.
Simple Fried Hominy
By Deb, Khaki Kitchen
(Serves 1 as a meal, 2 as a side)
2 Tbsp oil or butter
1 small onion, chopped
1 tsp liquid smoke, optional
1 tsp mixed herbs of choice (I used Trader Joe's 21 Seasoning Salute)
1 (15 oz) can hominy, white or yellow, rinsed well & drained
1 Tbsp butter
salt and black pepper to taste
Heat the oil in a medium pan over medium and add the onion. Saute until onion has softened, about 8 minutes. Add liquid smoke and herb mix and cook another minute. Add the hominy and cook, stirring occasionally until hominy is cooked through and light brown bits form, about 15 minutes. Add butter and season to taste with salt and pepper. Serve with warm cornbread.
Notes/Results: I don't know why I don't fry up hominy more often--it's so chewy, good and satisfying.I'm sure the extra butter doesn't hurt. ;-) I was satisfied with this and a piece of the cornbread for dinner. Actually I could have cared less about the cornbread. It was good but I'm not a big fan of it in general. I did find a cornbread & blueberry bread pudding recipe that I am going to try this weekend with the leftovers. Sadly there was no hominy left--I should have used a big can. I'll happily make it again.
I'm sharing this post with the Weekend Cooking event at Beth Fish Reads, a weekly

event that is open to anyone who has any kind of food-related post to share. For more information, see the

welcome post

.
Note:
A review copy of "Simon the Fiddler" was provided to me by the author and the publisher Harper Collins via TLC Book Tours. I was not compensated for my review and as always, my thoughts and opinions are my own.
You can see the stops for the rest of this TLC Book Tour and what other reviewers thought about the book here.