Aloha! It's almost the end of a long busy week and I am very excited to be today's stop on the TLC Book Tour for Resurrecting Rain, a new novel by Patricia Averbach
. Accompanying my review is a Green Goddess Tuna Salad Sandwich inspired by my reading.
Publisher's Blurb:
Deena's house is being auctioned off at sheriff's sale and her marriage is falling apart. As her carefully constructed life unravels, her thoughts return to the New Moon Commune outside Santa Fe where she was born, and to Rain, the lesbian mother she had abandoned at fourteen. No one, not even her husband and children, know about New Moon or that she sat Shiva for Rain in exchange for living in her Orthodox grandmother's house in an upscale suburb of Cleveland.
Deena's story unfolds with empathy and wit as a cascade of disasters leaves this middle aged librarian unmoored from her home and family, penniless and alone on the streets of Sarasota, Florida. The novel is populated with deftly drawn characters full of their own secrets and surprises–from Deena's blue haired freegan daughter who refuses to tell her parents where she lives, to the octogenarian TV writer who believes that crows are the reincarnated souls of Jews lost in the Holocaust. Deena loses her house, but will she find a home? Maybe the crows know.
Resurrecting Rain explores the unanticipated consequences of the choices that we make, the bonds and boundaries of love and the cost of our infatuation with materialism. At its heart the novel is a tale of loss and redemption, a reevaluation of our material culture and an appreciation for the blessing of friends and family. It demonstrates that sometimes you have to lose everything before you find yourself.
Paperback: 324 pages
Publisher: Golden Antelope Press (February 3, 2020)
My Review:
When I finished Resurrecting Rain, my first thought was "Wow! So many things happen in just 324 pages! How will I begin to describe it in a review?" I'm going to do my best without giving everything away. Deena is a woman whose life begins falling apart from the very start of the book when a really bad investment made by her husband has their house being sold at auction and her carefully constructed life imploding. Her daughter is away at college and distances herself further from the family, her son, a high school swimming star in his senior year sees his prospects dissolving and her husband completely withdraws, shell-shocked and depressed by the guilt of the havoc he has brought on the family. Forced to move to a tiny apartment both Deena a librarian and her husband a pharmacist have their jobs and life begins to move on in a very different way. of course. If that were the only thing that happened it would be an interesting character story of the impact of a financial crisis on a family, but Deena makes some bad decisions of her own that send her careening out of control. I don't want to recount all of them but there is an affair that had me screaming at her in my head (I tend to do that with characters that do dumb things) and that takes her situation from bad to worse. She truly epitomizes the saying "if it weren't for bad luck, she'd have no luck at all." But it is when she hits rock bottom and is separated from her family and alone in Florida that I began to really like her and root for her to make it out of the mess. Deena has been keeping secrets her whole life about her childhood in a commune in New Mexico with her mother and her terrible trade of that life for a "normal" one growing up with her grandmother, and her downward spiral has her longing to search out her past. With everything that happens you might think the book is bogged down in melodrama and while there is an abundance of drama, Patricia Averbach keeps a touch of dark and sly humor and a sense of adventure running throughout the story that moves it along. I sped through the pages, especially the final third of the book, wanting to know what would happen and I quite enjoyed the ride as Deena tries to resolve her past and find herself. A unique book and the author's second novel, I look forward to reading more from her.
-----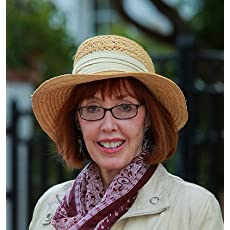 Author Notes: Patricia Averbach, a Cleveland native, is the former director of the Chautauqua Writers' Center in Chautauqua, New York. Averbach's second novel, Resurrecting Rain, the contemporary story of a woman who loses her house but finds her home, was released by Golden Antelope Press in 2020.
Her first novel, Painting Bridges, was described in a Cleveland Plain Dealer review as "introspective, intelligent and moving." Her poetry chapbook, Missing Persons, received the London based Lumen/Camden award in 2013 and was selected by the Times of London Literary Supplement (Nov. 2014) as one of the best short collections of the year.
Previous work includes a memoir about her early career as Anzia Yezierska's sixteen year old literary assistant and an article about the Jewish community in a virtual world called, Second Life. Her work has appeared in Lilith Magazine, Margie, The Muse, and The Blue Angel Review
Connect with Patricia on her website, Facebook and Twitter.
-----
Food Inspiration: There is quite a bit of food in Resurrecting Rain. When the novel starts Deena loses her house and is forced to down-size but still cooks and eats like she did before.Once her luck changes even more, she finds herself trying to make ends meet and often food insecure, then we go from that to the food of her childhood in New Mexico, so the food runs the gamut. Mentions included crantinis of vodka and cranberry juice, tacos, salad with cherry tomatoes, a meal to tempt her husband of lobster bisque, honey bourbon salmon, asparagus risotto, and limoncello mousse, Pinot Grigio, leftover lasagna, cupcakes, coffee and biscotti, organic broccoli, tofu, Ben and Jerry's ice cream, matcha, powered donuts, cappuccino, paprikash, with dumplings and with chicken livers, dobos torte, Chinese food, pita chips, gyros and falafel, sautéed mushrooms, pecans, red beans and rice, stuffed peppers, cracker, hummus and cheese, mushroom soup, spaetzle, Russian tea biscuits, Mandelbrot, herring, gefilte fish, hardboiled eggs and chopped liver, bread with butter, pizza, fettuccine drenched in butter, cream and melted cheese, green tea, burgers and fries, brownies, dry cereal, canned soup, buttered toast, Starbucks Komodo Dragon Blend coffee, rice and oatmeal, frozen burritos, strawberry yogurt, grapefruit, eggs, Spaghetti-Os, apple and sliced processed cheese, oranges, a bagel, muffins, sugar cookie dipped in chocolate, vanilla wafer, sweet corn and fry bread rolled in sugar, strawberries and cream, vodka and orange juice, French toast, died chicken, eggs, bacon and biscuits, pastries, instant oatmeal, hot waffles,grits and sausage gravy, sopapillas with honey, three bean chili, golden cornbread, pancakes, salsa and guacamole, apple cakes with honey, challah, matzo ball soup, chili rellenos, and enchiladas.
While the southwest and Mexican food was a temptation and the limoncello mousse had me drooling, I ultimately went with a tuna sandwich. When Deena is close to running out of funds and food in Florida she is eating tuna sandwiches and fruit from a brown paper bag outside. By a Whole Foods, she wishes her meal was curried chicken or sushi with sesame seaweed salad. I thought, maybe if it wasa good tuna sandwich, it would make it make it a more desirable lunch. I had seen this recipe for a Green Goddess Tuna Salad Sandwich in Bon Appetit and liked everything about it from the herby dressing to the Toasted English Muffin so I decided to recreate it. I did swap the Green Goddess dressing in the recipe with Ina Garten's, no real reason other than using her recipe made it fit into I Heart Cooking Clubs so I could join in this week. I think any Green Goddess dressing would be lovely.
Basil Green Goddess Dressing
Slightly Adapted from Ina Garten via FoodNetwork.com
(Makes about 2 cups of dressing)
1 cup good mayonnaise
1 cup chopped scallions, white and green parts (6 to 7 scallions)
1 cup chopped basil leaves (18 to 20 leaves)

(I used mostly basil but mixed in tarragon & parsley)


1/4 cup freshly squeezed lemon juice
2 cloves garlic
2 tsp anchovy paste
2 tsp kosher salt, or to taste
1 teaspoon freshly ground black pepper
1 cup sour cream
Place the mayonnaise, scallions, basil, lemon juice, garlic, anchovy paste, salt, and pepper in a blender and blend until smooth. Add the sour cream and process just until blended. Use immediately or refrigerate until ready to use.
Note: I dressed two cans of good drained oil-packed tuna with about 1/2 cup of the salad dressing. I don't like my salad too "gloppy" but you can use whatever proportion you like. Use the leftover dressing on veggies, salad or dip boiled shrimp into it (my favorite).
To make the sandwich:
toast a sourdough English muffin or bread of choice and lightly butter. Make a salad of whatever greens and leftover herbs you have (and celery leaves too if you have them. Place the herb salad on top of one side of the English muffin, then add a scoop of the tuna salad. Top with the other muffin half and enjoy!
Notes/Results: The Green Goddess dressing is delicious--complex, herby, savory and creamy and it really elevates the canned tuna and makes it seem luxurious. I did mix in tarragon and parsley that I had on hand to the basil Ina called for and I liked the change. I also think the anchovy is completely necessary as it adds a layer on umami to the flavor. With the toasted and buttery English muffin (good call Bon Apetit!) and the herb salad, this little sandwich made me very happy served with a crunchy Honeycrisp apple. I am looking forward to using up the rest of my dressing and I will happily make this sandwich again.
Linking up at I Heart Cooking Clubs for another week of Needs Must cooking.
I'm
also sharing this post with the
Weekend Cooking
event that was held at
Beth Fish Reads
, but is now being hosted with Marg at The Adventures of An Intrepid Reader. It's a weekly
event that is open to anyone who has any kind of food-related post to share. You can see last week's post here.
Finally I am adding this salad to the Souper Sundays linkup here at Kahakai Kitchen where each you can post soups, salads and sandwiches. Here's the link to this week's post if you'd like to join in.
Note: A review copy of "Resurrecting Rain" was provided to me by the author and the publisher via TLC Book Tours. I was not compensated for my review and as always, my thoughts and opinions are my own.
You can see the other stops for this TLC Book Tour and what other bloggers thought of the book here.