Happy Thursday! I am very happy to be today's stoop the TLC Book Tour of The Ingredients of You and Me by Nina Bocci, the third book in her Hopeless Romantics Series. With my review you'll find a quick and easy recipe for Cornbread & Blueberry Bread Pudding, loosely inspired by the book and definitely inspired by what's in my pantry.
Publisher's Blurb:
From the

USA TODAY

bestselling author of the "heartwarming and refreshingly sweet" (Lauren Layne,

New York Times

bestselling author)

On the Corner of Love and Hate

comes a story about a baker who takes her chances on a new town…and an old love.
After selling her famous bakery back in New York, Parker Adams visits Hope Lake, Pennsylvania, to figure out her next steps. And soon she's wondering why she ever loved city life in the first place. Between the Golden Girls—the senior women who hold court—and Nick Arthur, her equally infuriating and charming former flame, Parker finds a community eager to help her get her mojo back.
But even though Hope Lake gives her the fresh start she's been looking for, Parker discovers that it's not so easy to start over again with Nick. Their chemistry is undeniable, but since Nick is a freshly taken man, Parker is determined to keep things platonic. With a recipe for disaster looming, Parker must cook up a new scheme, figuring out how to keep everything she's come to love before she loses it all.
Perfect for fans of Amy E. Reichert and Jenny Colgan,

The Ingredients of You and Me

is a scrumptious romantic comedy that lets you have your cake and eat it too.
Paperback:

320 pages
Publisher:
Gallery Books (April 28, 2020)
My Review:
I read the first two books in Nina Bocci's Hopeless Romantics series back in January and I reviewed the second book, Meet Me On Love Lane, for a book tour (see that review here) so of course I had to read the third book to find out what happened with Nick the remaining non-attached male of the friends who grew up together in Hope Lake, Pennsylvania and Parker, (best friend of Charlotte from Meet Me On Love Lane), a semi-famous New York baker who sold her notorious bakery and seems to have lost her baking mojo. Like the previous books, this one is a light romance that reads like a Hallmark movie and there's nothing wrong with that in today's crazy world. If it weren't for all the snow (this book takes place in the winter), I'd happily move to Hope Lake with its fun and quirky citizens, especially the group of senior ladies Parker nicknames The Golden Girls as they bring sass and humor to the stories and I'd like them to unofficially adopt me as they do Parker once she hits town. They are excited to have a Food Chanel celebrity in their midst and want her to help recreate their grandmother's old recipes which come with love and not a lot of measurements. It's a task that intimidates Parker as since she sold her business in New York, can seem to work her previous magic in the kitchen. Adding to Parker's angst is her relationship with Nick, kept hidden from the friends that fizzled out when he suddenly stopped calling. She finds out why when she hits tone and finds him with a clingy new girlfriend.
It's a sweet story (
baking pun fully intended
) and while predictable as happily-ever-afters are, it's still fun to get to the conclusion.
The Ingredients of You and Me
is definitely the "
foodiest
" of the three books and that makes it my favorite. If you are a fan of romance or need something light and fun to distance at home with, this is an excellent book and series to escape with.
-----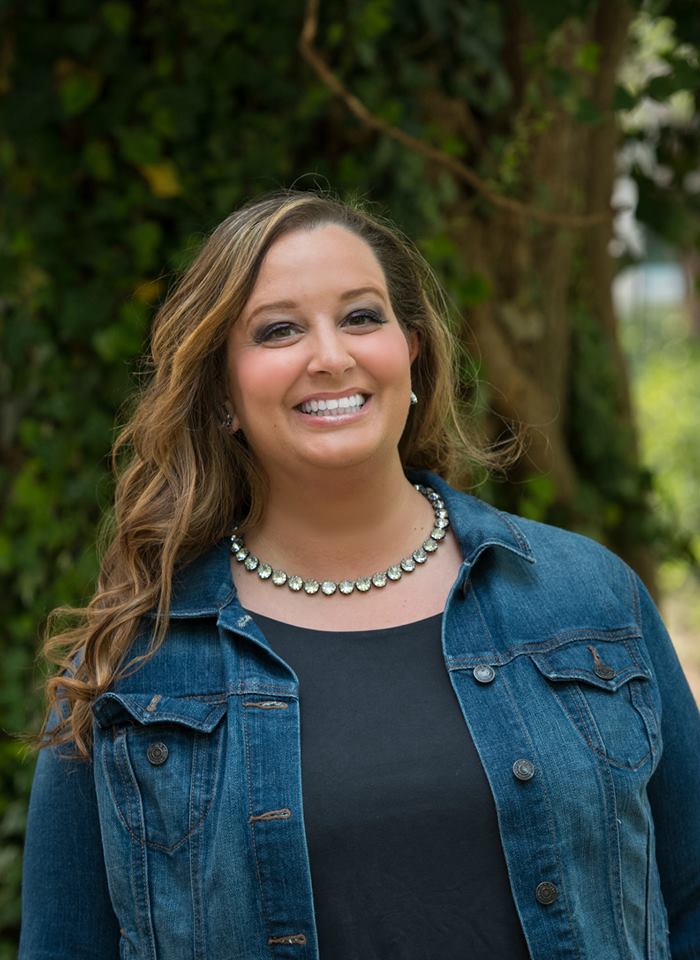 Author Notes:
Nina Bocci is a
USA TODAY
bestselling novelist who loves reading and writing about swoony, relatable heroes and smart, witty heroines. If it's set in a small town, even better. You can always find her chatting on social media about her massive, crazy Italian family, and her favorite person in the world, her son.
-----
Food Inspiration:
It's no surprise that the bulk of the food in The Ingredients of You and Me is baked goods with Parker's occupation and in her trying to find her baking mojo but her friends the "Golden Girls" (later "The Baked Nanas") feed her and plenty of beverages are consumed in Hope Lake. Food mentions included coffee, bagels and cream cheese, icing, brownies, pie, lasagna, manhattans, highballs, amaretto sours, gin and tonics, craft beers, whiskey and bourbon, tonic water with wine, meatballs, pasta, salad, ham, scalloped potatoes, green beans, cake, ice cream, cookies, pound cake, torte, stollen and a Baked Alaska (made by by various Golden Girls), blueberry muffins, carrot cake, banana maple cupcakes, scones, cherry glaze, cookie dough cupcakes, salted caramel cupcakes, cold chicken, Little Debbie cupcakes, pretzels, homemade Hope Lake fudge that came in every imaginable flavor, hot coca and chocolate cookies, Oma's Apfelkuchen (Grandma's apple cake), chocolate chip cookies, traditional Italian cookies "almost like mini fruitcakes," ramen and frozen dinners, stuffed shells with both meat and cheese, hummingbird cake, and red velvet cake. There are even recipes included at the back of the book for Italian fig cookies (cucidati), the German apple cake (the apfelkuchen), and the hummingbird cake, Italian wedding cookies, and Italian tea cake (ciambellone).
So here's the thing. I'm not a baker. I don't like to bake. I love to read about bakers and I love to eat baked goods (way more than I should) and I very much admire all of the bread bakers and people who are baking up a storm during COVID19, but that's not me. When I reviewed Meet Me on Love Lane I back in January, I got away with making lasagna but this book really cried out for some kind of baked good. Last week I made cornbread from a mix to accompany a dish for a book review (about as "bakey" as I wanted to get), and since I am not a big fan of cornbread, I wrapped up the all leftovers and put them in the freezer. I got to thinking maybe I could make something from that leftover cornbread so as not to waste it and decided on bread pudding. Truthfully it doesn't have all that much to do with the book--although Parker bakes pie crust when she is trying to find her mojo and uses a can of corn for a pie crust weight and ends up boiling the corn inside the can. She also talks about blueberry muffins and I had a pint of blueberries and thought they would be a good pairing with the sweet cornbread. Finally, I figure bread pudding is pretty hard to mess up so it would have been a good dish for Parker in the midst of of her mojo finding. So there you have my bookish dish!
Another plus for this cornbread is that I had everything I needed to make it--so important in our stay-at-home/safer-at-home times. I ended up using canned coconut cream as my liquid so I didn't have to buy half-and-half or cream. If you don't have blueberries, I think chocolate chips would be a fine substitute, or another fruit of choice. I used this Martha Stewart recipe as a basic guideline.
Cornbread and Blueberry Bread Pudding
By Deb, Inspired by Martha Stewart
(Seves About 6)
butter for pan
about 4 cups of leftover cornbread, chopped into small pieces
1 (4 oz) package of fresh blueberries
3 large eggs
1 (15 oz) can coconut cream or milk
1/4 cup brown sugar + more for dusting the top
1 tsp vanilla extract
1 tsp cinnamon
1 pinch salt
Preheat oven to 375 degrees F. Butter a small casserole or baking pan. Place the cornbread pieces and blue berries in the pan and set aside.
In a medium bowl or pitcher mix eggs, coconut cream/milk, brown sugar, vanilla, cinnamon, and salt together, lightly beating until thoroughly mixed. Carefully pour the mixture over the cornbread and blue berries. Press mixture down lightly with a spoon to ensure the liquid covers and soaks into all of the cornbread. Let the pan sit for 5 to 10 minutes, then sprinkle top of bread pudding with brown sugar, Place pan in the oven and cook about 35 to 45 minutes, or until top is lightly brown and a toothpick or skewer inserted comes out clean.
Serve warm with milk, cream, whipped cream or ice cream and enjoy!
Notes/Results: Sweet, rich, creamy and really good. I am very happy with how this turned out. The top is crispy and the heavy blueberries add even more juiciness that along with the milk and egg mixture, really improves the dry, crumbly texture of the cornbread. Very quick and easy with the leftover cornbread, I think it counts as either dessert or breakfast. ;-) I'd happily make it again.
I'm linking up this post to
this month's Foodies Read. You can check out May's Foodies Read linkup, hosted by Heather at Based on a True Story, to see what everyone is reading this month.
I'm
sharing this post with the
Weekend Cooking
event that was held at
Beth Fish Reads
, but is now being hosted with Marg at The Adventures of An Intrepid Reader. It's a weekly
event that is open to anyone who has any kind of food-related post to share.
Note: A review copy of "The Ingredients of You and Me" was provided to me by the author and the publisher via TLC Book Tours. I was not compensated for my review and as always, my thoughts and opinions are my own.
You can see the other stops for this TLC Book Tour and what other bloggers thought of the book here.