It's Friday and time for a stop on the TLC Book Tour review for The Hunting Party by Lucy Foley. I was thinking that a bright spot in social distancing would be more reading time but so far I have been going into the office every day--at least parts of days and feel like I have even a little less time on my hands which is why I started cooking Mushroom Risotto at 8:00 PM last night as my recipe pairing. It was worth the effort--both this twisty thriller and the tasty risotto.
Publisher's Blurb:

Everyone's invited…everyone's a suspect…

For fans of Ruth Ware and Tana French, a shivery, atmospheric, page-turning novel of psychological suspense in the tradition of Agatha Christie, in which a group of old college friends are snowed in at a hunting lodge . . . and murder and mayhem ensue.
All of them are friends. One of them is a killer.
During the languid days of the Christmas break, a group of thirtysomething friends from Oxford meet to welcome in the New Year together, a tradition they began as students ten years ago. For this vacation, they've chosen an idyllic and isolated estate in the Scottish Highlands—the perfect place to get away and unwind by themselves.
They arrive on December 30th, just before a historic blizzard seals the lodge off from the outside world.
Two days later, on New Year's Day, one of them is dead.
The trip began innocently enough: admiring the stunning if foreboding scenery, champagne in front of a crackling fire, and reminiscences about the past. But after a decade, the weight of secret resentments has grown too heavy for the group's tenuous nostalgia to bear. Amid the boisterous revelry of New Year's Eve, the cord holding them together snaps.
Now one of them is dead . . . and another of them did it.
Keep your friends close, the old adage goes. But just how close is too close?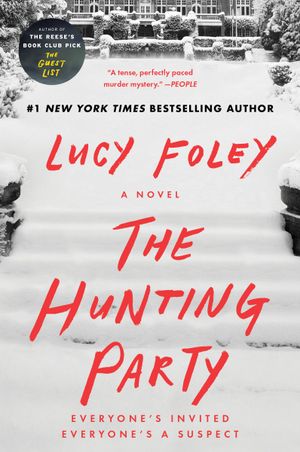 Paperback:
352 pages
Publisher:
William Morrow Paperbacks; Reprint edition (March 3, 2020)
My Review:
After finishing this book and recently (finally) reading Ruth Ware's In a Dark, Dark Wood, I am determined that if any friends ever want to gather in a very remote location, in the winter, at modern yet creepy houses made of glass or mostly windows, with copious amounts of alcohol and maybe even drugs, the advisable thing to do is say NO!... and this is even before the new reality of social distancing. No good ever comes from these situations. In The Hunting Party, a group of nine college friends (now in their thirties), stay at a very isolated estate in Scotland for their traditional of ringing in the New Year together. There are four couples: Samira and Giles (who have brought their baby), Nick and Bo, Miranda and Julian, Emma and Mark, and finally Katie, Miranda's oldest friend focused on making parter at her law firm and on her own for the trip. The trip was planned by Emma, last to "join" the group and wanting to dazzle them with the unique and opulant location and her fabulous cooking. Things get off to a slightly rocky start when the group finds they are sharing the property with a somewhat creepy couple from Iceland. Then, a blizzard starts, the isolation kicks in and with alcohol and small white pills, secrets, drama, and fissures in friendships start. The story goes back and forth from the arrival at the group at the lodge on December 30th to January 2nd when the body of one of them is discovered after they went missing early on New Year's Day. The reader needs to figure out who has been killed and who did the killing. The story is told from several different perspectives including Heather, the property manager and Doug, the gamekeeper, who are hiding their own secrets.
There was a slight challenge for me in that I really didn't like these people (with the exception of Heather and Doug) as they were obnoxious enough that they annoyed me, but the fun is in the story and putting the clues together and not about needing likable characters. The tension builds steadily and there are some good twists and turns. I developed two theories of whodunit and I am happy to say one of them was mostly right. ;-) (I had a slightly incorrect motive.) The hardcover version came out last year and the paperback version came out earlier in the month. Although not the perfect thriller, overall, I enjoyed it. The Hunting Party is a good book for your social distancing TBR pile as you can honestly think to yourself that you would much rather be stuck at home, curled up with a mystery-thriller than hanging out with the college friends you don't have much in common with anymore!
-----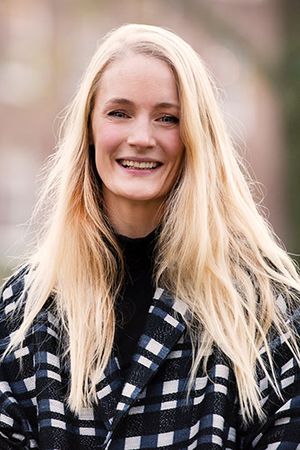 Author Notes:
Lucy Foley
studied English literature at Durham University and University College London and worked for several years as a fiction editor in the publishing industry. She is the author of
The Book of Lost
and
Found
and
The Invitation
. She lives in London.
-----
Food Inspiration:
Alcohol and venison ruled the day for food in The Hunting Party but there was other food mentioned as well like local, seasonal produce,fresh truffles, foie gras, oysters, beer, champagne, a flaming sambuca shot, beef fillet, smoked salmon and mackeral, caviar, endive, Roquefort, walnuts, chocolate, quails eggs, double-cream, potatoes, on-vine tomatoes, whiskey, an omelet, venison with juniper and limp Tuscan kale, locally caught salmon with wild herbs, wine, smoked salmo blinis, venison Wellington, chocolate souffle, limp raspberry pavlova, negronis with the gin swapped out for bourbon, steak and ale pies, vodka, alcopops, risotto, meringue-and-raspberry thing, rose, cava, Sainsbury's ready meal curry, protein powder shakes, coffee, fry-ups, bacon and toast, orange juice, olives, and elderflower.
Recipe Notes:
For my bookish dish, I ended up going with risotto. It gains only a brief mention in the book as a disaster one of the characters cooked but I had risotto rice and mushroom bouillon cubes in the pantry and there were mushrooms at my local supermarket. Since currently, it's a challenge readily locating some ingredients, risotto seemed the best option, not to mention I love mushroom risotto and crave it on a regular basis. I even like making it and waiting for that magic moment when the rice is just perfectly cooked and soft but yet has a bite.
"Never remember you being much into your cooking, Miranda." This is an understatement--which I'm sure is his point. Miranda is a terrible cook. I remember a particularly awful risotto where half the rice had stuck to the bottom of the pan and burned black."
--The Hunting Party--Lucy Foley
Mushroom Risotto
By Deb, Kahakai Kitchen
(Serves 4 as Entree/6 as Starter)
5 cups mushroom stock
3 Tbsp butter, separated
3 Tbsp olive oil, separated
1 small onion, diced
2 cloves garlic, finely minced
2 tsp Trader Joe's Umami seasoning blend
4 cups (ish) fresh mushrooms (I used crimini, button & beech (shimeji) mushrooms, sliced)
2 cups risotto rice
1/2 cup white wine
sea salt and freshly ground pepper to taste
1/2 cup Parmesan cheese, shaved or grated + more to serve
chopped chives to serve
Heat the mushroom broth in a medium saucepan until just at a boil. Reduce heat and keep at a simmer.
Meanwhile place 2 Tbsp butter and 1 tablespoon of the olive oil into a stockpot or dutch oven and heat over medium heat. Add the onion and cook for 5-6 minutes, stirring, until onions are softened and translucent. Add the garlic and cook for another minute or two. Add the button and cremini mushrooms and cook over medium heat for 4-5 minutes. Add the beech mushrooms and cook for another couple of minutes until the mushrooms have released most of their moisture and are lightly browned but not "mushy." Remove the mushroom-onion mixture from pot, cover and set aside.
In the same stockpot (no need to wipe it out after removing mushrooms), heat the remaining 1 tablespoon butter and 2 tablespoon of olive oil over medium heat. Add the rice and stir until it is well coated and starts to turn opaque. Stir in the white wine and cook until it evaporates.

Using a ladle, add a ladle-full of the hot broth to the rice and cook, stirring gently, until the liquid is absorbed. Follow the same process, adding the remaining broth a ladle at a time and stirring until the liquid is absorbed. Continue to cook and gently stir, letting the rice absorb each ladle of broth before adding more. (This should take about 20-25 minutes depending on your rice.) Once rice is creamy but still just slightly firm, it is done.
Gently stir the reserved cooked mushrooms into the rice mixture, along with the grated Parmesan. Taste for seasoning and add salt and freshly ground black pepper as needed. Serve immediately, garnished with extra Parmesan and chopped chives.
Notes/Results: Making risotto at 8 PM might have seemed like a daunting prospect after an exhausting day but I put on a mellow don't-need-to-think-about-it audio book (the classic, Sense and Sensibility read by Rosamund Pike) and the stirring was very tranquil and zen and a good way to help clear my very active and tired brain. The resulting risotto was delicious--perfectly mushroomy, creamy and satisfying. While I do think risotto is always best served immediately, I am always happy to have leftovers to heat up for lunch. I will make it again.
I
'm sharing it at the
Weekend Cooking
event at Beth Fish Reads, a weekly
event that is open to anyone who has any kind of food-related post to share. For more information, see the
welcome post
.
Note:
A review copy of "The Hunting Party" was provided to me by the author and the publisher Harper Collins via TLC Book Tours. I was not compensated for my review and as always, my thoughts and opinions are my own.
You can see the stops for the rest of this TLC Book Tour and what other reviewers thought about the book here.
B