I am very excited to be a stop on the TLC Book Tour for The Blue Zones Kitchen: 100 Recipes to Live to 100 by Dan Buettner, a gorgeous new cookbook from National Geographic. Along with my review, I'm sharing a tasty and healthy recipe for Coconut Chia Pudding from the book.
Publisher's Blurb:
Best-selling author Dan Buettner debuts his first cookbook, filled with 100 longevity recipes inspired by the Blue Zones locations around the world, where people live the longest.
Building on decades of research, longevity expert Dan Buettner has gathered 100 recipes inspired by the Blue Zones, home to the healthiest and happiest communities in the world. Each dish–for example, Sardinian Herbed Lentil Minestrone; Costa Rican Hearts of Palm Ceviche; Cornmeal Waffles from Loma Linda, California; and Okinawan Sweet Potatoes–uses ingredients and cooking methods proven to increase longevity, wellness, and mental health. Complemented by mouthwatering photography, the recipes also include lifestyle tips (including the best times to eat dinner and proper portion sizes), all gleaned from countries as far away as Japan and as near as Blue Zones project cities in Texas. Innovative, easy to follow, and delicious, these healthy living recipes make the Blue Zones lifestyle even more attainable, thereby improving your health, extending your life, and filling your kitchen with happiness.
Hardcover: 304 pages
Publisher: National Geographic; 1st edition (December 3, 2019)
My Review:
I have been reading and learning about the blue zones for a few years now--those places around the world where people live the longest, and live happy and healthy lives. I'd watched Dan Buettner on a few talk shows before the book came out and I was on the waiting list at the library before I had an opportunity to jump on this book tour and I consider myself really lucky to get a copy of my own to review. The Blue Zones Kitchen is actually more than a cookbook, it's also a wellness book, a travelogue and a resource for healthy eating and longevity. Because it is published by National Geographic, you know it's going to be full of beautiful and breathtaking photos of food as well as the blue zones it represents and some of the people living their best lives in the five blue zones: Sardinia (Italy), Okinawa (Japan), Nicoya (Costa Rica), Ikaria (Greece), and Loma Linda (California).
The book starts with an index of the recipes and a general introduction to the blue zones, tips for eating to be 100, and The Blue Zones Food Guidelines which include Retreating From Meat, Go Easy On Fish, Cut Down on Eggs, Eat A Daily Dose of Beans, and Slash Sugar. Indeed, Buettner notes that he chose plant-based recipes for the book as his research shows that eating mostly plants is the best way to achieve longevity. From there the book is broken down by each zone with a slice of life there, key foods and people of the region and of course the recipes. The recipes include small plates, entrees, salads and soups, beverages and desserts. Not every recipe has a picture, but those that do are stunning and the information on the people, foods, and customs interesting. There's a page on How to Cook Beans (remember your daily dose) and a list of the Top Longevity Ingredients for each country and a Metric Conversions chart.
The only thing I found lacking was a good index of the recipes by type and ingredient. When I cook it's usually based on what foods I have on hand or want to eat and the type of dish it is--main dish, breakfast, salad, etc.--the recipes are only listed by country which isn't exactly practical in the kitchen. Otherwise I have no complaints and I've tagged many recipes to make from each country like from Sardinia, Quick Greens and Onions, Fennel and Potato Cassola, Toasted Fregula with Asparagus, Spaghetti with Walnut Pesto, Porcini Mushroom Risotto, Quick and Chunky Tomato Sauce, and Chickpea (Falafel) Patties. From Okinawa I want to try Green Papaya Champuru, Sweet and Spicy Carrot Medley, Mushroom Dashi, Cream of Pumpkin Soup, Tofu Steak with Miso Mushrooms, Iced Banana Turmeric Smoothie, and Chinese Five-Spice Banana Ice Cream with Roasted Pineapple. From Nicoya I tagged Veggie Hash with Corn and Onions, Hearts of Palm Ceviche, Hearts of Palm Picadillo, Tender Bean, Potato and Onion Stew, Sweet Corncakes, Lemonade with Chan (or chia) Seeds, and Breadfruit (Ulu) Poke. Ikaria, Greece tempted me with Tomato Pasta Soup, Fennel Pot Pie, Chickpea Soup with Lemon and Herbs, Winter Potato Salad, Baked Rosemary Chickpeas, Ingenious Garlic Spread, and Ikarian Winter Ratatouille. Finally from Loma Linda, California I tagged Cantaloupe Berry Cooler, Granola Mexicana, Oatmeal Breakfast Cookies, Adventist Gumbo, Haystacks (Adventist Taco Salad), Veggie No-Meat Balls, One-Pot Lasagna Soup and 4-Ingredient Chocolate Mousse Pie.
The recipes I looked at and the one I have tried so far seemed easy enough. Those challenged by limited shopping options may struggle with some of the ingredients like fregula, yucca or green papaya--although for example with an ingredient like hearts of palm, although I can buy it fresh here, the recipe mentions that canned or jarred can be used and may be easier to locate for most people. A natural foods store and a good grocery store should get you most of the ingredients called for. It may not be the book for a beginner cook or a voracious carnivore, but those interested in cooking to improve or maintain their health will find plenty to love about The Blue Zones Kitchen. I am looking forward to cooking much more from it as soon as I have shaken the bug I have been battling.
-----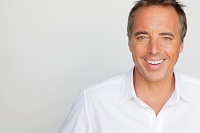 Author Notes:
Dan Buettner is the founder of Blue Zones, an organization that helps Americans live longer, healthier lives. His groundbreaking work on longevity led to his 2005 National Geographic cover story "Secrets of Living Longer" and two national bestsellers, The Blue Zones and Thrive. He lives in Minneapolis, MN.
Visit him on Facebook, Instagram, and Twitter, and at his website bluezones.com.
-----
I had planned to cook multiple dishes from this book before reviewing it but I have felt under the weather this past week and didn't get to it. I do plan to make a soup or two from the book and the No-Tuna Tuna Salad (because I am always looking for a good vegan tuna salad recipe) soon, and I'll report back on those dishes. With the sore throat I have been nursing all week, it's cold, smooth and fruity foods that sound the best to me and so the Coconut Chia Pudding from the Loma Linda section was the recipe that tempted me the most. I've made chia pudding before but don't usually use coconut cream or add lemon zest and I wanted to see what they added to the mix. I followed the recipe for this one, just adding a bit of granola and pumpkin seeds to the fresh berries for the topping.
Update: You can see the recipe and my trial of the Tomato Pasta Soup here!
Coconut Chia Pudding
Reprinted from The Blue Zones Kitchen
(Makes 6 Servings)
Chia seeds, a staple of the Adventist diet, which pack a punch of nutrients as well as an energy boosting blend of omega-3 fats, fiber, protein, vitamins, and antioxidants, have recently become a popular superfood, but their origins are ancient; the Maya used them as food for runners and warriors to enhance endurance and strength. Chia seeds gel up and thicken in liquid, which makes this smooth, creamy pudding something that is healthy enough to eat for breakfast but decadent enough to enjoy as a dessert.
1 cup coconut cream
1 cup coconut milk
3 Tbsp agave network
1/2 tsp finely grated lemon zest
1/2 (3 oz) chia seeds
Whisk coconut cream, coconut milk, agave nectar, and lemon zest together. Pour over chia seeds and stir well.
Cover with plastic wrap and let sit until thickened, at least 40 minutes or overnight in the refrigerator.
When ready to eat, stir well and top with fruit, nuts, and seeds, if desired.
Note: You can substitute stevia or honey for the agave, and swap in soy milk, almond milk, or rice milk for the coconut milk. If you're watching your fat intake, reduce the amount of coconut or just use a plant-based milk. If you do so, reduce the liquid to 1 1/2 cups to maintain consistency.
Notes/Results: This was perfect for me--sweet, but not too sweet and good coconut flavor. If you have never had chia seed pudding, this is a good starter recipe--the coconut cream makes it ultra rich and creamy. I like to but some fruit on the bottom of my serving dish and another layer on top of the pudding. This makes a good breakfast, snack, or dessert and I would happily make it again.
I'm linking up this post to
this month's Foodies Read. You can check out March's Foodies Read linkup, hosted by Heather at Based on a True Story, to see what everyone is reading this month.
And I
'm sharing it at the
Weekend Cooking
event at Beth Fish Reads, a weekly
event that is open to anyone who has any kind of food-related post to share. For more information, see the
welcome post
.
Note:
A review copy of "The Blue Zones Kitchen" was provided to me by the author and the publisher via TLC Book Tours. I was not compensated for this review and as always, my thoughts and opinions are my own.
You can see the stops for the rest of this TLC Book Tour and what other reviewers thought about the book here.