Happy Tuesday! I am saying that painfully since I got hit with the crud this past weekend and have been home from work yesterday and today, nursing a sore throat and ear and mostly sleeping. It did give me a chance to finally finish Resistance Women by Jennifer Chiaverini and I am happy to be a stop on today's TLC Book Tour for this moving historical novel. Accompanying my review is a semi-homemade (remember the feeling like absolute crud) Pear Streusel Coffee Cake with Coffee, my interpretation of

Kaffee

und K

uchen

(coffee and cake) inspired by my reading.
Publisher's Blurb:
From the

New York Times

bestselling author of

Mrs. Lincoln's Dressmaker

, an enthralling historical saga that recreates the danger, romance, and sacrifice of an era and brings to life one courageous, passionate American—Mildred Fish Harnack—and her circle of women friends who waged a clandestine battle against Hitler in Nazi Berlin.
After Wisconsin graduate student Mildred Fish marries brilliant German economist Arvid Harnack, she accompanies him to his German homeland, where a promising future awaits. In the thriving intellectual culture of 1930s Berlin, the newlyweds create a rich new life filled with love, friendships, and rewarding work—but the rise of a malevolent new political faction inexorably changes their fate.
As Adolf Hitler and his Nazi Party wield violence and lies to seize power, Mildred, Arvid, and their friends resolve to resist. Mildred gathers intelligence for her American contacts, including Martha Dodd, the vivacious and very modern daughter of the US ambassador. Her German friends, aspiring author Greta Kuckoff and literature student Sara Weitz, risk their lives to collect information from journalists, military officers, and officials within the highest levels of the Nazi regime.
For years, Mildred's network stealthily fights to bring down the Third Reich from within. But when Nazi radio operatives detect an errant Russian signal, the Harnack resistance cell is exposed, with fatal consequences.
Inspired by actual events,

Resistance Women

is an enthralling, unforgettable story of ordinary people determined to resist the rise of evil, sacrificing their own lives and liberty to fight injustice and defend the oppressed.
My Review:
If you read this blog often and read my book tour reviews, you know that I have a deep love of World War II historical fiction. I am not sure exactly why I love it because if you ever go into a WWII book, any war book really and expect that you will leave it happy and carefree, you obviously are a newbie to the genre. It just doesn't happen. You can end a book with new knowledge, with awe, with admiration, with a (lately very faint hope) that nothing like it will ever happen again, but you never leave it with a light heart. And this certainly is the case with Resistance Women where 600-ish pages of well-researched story based on true people and events was a whole lot for me to get through. I had to keep putting it down and reading other, much lighter things. I postponed my book tour review once due to a cold, busy work weeks and house guests, and by golly even being sick, I was going to finish the book for this tour date. I realize that this makes it sound like I didn't like Resistance Women, but that just isn't the case. This was my first book by Jennifer Chiaverini and it was an incredible interesting story--that taught me about the women of Germany who although they came from different perspectives and walks of life, worked together to aid in the resistance against Adolph Hitler and the Nazis, mostly through the group called the Rote Kapelle (Red Orchestra) by the Nazis. It starts a bit slow as Chiaverini builds each character and their lives from 1929 until the end of the war in 1946, but once I got into the story and the tension started to build, I was hooked.
The book centers around four women, three real life women, one a fictional character inspired by several young women. Mildred Harnack is an American from Wisconsin, studying for her doctorate who marries a german and emigrates to Germany. Greta Kuckoff is a German National who wants to be an author and falls in love with the theater and a married man--a writer and dramatic adviser. Martha Dodd was the the daughter of the US Ambassador to Germany and was witness to Hitler's rise (I have had In the Garden of Beasts, the book about her family by Erik Larson in my TBR stack for ages now). Sara Weitz is a young Jewish literature student from an upper middle class family. I was most drawn to Mildred's and Sara's stories, although all of the women were interesting. Their actions were just as important, heroic and risky as the men in the resistance cell, although they are often overlooked in history as women's contributions tend to be. Chiaverini made each character come to life and made me care about them enough to be googling them and various events and enemies throughout the book which added to the time it took me to read it. It also had the unfortunate effect of giving me advance warning of how things ended for most characters, main and minor, which made it a bit like a scary movie that had me talking to them (OK, sometimes yelling at them) in my head about the decisions they were making over the years as we journeyed to the book's end.
I have a lot of people tell me they are burned out on WWII novels and it's partially because there have been a lot of great ones that focus on women these past few years, and I do understand. The emotional toil a good and powerful book can take can be exhausting. Resistance Women is an excellent book but I will say that if you are burned out on the era or not able to cope with the horrors of war, maybe you should wait a bit before trying it. But, if you love historical fiction, don't mind a lengthy read, and want to learn some very interesting history in a book that will stay with you after the final pages are turned, I recommend it highly. I'm going to look for more of Chiaverini's books. I just may read a couple of thriller or some humor before I do. ;-)
-----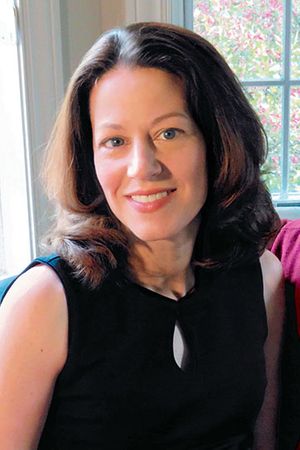 Author Notes:
Jennifer Chiaverini is the
New York Times
bestselling author of several acclaimed historical novels and the beloved Elm Creek Quilts series. A graduate of the University of Notre Dame and the University of Chicago, she lives with her husband and two sons in Madison, Wisconsin.
-----
Food Inspiration:
Resistance Women starts in 1929 before the Great Depression and then goes through wartime until about 1946 and there are times and places the food is plentiful and when it is scarce but either way, there were plenty of mentions including coffee, a dinner of bratwurst in a vinegar and caper sauce, potato dumplings, cabbage rolls and poppyseed cake for dessert, savory soup and delicate sandwiches, cheap but edible cuts of meat and day-old bread, lentil soup, roast pork with apples and sauerkraut, beer, Pfannkuchen (a German pancake), Feuerzangenbowle (a traditional German drink where a rum-soaked sugarloaf is set on fire and drips into mulled wine), bread, cheese, and slices of smoked sausages, schnapps, wine, roast duck and potatoes, Perigord truffles, Russian caviar and champagne, vegetable soup, tea and cake, a hearty cabbage, potato and sausage soup, sodas, sandwiches and fruit, butter cake, chamomile tea, liverwurst sandwiches, thinly sliced bread, cheese, sausage and tomatoes, Apfelkuchen, dark bread, sliced cold sausages, and cheese, sehr leckere Kekse (German cookies), vodka, champagne and strawberries, potato soup and bread, oatmeal and toast, trays of hors d'oeuvres and cocktails, fried eggs and buttered toast, plain bread and yogurt, scrawny stick of asparagus and rhubarb at the bottom of a bin, greens, tomatoes, summer squash, cabbages and peppers grown in Mutti Harnack's garden, potatoes, carrots and bread, a soup of potato peelings, a piece of cheese scarcely big enough for a sandwich, sacks of rice and beans, cans of fruit, roast potatoes swimming with butter, fresh bread, canned peaches, hot tea with honey, bread, cheese and sliced Mettwurst, cognac, real coffee, cabbage, onion and apples fried in the last of the olive oil, a half loaf of rye bread and a gorgeous red apple, chocolate, Schweineschnitzel and Spatzele, bread spread with margarine, Knackwurst, Spatzle and a beer, breakfast steaks and an apple, bread and jam with milk, and ersatz coffee (a coffee substitute for the real thing).
There were many scenes where characters had various interpretations of
Kaffee
und K
uchen, the afternoon tradition of enjoying coffee and cake. Some of the cakes seemed to be the more traditional kuchen--the cross between a cake and pie with fruit and pastry cream but I wanted something simpler and decided to go with a coffee cake, more of
a
Streuselkuchen. Although apple was mentioned frequently in the book, a friend just sent me some little apple crisps so I decided to make my cake with pear.
I believe I have mentioned many times that I am not a baker, that and feeling like junk since Saturday meant the last thing I wanted to do was bake a cake, even an easy one. So, I'll confess my dirty little secret--I used a coffee cake mix! (Gasp!) Krusteaz had their cake mixes on special for $2.79 each at my local grocery store including this Cinnamon Swirl Crumb Cake and Muffin Mix. Since I rarely if ever bake, I didn't have flour or sugar or brown sugar on hand, and it would have cost me a lot more to buy even small containers of these ingredients. So, I bought the mix and 3 fresh Bartlett pears and was good to go. I am not ashamed of this, nor particularly proud--it was just my best option. If you want to make your own, I totally get it and suggest this one from Gale Gand's delightful Brunch! Cookbook which you can find here.
As for me, I simply peeled, cored and sliced my pears and stirred about two heaping cups into the mixed batter (which used water, cooking oil and an egg) and baked it in an 8x8-inch pan at 350 for about 35 minutes (I used my toaster oven which cooks a little hot), until a skewer into the cake came out clean. Although the instructions called for a middle and top streusel, with the chopped pears mixed in, I put all my streusel on the top.
Notes/Results: The resulting cake was light, moist from the pears and not too sweet and bonus--it's the first think beyond popsicles, broth, yogurt and smoothies that hasn't totally killed my throat so far this week and thus it was my dinner tonight. ;-) I would buy the mix again and use it with other fruit for a one bowl and spoon coffee cake.
I'm sharing this post with the Weekend Cooking event at Beth Fish Reads, a weekly

event that is open to anyone who has any kind of food-related post to share. For more information, see the

welcome post

.
Note:
A review copy of "Resistance Women" was provided to me by the author and the publisher Harper Collins via TLC Book Tours. I was not compensated for this review and as always, my thoughts and opinions are my own.
You can see the stops for the rest of this TLC Book Tour and what other reviewers thought about the book here.