With all of COVID-19 madness lately I'm happy today's stop on the TLC Book Tour for The Sea of Lost Girls by Carol Goodman.
There truly is no better distraction from reality than an absorbing book and good food, so accompanying my review is a recipe for Butter Cauliflower with Basmati Rice inspired by the book.
Publisher's Blurb:
In the tradition of Daphne du Maurier, Shari Lapena, and Michelle Richmond comes a new thriller from the bestselling author of The Lake of Dead Languages—a twisty, harrowing story set at a prestigious prep school in which one woman's carefully hidden past might destroy her future.
Tess has worked hard to keep her past buried, where it belongs. Now she's the wife to a respected professor at an elite boarding school, where she also teaches. Her seventeen-year-old son, Rudy, whose dark moods and complicated behavior she's long worried about, seems to be thriving: he has a lead role in the school play and a smart and ambitious girlfriend. Tess tries not to think about the mistakes she made eighteen years ago, and mostly, she succeeds.
And then one more morning she gets a text at 2:50 AM: it's Rudy, asking for help. When Tess picks him up she finds him drenched and shivering, with a dark stain on his sweatshirt. Four hours later, Tess gets a phone call from the Haywood school headmistress: Lila Zeller, Rudy's girlfriend, has been found dead on the beach, not far from where Tess found Rudy just hours before.
As the investigation into Lila's death escalates, Tess finds her family attacked on all sides. What first seemed like a tragic accidental death is turning into something far more sinister, and not only is Tess's son a suspect but her husband is a person of interest too. But Lila's death isn't the first blemish on Haywood's record, and the more Tess learns about Haywood's fabled history, the more she realizes that not all skeletons will stay safely locked in the closet.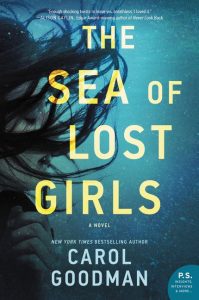 Paperback: 320 pages
Publisher: William Morrow Paperbacks (March 3, 2020)
My Review:
The Sea of Lost Girls is the first book I have tried from author Carol Goodman which seems odd since she has written fourteen novels. I was drawn to the book's description and to the gorgeous cover and I stayed for the absorbing story and mystery which has a slightly mythical and magical feel to it. There are plenty of secrets from the prep school and coastal setting to the layers of family drama, and Goodman's writing pulled me into the story. I didn't always agree with the main character Tess and some of her choices (OK, I may have lectured her in my head while reading several times...and possibly yelled at her at least once!), but Goodman had me caring about her and I wanted things to work out for her and her troubled son Rudy, and their fractious relationship. I am a sucker for boarding/prep school settings and especially when there is something slightly foreboding about them, so the Maine coast and the school's and community's legends of missing and drowned girls was appealingly creepy. The Sea of Lost Girls is a fast read although it moved a bit slow in the beginning. Once the pace picked up I read it in just a couple of sittings, wanting to know what happened and to see if my guesses were correct. There are several twists and turns in the book, a few I saw coming and some I didn't. All in all, I enjoyed my time with this book and I will look for more of Goodman's work.
-----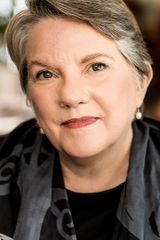 Author Notes: Carol Goodman is the critically acclaimed author of fourteen novels, including The Lake of Dead Languages and The Seduction of Water, which won the 2003 Hammett Prize. Her books have been translated into sixteen languages. She lives in the Hudson Valley with her family, and teaches writing and literature at the New School and SUNY New Paltz.
Find out more about Carol on her website, and connect with her on Facebook and Instagram.
-----
Food Inspiration:
Food isn't a big presence in The Sea of Lost Girls but there were some mentions including almond milk and tofu, cumin for a curry for dinner, orange juice, coffee, granola bars, hot chocolate and cookies, Coke, fresh fish and blueberries, s'mores, berry wine, Pancake Sundays, Chili Night. beef stew, Malbec, loose tea and English biscuits, donuts, blueberry muffins, "messy vegan casseroles," carrots, cereal, and Gin-and-Tonics.
For my bookish dish, I decided to make a vegetarian curry inspired by Lila cooking curry at Rudy's house & asking Tess for cumin. Back when I ate meat and poultry, I was a big fan of Butter Chicken and ordered it and made it often. I was going to make a Butter Tofu but because the I Heart Cooking Clubs theme is Cauliflower Everything this week, I decided to do a twofer and swap in cauliflower florets for the chicken in Madhur Jaffrey's Chicken in Butter Sauce, making it a vegetarian dinner. I have made this simple recipe before and substituted shrimp for the chicken (see post) so I knew the sauce would work well with mild cauliflower.
Butter Cauliflower
Adapted from Madhur Jaffrey
(Makes 4 Servings)
For Sauce:
4 Tbsp tomato puree
2.5 cm (1-inch) cube fresh ginger, peeled and grated very finely to a pulp
300 ml (1/2 pint) single cream
1 tsp garam masala
3/4 tsp salt
1/4 tsp sugar
1 fresh hot green chilli, finely chopped
1/4 tsp cayenne pepper
1 Tbsp finely chopped fresh coriander (cilantro)
4 tsp lemon juice
1 tsp ground roasted cumin seeds
For Chicken Cauliflower:
100 g (4 oz) unsalted butter (I used Earth Balance buttery stick)
1 quantity of Tandori Chicken or other cooked chicken (I subbed in about a pound of frozen cauliflower florets, thawed.)
First prepare the sauce. Put the tomato puree in a large clear measuring jug. Slowly add water, mixing as you go to make up 250 ml (8 oz) of tomato sauce. Add the remaining sauce ingredients and mix well.
Heat the butter in a wide saute pan or a large frying pan. When the butter has melted, add the spiced sauce. Bring to a simmer and cook on medium heat for a minute, mixing in the butter as you do so. Add the (pre-cooked) Tandori chicken pieces cauliflower. Stir once and put the chicken on a warm serving platter, spooning the extra sauce over the top. (Instead, I added the sauce to the butter and stirred to mix, then added the thawed frozen cauliflower and cooked about 8 minutes, until flavors melded and cauliflower was cooked through.)
Notes/Results: Rich and velvety, butter sauce is delicious no matter what you put in it. Cauliflower makes a surprisingly satisfying substitute for chicken and tofu would be equally good. Since I have already tried it with shrimp, I know that's good, and I think fish would work equally well. You could make this vegan by using coconut milk and nondairy butter substitute but I had cream and butter on hand already. I used frozen cauliflower florets, making sure to defrost and drain them thoroughly before cooking them in the butter, which worked well. You could serve it with cauliflower rice if you wanted to go full on cauliflower but I like the nuttiness of the basmati rice. Quick and easy to make, I'll happily make it again.
I'm linking up this Madhur Jaffrey cauliflower dish to I Heart Cooking Clubs where our theme this week is Cauliflower Everything!
And I
'm sharing it at the
Weekend Cooking
event at Beth Fish Reads, a weekly
event that is open to anyone who has any kind of food-related post to share. For more information, see the
welcome post
.
Note:
A review copy of "The Sea of Lost Girls" was provided to me by the author and the publisher Harper Collins via TLC Book Tours. I was not compensated for my review and as always, my thoughts and opinions are my own.
You can see the stops for the rest of this TLC Book Tour and what other reviewers thought about the book here.