It's Aloha Friday and a warm and humid one at that. I hope this weekend you can take advantage of a little beach or poolside or even indoors with the air con blowing reading. if so,here's a great book to add to your seasonal reading list, Last Summer by Kerry Lonsdale. Accompanying my review is this cool and crisp Snap Pea, Tomato & Watermelon Salad with Feta--the perfect healthy treat to cool you down.
Publisher's Blurb:
Lifestyle journalist Ella Skye remembers every celebrity she interviewed, every politician she charmed between the sheets, and every socialite who eyed her with envy. The chance meeting with her husband, Damien; their rapid free fall into love; and their low-key, intimate wedding are all locked in her memory. But what she can't remember is the tragic car accident that ripped her unborn child from her. Ella can't even recall being pregnant.
Hoping to find the memories of a lost pregnancy that's left her husband devastated and their home empty, Ella begins delving into her past when she's assigned an exclusive story about Nathan Donovan, a retired celebrity adventurer who seems to know more about her than she does him. To unravel the mystery of her selective memory loss, Ella follows Nathan from the snowcapped Sierra Nevada to the frozen slopes of southeast Alaska. There she discovers the people she trusts most aren't the only ones keeping secrets from her—she's hiding them from herself. Ella quickly learns that some truths are best left forgotten.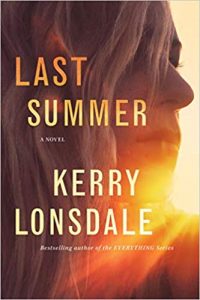 Publisher: Lake Union Publishing (July 9, 2019)
My Review:
I have read all of Kerry Lonsdale's books and reviewed two of them on the blog (here and here) and and she does an excellent job in keeping me guessing as I turn the pages and making me think about the books and characters long after I have finished. Last Summer did that in an intense way. As in her her Everything series, the mind and loss of memories play a key role in the story, but in a different way. Ella wakes up in the hospital after a car accident and is unable to remember what happened. That isn't so unusual, but while he remembers her past in vivid detail, she doesn't remember being pregnant and that her unborn child, a son, didn't survive. This lack of remembering and therefore her inability to grieve as her husband Damien is grieving puts a strain on their relationship. Ella is a lifestyle journalist and when a story that the subject (a famous outdoor adventure star) halted work on and pulled from publication drops back in her lap, she is compelled to find out what it has to do with her past and travels to meet with him against her husband's wishes and at risk to her marriage.
I don't want to give any spoilers so I won't give any more details but I will say that there are a lot of secrets, lies, and betrayals wrapped up in the mystery on Ella's memories. Although there are some things about the story that were harder to believe and some choices by the main characters that I didn't like, it was a compelling read and I am still working the twists around in my mind. Kerry has said this book is a standalone, but I think there is more to this story and would love if see expanded it like the Everything series. Last Summer is a nail biter and would make a great addition to your summer book stack if you like drama and domestic and psychological thrillers.
-----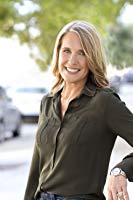 Author Notes:
Kerry Lonsdale is the Wall Street Journal, Amazon Charts, and #1 Amazon Kindle bestselling author of the Everything series—Everything We Keep, Everything We Left Behind, and Everything We Give—as well as All the Breaking Waves. She resides in Northern California with her husband and two children. Learn more about Kerry at www.kerrylonsdale.com.
Connect with Kerry on her website, Facebook Twitter
and Instagram.
-----
Food Inspiration:
There was food in Last Summer although much of it was meat-based, knocking it out of the running for my book inspired dish. Food mentions included an omelet with bell peppers and onions, plain oatmeal, offee, screwdrivers, lasagna, garlic bread and roasted vegetables, Manhattans, Macallan over ice, steaks, veggie chow mein and broccoli beef, prime rib and blanched string beans, succulent yellowtail kingfish, fettuccine with pesto sauce, nachos, mac and cheese, hot fudge sundaes at Ghirardelli, breakfast sandwich and Red Bull, vanilla latte, apple fritters, warm bread, roast beef on rye with mustard, asparagus, hot chocolate, venison stew, a gin and tonic, pancakes drenched with maple syrup and pork loin and rice pilaf.
I considered the fettuccine with pesto or the pancakes or veggie chow main but I ended up picking a variation on a watermelon and orange salad that Ella thought Damien tasted of when he kissed her and they "christen" ;-) the kitchen in the condo they are looking at (and eventually buy) while the realtor is outside taking a call. I picked it because it's so humid and a busy week and because i found a watermelon salad recipe from Ellie Kreiger that I wanted to make and although different from what I am sure Damien ate, it looked amazing and I was able to sub in a little orange juice in the dressing.
I kept Ellie's recipe the same other than making a smaller batch and putting 2 tablespoons of orange juice with 1 tablespoon of lemon juice in the dressing. My change is noted below in red.
Snap Pea, Tomato & Watermelon Salad with Feta
Slightly Adapted from EllieKrieger.com
(Makes 4 Servings)
3 cups sugar snap peas
1 pint grape tomatoes
1/4 small seedless watermelon (to yield 3 cups cubed)
1/4 medium red onion
1/4 cup fresh mint leaves
4 oz Feta cheese (1 cup crumbled)
1 Tbsp extra-virgin olive oil
1/2 large lemon
1/8 tsp table salt1/4 tsp freshly ground black pepper
Trim the ends off the sugar snap peas and cut them in half crosswise, halve the tomatoes, cut the watermelon into 1-inch cubes, thinly slice the onion and place them all in a large bowl. Toss to combine.
Coarsely chop the mint and add it to the bowl them crumble in the Feta cheese.
In a small bowl whisk together the olive oil, the juice of the lemon, salt and pepper. Drizzle the dressing over the salad and toss gently to coat.
Note: The nutrition info is listed on Ellie Krieger's site.
Notes/Results:This salad is so good! A great mix of flavors and textures--sweet, savory, salty, crisp and juicy and everything you want on a hot, humid night or day. I used some local cherry tomatoes instead of the grape tomatoes and like their multi-colors in the dish. The mint adds freshness and the red onion a little bite. Of course the watermelon, mint and feta combo is already a classic hit, but the snap peas and tomatoes add a different dimension. I liked the orange juice in the dressing but think any citrus would work here. I would happily make it again.
Linking up at I Heart Cooking Clubs where this week's theme is Summer Sippers & Icy Cold Treats. It may not be conventional but I think an icy cold salad with watermelon and feta is perfect on a cold summer day. ;-)
I'm sharing this post with the Weekend Cooking event at Beth Fish Reads, a

weekly

event that is open to anyone who has any kind of food-related post to share. For more information, see the

welcome post

.
Finally, this salad is being shared with Souper (Soup, Salad & Sammie) Sundays right here at Kahakai Kitchen. Anyone with a soup, salad or sandwich is welcome to join in. Details on how to participate are on this week's post.
Note: A review copy of "Last Summer" was provided to me by the author and the publisher, via TLC Book Tours. I was not compensated for my review and as always, my thoughts and opinions are my own.
You can see the other stops for this TLC Book Tour and what other bloggers thought of the book here.