Happy Aloha Friday! I am excited to be today's stop on the TLC book Tour for a new mystery/thriller, Never Look Back by Alison Gaylin. I am pairing my review with Cinnamon Raisin Toast with Cream Cheese and Strawberry Jam, a dish inspired by the book. The jam is a simple homemade chia seed jam and there's a recipe included. So pull up a chair and a napkin and join me.
Publisher's Blurb:
From the Edgar Award-winning author of If I Die Tonight
Reminiscent of the bestsellers of Laura Lippman and Harlan Coben—with a Serial-esque podcast twist—an absorbing, addictive tale of psychological suspense from the author of the highly acclaimed and Edgar Award-nominated What Remains of Me and the USA Today bestselling and Shamus Award-winning Brenna Spector series.
For thirteen days in 1976, teenage murderers April Cooper and Gabriel LeRoy terrorized Southern California's Inland Empire, killing a dozen victims before perishing themselves in a fire… or did they? More than 40 years later, twentysomething podcast producer Quentin
Garrison blames his troubled upbringing on the murders. And after a shocking message from a source, he has reason to believe April Cooper may still be alive. Meanwhile, New York City film columnist Robin Diamond is coping with rising doubts about her husband and terrifying threats from internet trolls. But that's nothing compared to the outrageous phone call she gets from Quentin… and a brutal home invasion that makes her question everything she ever believed in. Is Robin's beloved mother a mass murderer?
Is there anyone she can trust?
Told through the eyes of those destroyed by the Inland Empire Killings—including Robin, Quentin, and a fifteen-year-old April Cooper—Never Look Back asks the question:
How well do we really know our parents, our partners—and ourselves?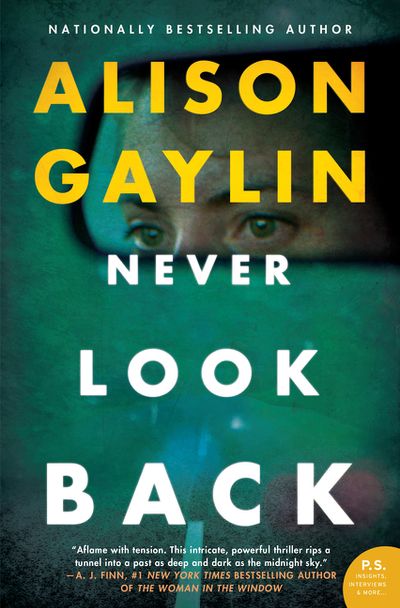 Paperback: 368 pages
Publisher: William Morrow Paperbacks (July 2, 2019)
My Review:
I love a good mystery/thriller, one that keeps me guessing and has lots of twists, turns, and misdirections that make me not want to put it down and Never Look Back delivers. Podcasts and especially true crime podcasts are popular now and the book plays well on that theme, exploring an old crime from the seventies that is resurfacing even though the perpetrators died in a fire at a desert commune. The crime is even more salacious because teenage lovers Gabriel LeRoy and April Cooper murdered twelve people, staring with her stepfather and including a police officer and a young child. Podcaster Quentin Garrison's late mother was the older-sister of the little girl who was killed, and he blames her subsequent troubled and drug-filled life and his terrible childhood on the murder that tore his mother's family apart and looks to his upcoming podcast aptly titled Closure, to bring some relief his anger and pain. When a seemingly credible source comes forward and states that April Cooper is still alive, Quentin begins searching for answers, disrupting the life of a film reviewer.

This is my first book by Alison Gaylin, and I am impressed with her writing. She developed interesting and multifaceted characters and skillfully moved back and forth in time, sharing their points of view, including using the pages of April's journal written as letters to the daughter she hoped to someday have. The mystery slowly unfolds, and the tension rises with each page. Although I had parts of the mystery figured out, there were several surprises that I didn't see coming. Although I couldn't binge-read and finish the book in one or two reading sessions due to my schedule, I wanted to keep reading and was disappointed when I had to stop and adult. If you like podcasts, true crime and crime fiction, psychological suspense and thrillers, get Never Look Back on your #TBR list. I'm going to be seeking out Gaylin's other books.
-----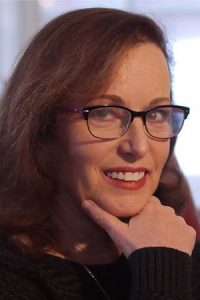 Author Notes: Alison Gaylin is the award-winning author of Hide Your Eyes and its sequel, You Kill Me; the standalones Trashed and Heartless; and the Brenna Spector series: And She Was, Into the Dark, and Stay with Me. A graduate of Northwestern University and of Columbia University's Graduate School of Journalism, she lives with her husband and daughter in Woodstock, New York.
Find out more about Alison at her website, and connect with her on Facebook, Twitter, and Instagram.
-----
Food Inspiration:
There were some food mentions in the book, both from present day and the seventies time frames. mentions included lasagna, iced tea, IPA beer, wine, pizza, frozen yogurt, Chick-fil-A, Starbucks and McDonald's, French press coffee, pies, grilled cheese with tomato soup and "an ice cube dropped in so you don't get hurt," chocolate ice cream, a gruyere and spinach omelet for one, a peanut butter and jelly sandwich, lemonade, lemon meringue pie and a strawberry milkshake, blueberry pancakes, turkey bacon and coffee, steak and eggs, apple pie, glazed donuts, grilled tarragon chicken, mashed sweet potato, fresh asparagus, scrambled eggs and toast, salmon tarragon, pizza, Chinese food and bacon and eggs.
For my book inspired dish I had to go with the very simple cinnamon raisin toast, cream cheese and strawberry jam as it appeared several times in the book as the comfort food for at least one of the characters and as a bit of a clue, or missing piece of the puzzle. I bought my favorite soft cinnamon-raisin loaf from my local grocery store and whipped cream cheese but decided to make up a batch of chia seed strawberry jam with some on-sale strawberries and manuka honey for a touch of sweetness.
Most of my jams posted on this blog are made from chia seeds because I like the ease and the fact that the chia seeds do the gelling, so you don't have to add a lot of sugar like you do with pectin.
Strawberry Chia Seed Jam
By Deb, Kahakai Kitchen
3-4 cups fresh strawberries, cored and sliced
1 cinnamon stick, optiona

l
1 1/2 Tbsp fresh lemon juice
4 Tbsp honey or maple syrup (I used Manuka honey)
1/3 cup chia seeds (I used white chia seeds)
Place the strawberries and cinnamon stick (if using) in a medium saucepan and cook over medium heat, stirring occasionally, until the strawberries break down and get syrupy—about 10 minutes.

Mash the softened fruit using the back of a wooden spoon or a potato masher. Leave larger chunks if you like chunky jam.
Remove from the heat. Stir in lemon juice, honey and vanilla. Taste and add more honey and/or lemon juice if needed. Add the chia seeds and stir well to combine. Let the jam stand about 15

minutes, until cooled and thickened. If you want the jam thicker, stir in more chia seeds 1 teaspoon at a time.
Transfer jam to a jar or other storage container. Once the jam has cooled to room temperature, place in the fridge for a few hours or overnight. The jam will thicken further and become more set once completely chilled. The jam can be stored for 2 to 3 weeks in the fridge or also be frozen for up to 6 months; just thaw in the fridge before using. Enjoy!
Notes/Results:
This is definitely a comfort food snack (or dinner if you are me) ;-) The crispy-soft toast with a little butter and a layer of the whipped cream cheese, then slathering it with the jam is very tasty and goes down well with a cup of tea. I'd happily make this combination again.
I'm sharing this post with the Weekend Cooking event at Beth Fish Reads, a

weekly

event that is open to anyone who has any kind of food-related post to share. For more information, see the

welcome post

.
Note: A review copy of "Never Look Back" was provided to me by the author and the publisher, Harper Collins via TLC Book Tours. I was not compensated for my review and as always, my thoughts and opinions are my own.
You can see the other stops for this TLC Book Tour and what other bloggers thought of the book here.