I love a short work week. Tomorrow is July 4th and I took the day after off for a rare-for-me four-day weekend. I have a delightful summery new novel to kick it off with as today's stop on the TLC Book Tour for The Summer of Sunshine and Margot by Susan Mallery. Accompanying my review is a tasty and elegant little appetizer for a summer night party, Sautéed Mushroom & Chive Bruschetta, inspired by the book.
Publisher's Blurb:
The Baxter sisters come from a long line of women with disastrous luck in love. But this summer, Sunshine and Margot will turn disasters into destiny…
As an etiquette coach, Margot teaches her clients to fit in. But she's never faced a client like Bianca, an aging movie star who gained fame—and notoriety—through a campaign of shock and awe.
Schooling Bianca on the fine art of behaving like a proper diplomat's wife requires intensive lessons, forcing Margot to move into the monastery turned mansion owned by the actress's intensely private son. Like his incredible home, Alec's stony exterior hides secret depths Margot would love to explore. But will he trust her enough to let her in?
Sunshine has always been the good-time sister, abandoning jobs to chase after guys who used her, then threw her away. No more. She refuses to be "that girl" again. This time, she'll finish college, dedicate herself to her job as a nanny, and she 100 percent will not screw up her life again by falling for the wrong guy. Especially not the tempting single dad who also happens to be her boss.
Master storyteller Susan Mallery weaves threads of family drama, humor, romance and a wish-you-were-there setting into one of the most satisfying books of the year!
Publisher: HQN; Original Edition (June 11, 2019)
My Review:
Whether it be due to work stresses or the warmer summer weather, I find myself drawn more to lighter reads this time of year. I gravitate to books that help me relax, tell a good story, introduce me to likable characters and despite any drama, generally end on a happy note. Susan Mallery is a great author for this kind of book, and I have reviewed a few of her novels over the years including the recent, California Girls.
The Summer of Sunshine and Margot is like California Girls in that is about sisters, although there are two in this story. Margot is a somewhat buttoned up etiquette coach who has made the mistake of loving and altering her life for one man, who just can't seem to grow up. She is determined not to let him back in her life and is busy working with a new client, Bianca, an actress who has a reputation for unconventional behavior but is now set on marrying her true love, an ambassador who needs to keep his dignity to keep his job. The job requires her to move in with Bianca who is currently staying with her reclusive researcher son in a renovated monastery. Margot likes and is attracted to Alec and is worried about failing both him and Bianca. Sunshine is Margot's fraternal twin and rather than putting all her eggs in one relationship basket, she has made a series of bad very choices in men, and though she loves children and being a nanny, she constantly leaves her positions to follow those bad choices. Sunshine is trying to change her life and working for a successful and widowed landscaper, caring for his young son Conner and has big plans to go back to school, get her degree and lead a better, more responsible life. Both she and Declan are tempted by each other, but don't want to admit it and hurt Conner or each other.
Although the sisters are very different in appearance, personality, and in how they approach life, both were deeply affected by their childhood and being raised by their great-grandmother as their grandmother left their mother and their mother left them. They are easy characters to like and to cheer on, as are the supporting characters, especially Conner, Sunshine's young charge. Mallery writes with humor and heart and captures the bond between sisters well. There are no twists or surprises, but it is a satisfying story that is easy to curl up with and enjoy on the lanai or at the beach. The Summer of Sunshine and Margot is a good choice for your summer reading stack if you like women's fiction, stories about sisters and family relationships, sometimes snarky humor, romance, and stories about personal growth and second chances.
-----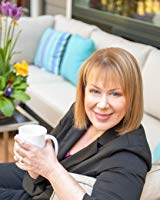 Author Notes:
#1 NYT bestselling author Susan Mallery writes heartwarming, humorous novels about the relationships that define our lives-family, friendship, romance. She's known for putting nuanced characters in emotional situations that surprise readers to laughter. Beloved by millions, her books have been translated into 28 languages.Susan lives in Washington with her husband, two cats, and a small poodle with delusions of grandeur. Visit her at SusanMallery.com.
Connect with Susan on her website, Facebook, Twitter and on Instagram.
-----
Food Inspiration:
Susan Mallery's books always seem to have plenty of food mentions and there is even a recipe for a quick coq au vin in the back. Food mentions included: ice tea, lasagna roll-ups, salad, garlic knots and zucchini fries, champagne, chocolate, mixed berry pie, brownies, cinnamon rolls, banana bread, burger and a milkshake, a green drink of spinach, parsley, cucumber and kale with a little red apple tossed in for sweetness and a protein drink with almond milk, cacao, banana and vegan vanilla protein powder, martinis and margaritas, crab puffs, white and dark chocolate mousse in a pastry shell, cold avocado and cucumber soup, a chicken and pasta dish with cheese sauce, and a potato casserole.
I decided to recreate one of the bruschetta appetizers that Margot and Alec put together for a small gathering:
"Margot stirred fresh chopped chives into softened cream cheese, then spread it on the bread and topped it with the mushroom mixture. Alec prepared the more traditional bruschetta, topping the bread with diced fresh tomatoes and feta."
I made mine a bit easier with a cream cheese spread with onions and chives, adding the fresh chives to the top. To punch up my somewhat ordinary cremini mushrooms, I used plenty of butter, thyme and some Trader Joe's Mushroom & Company Multipurpose Umami Seasoning Blend that a friend sent to me--a mix of
kosher salt, black pepper, red pepper, mushroom powder, and mustard seed.
Sautéed

Mushroom & Chive Bruschetta
Inspired by The Summer of Sunshine and Margot by Susan Mallery
(Yields about Six Servings)
1 small sourdough baguette, sliced
olive oil
3 Tbsp butter
1 shallot, diced
2 to 3 sprigs worth of fresh time leaves
1 lb mushrooms of choice (I used cremini), chopped
2 tsp Trader Joe's Umami Seasoning or your favorite multi-purpose seasoning mix
sea salt and freshly ground pepper to taste
1/3 cup Philadelphia Chive and Onion Cream Cheese Spread (or make your own)
chopped fresh chives to garnish
Heat a grill pan over medium-high heat. brush both sides of each bread slice lightly with olive oil. cook them in a single layer until warmed through and grill marks form. Set aside.
Heat butter in a large pan over medium-high heat. Add the shallot and
sauté

for a few minutes. Add the thyme, mushrooms, Umami Seasoning, a dash of salt and pepper and
sauté for about 10-12 minutes, stirring often, until mushrooms are tender and glossy. Taste for seasoning and add more if needed. if mushrooms seem too dry, add a little more olive oil.
Spread each slice of grilled baguette with a layer of cream cheese spread and place a spoonful of mushrooms on top. Top with a sprinkle of fresh chives and serve warm. Enjoy!
Notes/Results: Such an easy and tasty little appetizer to make. I loved the cream cheese and chive spread with the rich and buttery warm seasoned mushrooms. They were definitely moreish and a nice change from the usual tomato bruschetta. they would be perfect with a glass of cold
Sauvignon Blanc. I will happily make them again.
Linking up my review with Simona at briciole for her Novel Meals #36 event, where culinary inspiration comes from published literary works.
I
'm sharing this post with the Weekend Cooking event at Beth Fish Reads, a

weekly

event that is open to anyone who has any kind of food-related post to share. For more information, see the

welcome post

.
Note: A review copy of "The Summer of Sunshine and Margot" was provided to me by the author and publisher via TLC Book Tours. I was not compensated for my review and as always, my thoughts and opinions are my own.
You can see the other stops for this TLC Book Tour and what other bloggers thought of the book here.