I am happy to be on the TLC Book Tour for No Names To Be Given by Julia Brewer Daily. Accompanying my review are links to some favorite Egg-In-the-Hole recipes inspired by my reading.
Publisher's Blurb

1965. Sandy runs away from home to escape her mother's abusive boyfriend. Becca falls in love with the wrong man. And Faith suffers a devastating attack. With no support and no other options, these three young, unwed women meet at a maternity home hospital in New Orleans where they are expected to relinquish their babies and return home as if nothing transpired.
But such a life-altering event can never be forgotten, and no secret remains buried forever. Twenty-five years later, the women are reunited by a blackmailer, who threatens to expose their secrets and destroy the lives they've built. That shattering revelation would shake their very foundations-and reverberate all the way to the White House.
Told from the three women's perspectives, this mesmerizing story is based on actual experiences of women in the 1960s who found themselves pregnant but unmarried, pressured by family and society to make horrific decisions. How that inconceivable act changed women forever is the story of No Names to Be Given, a heartbreaking but uplifting novel of family and redemption.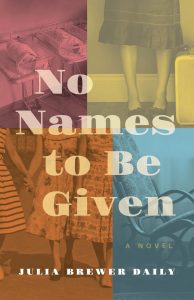 Publisher:

Admission Press (August 3, 2021)
My Review:
There are many things to like about No Names Given. I think the idea of this book is a good one and liked that as an adopted child with a similar backstory, the author wrote this book about the experience of three young women who came from different circumstances and found themselves pregnant and sent to a maternity home in New Orleans in 1966, a time when the consequences of unwed motherhood were devastating and often covered up with the babies adopted out. I like that it delved into what circumstances were like for these women feel like that seems realistic. While the individual stories of Sandy, Becca, and Faith were compelling, it was hard to delve deep enough into their characters to feel connected and I found the dialogue clunky at times which pulled me out of the story. Midway through the book, it switches to twenty-five years later and more of a mystery vibe for the women to figure out who knows their secrets and wants to expose them and destroy their lives and careers, but that part of the story didn't have any real teeth to it. There were several plot points that felt too convenient and coincidental and that made it hard for me to believe it would have played out the way it did and left me somewhat disappointed in the ending. This is a debut novel, so points for that, and I imagine that it was cathartic for the author to write given the tie to her own history. I'd love to read more about her personal, real-life journey to learn about her past someday.
-----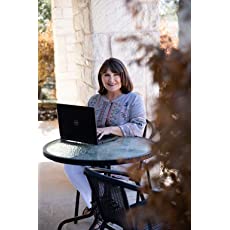 Author Notes: Julia Brewer Daily is a Texan with a southern accent. She holds a B.S. in English and a M.S. degree in Education from the University of Southern Mississippi. She was the founding director of the Greater Belhaven Market, a producers' only market in a historic neighborhood in Jackson, and even shadowed Martha Stewart. As the Executive Director of the Craftsmen's Guild of Mississippi (300 artisans from 19 states) which operates the Mississippi Craft Center, she wrote their stories to introduce them to the public. Daily is an adopted child from a maternity home hospital in New Orleans. She searched and found her birth mother and through a DNA test, her birth father's family, as well. A lifelong southerner, she now resides on a ranch in Fredericksburg, Texas, with her husband Emmerson and Labrador Retrievers, Memphis Belle and Texas Star.
You can connect with Julia on her website, Facebook, Twitter, and Instagram.

-----
There was quite a lot of food and a lot of southern food in the book. Mentions included catfish, corn, dumplings or a stew, chicken pie, bakes sweet potatoes, onions and bell peppers sizzling on a griddle, a hot dog and a bottled strawberry drink, eggs in a hole, French toast, point cake, chocolate chess pie, mason jar of pimento cheese slathered on crackers, Salisbury steak with hot brown gravy, dinner rolls, green salad with blue cheese dressing and bacon bits, black coffee, strawberry cake with cream cheese icing, roast, gravy and peas, hamburgers, hot chocolate, cherry snow cone, French pastries with layers of fillings, coffee with chicory, cold cuts, grape soda, bread, pears, petit fours, mixed nuts, tiny cucumber sandwiches and fruit punch with vanilla ice cream floating in it, seafood, brandy, muffulettas, shrimp and oyster po'boys, beignets, turkey and oyster dressing, glass bottles of Coca-Cola and moon pies, club sandwiches, pecan pie, fresh fruit, shrimp cocktails, beef stew, peanut butter crackers, sherbet pushup, chips, ginger ale and saltine crackers, potatoes, sweet ice tea, blackberry cobbler, fried chicken, tiny quiches, stuffed mushrooms, grilled cheese sandwich, banana popsicle, soup, baked ham with pineapple rings and whole cloves, birthday cake, crawfish étouffée, cupcakes, peanuts poured into a glass bottle of coke, turtle soup, ham and cheese croissants, potato salad, fresh lemonade, chicken salad, tenderloins from the grill, peanut butter on every table as an appetizer, scrambled eggs, champagne, tiny crab cakes and oysters on the half shell, grits and biscuits, shrimp salad, Angels on Horseback (grilled oysters wrapped in bacon), hot crab dip with toast points, tiny grits cakes topped with Mississippi sausage, and a meat and three (southern special of meat, three sides, cornbread and sweet tea).
For my bookish dish, there wasn't one dish that really stood out for me except the eggs in a hole that Becca's housekeeper and mother-figure growing up makes her. It's a small mention but since I grew up with it myself (it was called "ding-dong eggs" at my house) and it's a favorite nostalgic breakfast or occasional dinner for me. I have featured it on the blog a few times and would have made it this week but work and some new COVID-related duties have really kicked my butt this week and I have been coming home, eating things I can heat up quickly and falling asleep before 8:00 PM most nights and just didn't have the energy to make a pretty dish and take pictures of it.
So, here are two favorites from the past--one a classic, eggs in a bread frame and the other a grilled cheese (also mentioned in the book) combination. The links in each lead to the recipe post.
First up, the Grilled Cheese Egg in a Hole that combines two favorite classics.
Then a more classic Egg In a Hole.

You can't go wrong with either of these!
I
'm sharing this post with the
Weekend Cooking
event being hosted by Marg at
The Adventures of An Intrepid Reader
. It's a weekly
event that is open to anyone who has any kind of food-related post to share. Here's a link to last week's post.
Note: A review copy of No Names to Be Given was provided to me by the author and the publisher via TLC Book Tours. I was not compensated for this review and as always, my thoughts and opinions are my own.
You can see the stops for the rest of this TLC Book Tour and what other reviewers thought about the book here.