I'm happy to be today's stop on the TLC Book Tours virtual tour for The Shadow Box, a new thriller by Luanne Rice. Accompanying my review is a (mostly) Classic Tuna Salad with Chips and Iced Tea, a meal for friends, inspired by the book.

Publisher's Blurb:
After artist Claire Beaudry Chase is attacked and left for dead in her home on the Connecticut coast, she doesn't know who she can trust. But her well-connected husband, Griffin?who is running for governor?is her prime suspect.
Just before the attack, Claire was preparing for an exhibit of her shadow boxes, one of which clearly accuses Griffin of a violent crime committed twenty-five years ago. If the public were to find out who her husband is, his political career would be over. Claire's certain her husband and his powerful supporters would kill her to stop the truth from getting out.
When one of Claire's acquaintances is murdered, the authorities suspect the homicide is linked to the attack on Claire. As the dual investigations unfold, Claire must decide how much she's willing to lose to take down her husband and the corrupt group of elites who will do anything to protect Griffin's interests and their own.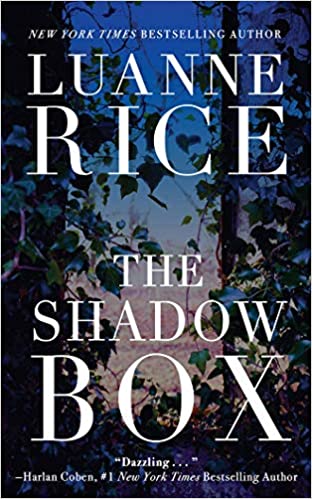 Publisher: Thomas & Mercer (February 1, 2021)
My Review:
It wasn't until I started reading The Shadow Box that I realized it was set in the same place as The Last Day, a book by the author that I reviewed last year. and had several of the same characters. The community of Easterly County, Connecticut also has a lot of domestic violence and murders apparently. This book starts with the murder of the main character, Claire Beaudry Chase, in a fairly graphic attack. Claire survives the attack and it's quickly made clear to the reader that if not done by her husband, this attempted murder was at least orchestrated by him. The thrills and mystery come from unraveling the "why" and how it is tied to another murder, as well as who is all wrapped up into these crimes. The book is told from varying perspectives--Claire's, Detective Conner Reid (hero of The Last Day), his brother Tom, and others involved in the drama. It also travels back and forth in time, before and after the attack. For the most part, these things keep the book interesting, but they also make it a bit hard to follow and to keep track of all that is happening. Still, I was vested into Claire's life, and how the story would unfurl, as well as the Reid brothers and their investigations into the two crimes. There's a strong element of friendship and woman power in the book that appeals, but also a little suspension of disbelief was needed with everything that happened and all that was involved in the crimes. Although I don't think every plot string was tied off cleanly or completely (at least for me), overall, it was a quick and engaging read and I would definitely be up for another visit to Easterly County if Luanne Rice goes back there.

-----

Author Notes: Luanne Rice is the New York Times bestselling author of thirty-five novels that have been translated into twenty-four languages. In 2002, Connecticut College awarded Rice an honorary degree, and she also received an honorary doctorate from the University of Saint Joseph. In June 2014, she received the 2014 Connecticut Governor's Arts Award for excellence as a literary artist.
Several of Rice's novels have been adapted for television, including Crazy in Love, for TNT; Blue Moon, for CBS; Follow the Stars Home and Silver Bells, for the Hallmark Hall of Fame; and Beach Girls, for Lifetime.
Rice is a creative affiliate of the Safina Center, an organization that brings together scientists, artists, and writers to inspire a deeper connection with nature?especially the sea. Rice is an avid environmentalist and advocate for families affected by domestic violence. She lives on the Connecticut Shoreline.
-----

Food Inspiration:
Although not the prime focus, there was food inspiration to be found in the book. Mentions included a catering table loaded with bottles of wine and platters of cheese ans bread and smoked salmon, clambake, roast chicken and Veuve Clicquot, gin and tonics, lots of crustacean and mollusks, bacon, eggs, cantaloupe, grilled bluefish and stripers, a vegetable garden, cocktails and hors d'oeuvres, swordfish, blue crabs, iced tea, rum and tonic, sandwiches, ice cream, soda, snacks, lobster boil, Texas-style barbecue, rose, green seaweed or "sea lettuce," chocolates, bottles of Coca-Cola, hamburgers, scrambled eggs, coffee, strawberry and lime jellybeans, fruit and cheese, walnuts, a box of wheat crackers and a jar of almond butter, lemon risotto, dolceforte wild boar, iced latte, and fried clams.

Sometimes, it more about the dish and its meaning than the actual recipe when I choose a dish. To me the most inspiring meal that was eaten was a simple tuna fish sandwich shared between longtime friends.
"Jackie had made us tuna fish sandwiches, and we ate them with potato chips and iced tea, just as we had when we were kids, and no meal had ever tasted so good."

So yes, I went for something that doesn't really require a recipe because it's a tuna fish sandwich, and everyone who eats them has their own recipe or preferences. I will give you what I used below--it's a similar to what I ate as a kid with a few things that I like as an adult added in. I like soft white bread and enough mayo to make it moist without being too gloppy. I don't want lettuce or tomato or onion on my sandwich,just the soft bread and a layer of the chips.
What's in Deb's Tuna Sandwich:
Mix together:
1 can good, oil-packed tuna, drained
1 small stalk celery, thinly sliced
sea salt and black pepper to taste
Also important: soft white bread, your favorite plain potato chip or kettle chips.
Place tuna on bread and top with potato chips. Enjoy!

Notes/Results: Sometimes I forget just how satisfying a tuna salad sandwich can be. This mix works for me--just enough of the basics, along with the tangy brine of capers and dill pickle relish. I ate it for dinner, packing on the chips and with a glass of iced tea--just as I imagined Jackie and Claire did. The leftover tuna salad I ate, dipping chips into it. I will happily make it again--maybe even this weekend. ;-)

I'm linking up to Souper Sundays here at Kahakai Kitchen where we highlight soups, salads and sandwiches from bloggers who join in. Here's the link to this week's link up post.
Note: A review copy of "The Shadow Box" was provided to me by the author and the publisher via TLC Book Tours. I was not compensated for my review and as always, my thoughts and opinions are my own.

You can see the other stops for this TLC Book Tour and what other bloggers thought of the book here.