Happy Aloha Friday! it's been a long week with the first few days of the week sending off house guests and a busy work week. I am looking forward to the weekend and kicking it off with being today's stop on the TLC Book Tour for Ghosts of the Missing, a new novel by Kathleen Donohoe. Accompanying my review, is a recipe for potato salad, somewhat inspired by my reading.
Publisher's Blurb:
In the vein of The Lovely Bones and The Little Friend, Ghosts of the Missing follows the mysterious disappearance of a twelve-year-old girl during a town parade and the reverberations of this tragedy throughout the town.
On Saturday, October 28, 1995, a girl vanished. She was not a child particularly prized in town…When questioned by reporters, those who'd known Rowan described her as 'quiet' and 'loner' and 'shy' and even 'awkward.' Words for pity.
Culleton, New York has a long history—of writers, of artists, and of unsolved mysteries. It's where Adair grew up before she moved to Brooklyn to try to make it as an artist. But after years away from her hometown and little to show for it, Adair decides to return. She moves back in to Moye House, the old mansion, and current writer's retreat, imbued with her family's legacy.
Ciaran is a writer staying at Moye House in the hopes of finally solving the mystery of what happened to Rowan Kinnane—his sister, and Adair's childhood best friend. As the two begin investigating, secrets long buried rise to the surface, complicating their sense of themselves and their understanding of what happened on that fateful day.
With her "knack for capturing heartbreaking moments with a gripping simplicity" (Village Voice), Kathleen Donohoe lures us into a haunting world of secrets and obsessions and shows just how far people will go in search of the truth.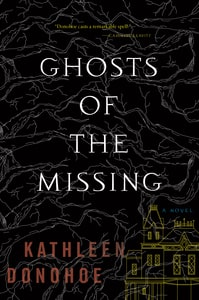 Paperback: 320 pages
Publisher: Houghton Mifflin Harcourt (February 11, 2020)
My Review:
I went into this book drawn by the publisher's blurb and comparisons to The Lovely Bones, and the mystery tag. It wasn't quite what I expected going into it, there is a mystery but it proves to be more atmospheric and tragic than suspenseful. It's a beautifully written story that meanders along and ties in Irish folklore with a more modern disappearance of a twelve-year-old girl (Rowan) in 1995 and then goes back and forth, mostly between that time and 2010 when her best friend (Adair) comes back to the small town of Culleton, New York and her home there--Moye House, a writer's retreat--wanting to regroup and to find out what happened to Rowan. There are family curses, many family secrets, and characters from both past and present to understand and unwind. Reading it reminded me of trying to put together a puzzle on a lazy afternoon; trying different pieces to see how they fit together, and having the picture slowly unfold. The prose and pacing lean more to literary fiction than mystery, so if you want the thrills, look in another direction but if you want a misty, almost fairy tale vibe, it's a lovely read.
-----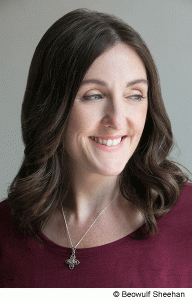 Author Notes: KATHLEEN DONOHOE is the author of Ashes of Fiery Weather. Her stories and essays have appeared in The Recorder, New York Stories, and Washington Square Review. She serves on the Board of Irish American Writers & Artists. She lives in Brooklyn with her husband and son.
Find out more about Kathleen at her website, and connect with her on Instagram, Twitter, and Facebook.
-----
Food Inspiration:
There was very little food and therefore food inspiration in the book but mentions of food and drink did include red berries (rowan berries), wine, Campbell's tomato soup, tea, roast beef sandwiches and potato salad, beer, coffee, pumpkin carving and bobbing for apples. coke, orange juice, slicing vegetables and lettuce, strawberries, and apple-cinnamon donuts.
Since the there are Irish characters and culture in the book, I thought about making an Irish dish as my bookish dish but ultimately I decided to go with potato salad--passed around with roast beef sandwiches at a funeral towards the beginning of the book. I'll be honest, I made it more because I wanted potato salad than its meaningful presence in the story. ;-)
I kept in simple--an old-fashioned potato salad but I made it pop a bit with some sweety drop peppers from the olive bar at my local grocery store (purchased along with the cornichons) as a nod to the red rowan berries.
Potato Salad
By Deb, Kahakai Kitchen
(Makes 4-6 Servings)
About 2 lbs white or Yukon Gold potatoes, peeled
3 hard boiled eggs, peeled and coarsely chopped
3 green onions, chopped, white & green parts separated
1/3 cup sweety drop peppers or pimento
1/4 cup cornichons or baby dill pickles, sliced
1 Tbsp capers, rinsed
2/3 cup mayonnaise of choice
2 tsp yellow mustard or to taste
2 tsp apple cider vinegar
1/2 tsp celery salt
1/2 tsp smoked paprika
sea salt and freshly ground black pepper to taste
Cut the potatoes into quarter or large chunks and place
in pot of cold, lightly salted water. Bring to a boil and simmer 10 minutes, or until potatoes are tender when pierced with a fork. Drain. Run potatoes under cold water to cool. Drain, chop into 3/4-inch chunks and set aside.
Place the eggs, white part of onions, peppers, cornichons and capers in a large bowl. Add mayonnaise, mustard, apple cider vinegar, celery salt, paprika, and salt and pepper to taste. and gently sir to combine. Fold in the potatoes and most of the green onion tops. Garnish with the remaining green onion tops and a sprinkling of paprika.
Cover the potato salad and refrigerate for at least 4 hours before serving--if you make it ahead, it tastes even better on the second day. Keep refrigerated in an airtight container for up to one week.
Notes/Results: Just a simple potato salad with lots of bright tang from the mustard, vinegar, peppers, cornichons and capers--just the way I like it, and creamy without being gloppy. I made a relatively small batch because otherwise I would sit and eat potato salad for days. ;-) I will happily make it again.
Linking up this potato salad here at Kahakai Kitchen for this week's Souper (Soup, Salad & Sammie Sundays). We share soup, salad and sandwiches each week--join in if you have one!
I'm also sharing this post with the Weekend Cooking event at Beth Fish Reads, a weekly

event that is open to anyone who has any kind of food-related post to share. For more information, see the

welcome post

.
Note:
A review copy of "Ghosts of the Missing" was provided to me by the author and the publisher via TLC Book Tours. I was not compensated for this review and as always, my thoughts and opinions are my own.
You can see the stops for the rest of this TLC Book Tour and what other reviewers thought about the book here.