I was very happy to find out that several of the cookbooks I received from Abrams Books as part of Abrams Dinner Party were veg-friendly and I wasn't trying to find recipes in a bunch of meat-centric cookbook. Eat For The Planet Cookbook: 75 Recipes from Leaders of the Plant-Based Movement That Will Help Save the World is a vegan cookbook with a plethora of recipes that I can eat and that sound totally appealing. I plan to cook a lot from this book and the
Potato-Leek Soup with Tarragon and Fennel Seeds tempted me first.
I love potato-leek soup and tarragon and fennel seeds so this simple, but highly-flavored soup is right up my alley. First let's talk about the book. Edited by Nil Zacharias, Co-Founder of One Green Planet and Eat for the Planet, and Gene Stone, Author of the New York Times Best Seller, Forks Over Knives. and features contributions from about 50 contributors--individuals and companies. More than a vegan cookbook, it's a resource for how eat less meat and more plants and explaining why that's better for the planet. The book starts with the whys, then covers how to prepare your kitchen for a plant-based diet. Recipes are broken down by Breakfast and Brunch, Appetizers, Soups, Stews, Salads, and Sides, Wraps, Burgers and Tacos, Pasta and Noodles, Main Dishes and Desserts. Although there are some recipes that are based around particular vegan products, the majority can be made with access to good produce and items readily found in a good grocery store. I saw someone call it "vegan junk food" on Amazon but I disagree, there are plenty of healthy, non-processed options balanced with more indulgent options.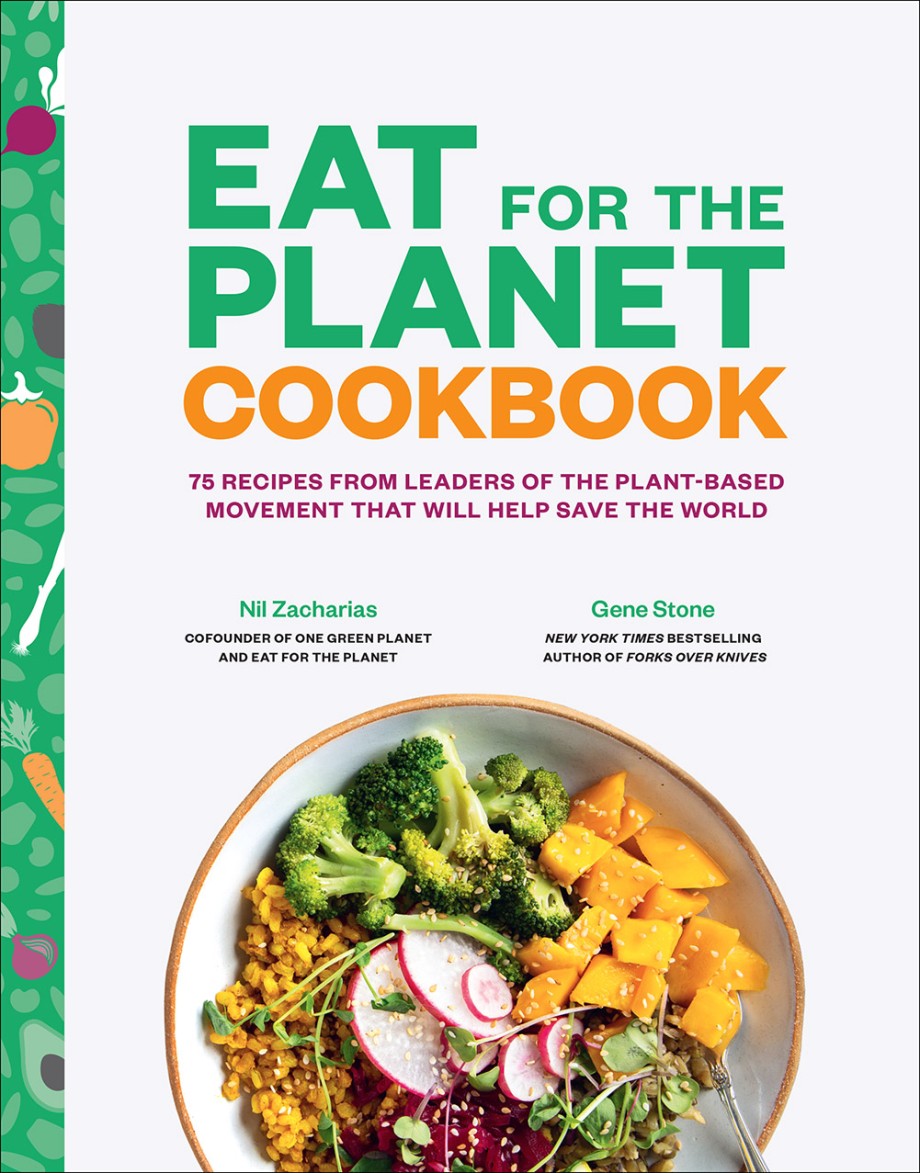 Abrams Books (January 7, 2020)
Hardcover 192 pages / 75 color photographs
I tagged multiple recipes to make including: Biscuits with Hollandaise, Wicked Baked S'mores Oatmeal, Baked Artichoke Hearts, Loaded Brussels Sprouts Nachos, Cambodian Mushroom Dip, Macadamia Pesto Crostini, "No Chicken" Enchilada Soup, Smoky Jackfruit Stew, Thai Slaw, Nepali Greens, Farmhouse Caesar, Crispy Smashed Potato with Avocado Aioli, Lentil Tacos with Roasted Cauliflower, Artichoke Penne, Vegan Seafood Pasta, Lentil Shepherd Pie, Mushroom Stroganoff, Country-Fried Tofu, Almond-Rosemary-Crusted Tofu, Golden Milk Rice Pudding, Barely Any Sugar Blueberry Cobbler, Mango Chia Seed Pudding, and Lemon Cheesecake Frozen Cookies and I look forward to cooking more from it and posting it here.
But now the soup...
"This recipe is perfect for a cold day and when you want something quickly," says Allison. Made with just a few simple ingredients, this soup is nutritious and a lighter take on traditional creamy potato-leek soup. The fennel seeds add a unique taste that complements the sweetness of the leeks perfectly.
Potato-Leek Soup with Tarragon and Fennel Seeds
Recipe by Allison McLaughlin for Eat For The Planet Cookbook
(Makes About 8 Cups/Serves 4)
1 tsp olive oil
1 small yellow onion, finely chopped
4 cloves garlic, finely chopped
4 carrots, diced
10 Yukon gold potatoes, diced (I used baby Yukon gold potatoes)
2 leeks, trimmed, thinly sliced, and rinsed to remove sand
1 tsp dried tarragon
2 bay leaves
1/2 tsp fennel seeds
salt and ground black pepper
4 cups (960 ml) vegetable stock, plus more if needed

(I used non-chicken soup paste)
chopped chives or scallions, for garnish
I
n a soup pot, heat the olive oil over medium-low heat. Add the onion and cook, stirring, until golden, about 5 minutes. Add the garlic and cook, stirring until toasty and aromatic, about 1 minute. Add carrots, potatoes, and leeks and stir to combine. Add tarragon, bay leaves, and fennel seeds. Season with salt and pepper. Continue to cook for about 5 minutes, stirring to allow the vegetables to soften slightly and become infused with the herbs.
Gently pour in 4 cups (60 ml) stock and turn up the heat to medium-high. Bring the soup to a boil, cover, reduce the heat to low, and simmer for 20 minutes. Check the potatoes and carrots to make sure they are fully cooked but not overdone. Add more stock if you prefer a thinner consistency. Remove the bay leaves and serve hot (see Note), garnished with chives or scallions. Leftovers can be refrigerated for up to 5 days or frozen for up to 1 month.
Note: If you prefer a creamier texture, use an immersion blender or a high-powered blender to blend part of the soup.
Notes/Results: I love the flavor of this soup--the tarragon and fennel seed adds so much distinctive taste--they definitely come through so you need to like then. I ended up blending a couple of cups of my soup back into the pot and liked the thick and creamy texture it added. This is a simple soup, satisfying and filling and makes a great light meal--though you could certainly add bread or a side salad. Although the recipe blurb says this easy soup is good for a cold day, I live in Hawaii and find it just as good on a temperate 80 degree day as well. I would happily make it again.
Many thank to Abrams Books and #AbramsDinner Party for this great new cookbook that I intend to cook a lot from. This post is sponsored by Abrams Books, as part of the Abrams Dinner Party however my thoughts, feelings and experiences cooking from it are my own. #sponsored
I'm also sharing this post with the Weekend Cooking event at Beth Fish Reads, a weekly

event that is open to anyone who has any kind of food-related post to share. For more information, see the

welcome post

.
Let's check the Souper Sundays kitchen this week and see who is here:
Judy of Gluten-Free A - Z Blog shared Hearts of Palm Salad and said, "
Hearts of palms are a perfect addition to any salad. They have a great taste, are low in calories and fat but high in nutrients. This is a picture of the salad that I shared with my husband last night for dinner before we mixed it. Not only did I use hearts of palm, but I added some of my other favorite vegetables: purple radicchio, cucumber, artichoke, spring mix, avocado. walnuts, and sunflower seeds. You can use any proportion according to your own tastes and preferences."
Tina of Squirrel Head Manor brought a Chicken Salad Sandwich made from a roast chicken dinner, saying "
Our main dish was an easy roasted chicken meal with halved cherry tomatoes, onions, olive oil, basil and oregano. The chicken dinner lasted for two nights and as this left two smaller chicken thighs, I decided to make the most of it and create a chicken salad. Very little mayo but lots of the flavors of the olive oil, roasted tomatoes and onions. Sliced tomato and lettuce made it a hearty enough lunch. Highly recommended."
Vicki of I'd Rather Be At the Beach shared Instant Pot White Beans with Smoked Sausage and said, "
This was quick and easy meal to make. I left the celery out because I didn't have any and I used Cajun seasoning because I love it and anyway I didn't have any fresh thyme. … My favorite thing about making this recipe in the Instant Pot was that I didn't have to boil the beans and let them sit for an hour or so. Just pick, rinse, and add to the IP. So easy! So good!"
Thanks to everyone who joined me this week.
(If you aren't familiar with Souper Sundays, you can read about of the origins of it here.
If you would like to join in Souper (Soup, Salad, and Sammie) Sundays, I would love to have you! Here's how...



To join in this week's Souper Sunday's linkup with your soup, salad or sandwich:
Link up your soup (stew, chili, soupy curries, etc. are fine), salad, or sandwich dish, (preferably one from the current week or month--but we'll take older posts too) on the picture link below and leave a comment on this post so I am sure not to miss you.

Also please see below for what to do on your blog post that you link up to Souper Sundays in order to be included in the weekly round-up.
and
On your entry post (on your blog):
Mention Souper

(Soup, Salad & Sammies)

Sundays at Kahakai Kitchen and add a link back to this post. (Not to be a pain but it's polite and only fair to link back to events you link up at--so if you link a post up here without linking back to this post or my blog on your post, it will be removed.)
You are welcome to add the Souper Sundays logo to your post and/or blog (

completely optional

).
Have a happy, healthy week!