I am happy to be today's stop on the TLC Book Tour for St. Francis Society for Wayward Pets, a new novel by Annie England Noblin. Accompanying my review are some Sweet Potato Waffle Fries with recipes for two dipping sauces--Smoked Paprika & Garlic Aioli and Honey Mustard Dipping Sauce, inspired by my reading.
Publisher's Blurb:
If you love Susan Mallery and Jill Shalvis, you won't want to miss this new novel of second chances, dogs, and knitting, from the author of

Pupcakes

and

Sit! Stay! Speak!
Laid off, cheated on, mugged: what else can go wrong in Maeve Stephens' life? So when she learns her birth mother has left her a house, a vintage VW Beetle, and a marauding cat, in the small town of Timber Creek, Washington, she packs up to discover the truth about her past.
She arrives to the sight of a cheerful bulldog abandoned on her front porch, a reclusive but tempting author living next door, and a set of ready-made friends at the St. Francis Society for Wayward Pets, where women knit colorful sweaters for the dogs and cats in their care. But there's also an undercurrent of something that doesn't sit right with Maeve. What's the secret (besides her!) that her mother had hidden?
If Maeve is going to make Timber Creek her home, she must figure out where she fits in and unravel the truth about her past. But is she ready to be adopted again—this time, by an entire town…?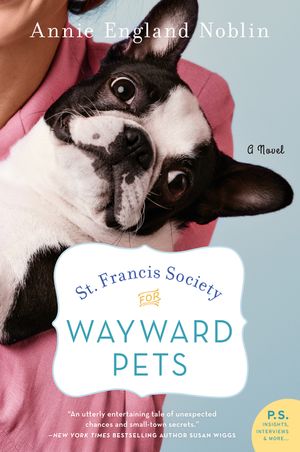 Publisher:
William Morrow Paperbacks; Reprint edition (January 14, 2020)
My Review:
I signed up for the tour based on the title, the description and the cover because I like a good small town, rebuild-you-life, animal-filled story with secrets and while that is in the book, the pets take a backseat to the drama involving the main character Maeve, her birth mother Annabelle and some of the people Maeve meets when she travels from Seattle to Timber Creek Washington to attend Annabelle's funeral. Maeve's life was in disarray before she receives a call from Alice, her birth mother's best friend, letting her know Annabelle has died and inviting her to the funeral. Maeve had never met Annabelle and is bitter because she tried to reach out to her when she was a teenager and her letters were returned but she heads to Timber Creek for closure and to find out more about this mysterious woman who gave her away. Upon her arrival she finds out Annabelle has left her house and worldly possessions and becomes involved with the people who knew her best, uncovering more about Annabelle and about the people in the small town she is quickly becoming attached to.
Although not quite as light as I thought it was going to be because of some darker themes of abuse and domestic violence, St. Francis Society for Wayward Pets was an enjoyable read. There is humor, a few pets wearing sweaters, romance and mystery worked in. I liked Maeve and her sense of humor as well as the supporting characters. The story is told from Maeve's point of view with chapters from Annabelle's past woven through the story, helping the secrets unfold. I wanted a bit more from the book's ending--although things were wrapped up, it happened rather quickly and I felt it could have been drawn out a bit more given the investment of pages building to the conclusion. Also, and not to be picky because I did receive an uncorrected proof for review, there was a big plot continuity error that threw me off and had me going back to reread what transpired multiple times, and then questioning some of what I read after that chapter to reconcile it in my mind. I can't imagine that it made it into the final version, but it will have me grab the published book when I see it and check. Despite these things, the story-telling and characters made the book for me and the darker spots are not overwrought or excessive. I found myself caught up in the story and not wanting to leave it. This is the first book I have read from this author and I will be checking out her other titles. I'd love to see more set in Timber Creek too. If you like women's fiction, drama, books set small towns with quirky characters, and a good balance of humor and poignancy, I'm sure you will like it too.
-----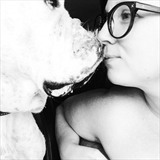 Author Notes:
A
nnie England Noblin lives with her son, husband, and three dogs in the Missouri Ozarks. She graduated with an M.A. in creative writing from Missouri State University and currently teaches English and communications for Arkansas State University in Mountain Home, Arkansas. She spends her free time playing make-believe, feeding stray cats, and working with animal shelters across the country to save homeless dogs.
-----
Food Inspiration:
There was food mentioned in St. Francis Society for Wayward Pets, but not a lot of it. Mentions did include hot dogs, and chili dogs, cake and ice cream, red wine, Bud Light, pizza, white wine, a dainty salad with vinaigrette dressing on the side, pork chops smothered in gravy, salad with ranch dressing, mushrooms, Doritos and Pepsi, Tab and Corn Nuts, hamburgers, sweet potato fries and draft beer, a bagel and a glass of orange juice, "powdered eggs and sad looking bacon," energy bars, avocados, fruits and vegetables, Toaster Strudel, Diet Coke, barbecue, an energy drink, donuts and coffee, a granola bar and tea.
For my book-inspired dish, I went with food that was mentioned several times from the local bar and restaurant--Three Sheets. It seemed like hamburgers and sweet potato fries ruled the menu in the town of Timber Creek. Since I don't eat meat and hamburgers, I decided to focus on the sweet potato fries and more importantly some good dipping sauces. I know that I could bake or fry up my own sweet potato fries but frankly, it seemed too much bother and I really like these Alexia Waffle Cut Sweet Potato Seasoned Fries and they just happened to be on sale this week at my local grocery store. That meant I just needed to bake them crisp and make some sauces.
I love garlic aioli and make a spicy sriracha version that I have featured before. I decided to leave some of the spice out of this one and season it with garlic and smoked paprika instead. or my second sauce, I prefer honey-mustard when it is slightly mellowed out and creamy with some mayo in it. My toss-together recipes are below.
Smoked Paprika Aioli
by Deb, Kahakai Kitchen
(Makes 1/2 Cup)
1/2 cup of your favorite mayonnaise (you can sub in sour cream or yogurt if preferred)
1 tsp fresh lemon juice or to taste
1 cloves garlic, crushed
1 tsp roasted garlic powder
1 tsp smoked paprika, or to taste
sea salt and freshly ground black pepper
In a small bowl, stir all ingredients together until well mixed. Taste and adjust seasonings as needed. Cover and refrigerate until ready to serve.
-----
Honey Mustard Dipping Sauce
By Deb, Kahakai Kitchen
(Makes About 2/3 Cup)
1/2 cup mayonnaise of choice
1 Tbsp spicy deli-style mustard
1 Tbsp Dijon mustard
1 Tbsp yellow mustard
1 1/2 Tbsp honey, or to taste
1 tsp lemon juice
In a small bowl, stir all ingredients together until well mixed. Taste and adjust seasoning as desired. Cover and refrigerate until ready to serve.
Notes/Results:
Yeah, I ate a half-bag of the waffle fries for dinner and wished I'd made the entire bag! ;-) They went down too easily dipped in the sauces. The aioli is my favorite as smoked paprika and garlic are two of my favorite ingredients but the honey mustard was tasty too and will make an excellent salad dressing thinned out a bit. I would happily make both sauces again.
I'm
sharing this post with the
Weekend Cooking
event at
Beth Fish Reads
, a weekly
event that is open to anyone who has any kind of food-related post to share. For more information, see the
welcome post
.
Note: A review copy of "St. Francis Society for Wayward Pets" was provided to me by the author and the publisher, Harper Collins, via TLC Book Tours. I was not compensated for my review and as always, my thoughts and opinions are my own.
You can see the other stops for this TLC Book Tour and what other bloggers thought of the book here.