It's hard to believe that Christmas is less than a week away and this is my last TLC Book Tour review of 2019. I am excited to end the year with a domestic thriller from an author I enjoy, The Playground by Jane Shemilt. My review is paired with a Simple Greek Salad with Roasted Shrimp, inspired by the book.
Publisher's Blurb:
Big Little Lies meets Lord of The Flies in this electrifyingly twisty follow-up to Jane Shemilt's breakout debut The Daughter.
Over the course of a long, hot summer in London, the lives of three very different married couples collide when their children join the same tutoring circle, resulting in illicit relationships, shocking violence, and unimaginable fallout.
There's Eve, a bougie earth mother with a well-stocked trust fund; she has three little ones, a blue-collar husband and is obsessed with her Instagrammable recipes and lifestyle. And Melissa, a successful interior designer whose casually cruel banker husband is careful not to leave visible bruises; she curates her perfectly thin body so closely she misses everything their teenage daughter is hiding. Then there's Grace, a young Zimbabwean immigrant, who lives in high-rise housing project with her two children and their English father Martin, an award-winning but chronically broke novelist; she does far more for her family than she should have to.
As the weeks go by, the couples become very close; there are barbecues, garden parties, a holiday at a country villa in Greece. Resentments flare. An affair begins. Unnoticed, the children run wild. The couples are busily watching each other, so distracted and self-absorbed that they forget to watch their children. No one sees the five children at their secret games or realize how much their family dynamics are changing until tragedy strikes.
The story twists and then twists again while the three families desperately search for answers. It's only as they begin to unravel the truth of what happened over the summer that they realize evil has crept quietly into their world.
But has this knowledge come too late?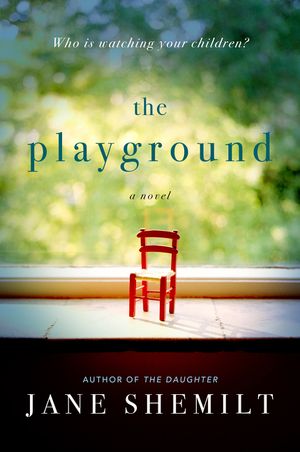 Publisher:
William Morrow Paperbacks (December 30, 2019)
My Review:
I was pulled to this tour both because of the author (I read and reviewed her novel The Daughter a few years ago) and the premise of "Big Little Lies meets Lord of the Flies" which I thought was interesting. I also do like a good domestic thriller and I think The Playground is a pretty solid one. I won't go into the story details for fear of spoilers but the basic premise is that three different families (with differing types and levels of dysfunction) come together when one of the mothers, Eve, begins giving Sunday lessons for the dyslexic children of the group and they and the siblings that tag along quickly bond and become friends and their parents soon follow. It turns out that all is not well. There is a tragedy and it becomes quickly apparent that these people are not great parents and have completely lost control of their children and things quick spiral downward for each family. It's a bit like watching a train wreck and most of the riders are not at all likable which makes it easy to judge them and their self-absorbed lives. Although there were twists and turns in the book, there were no big reveals and I could fairly well predict what would happen but I think the point of this thriller is in the anticipation and the voyeuristic glimpses into these crumbling lives--which definitely kept me turning the pages.
-----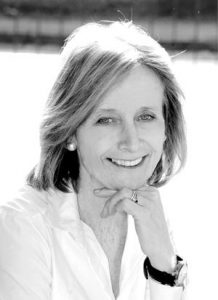 Author Notes: While working full time as a physician, Jane Shemilt received an M.A. in creative writing. She was shortlisted for the Janklow and Nesbit award and the Lucy Cavendish Fiction Prize for The Daughter, her first novel. She and her husband, a professor of neurosurgery, have five children and live in Bristol, England.
Follow Jane on Twitter and Instagram.
-----
Food Inspiration:
There was quite a lot of food mentioned in The Playground, much more than in Shemilt's first book. Mentions included: homemade bread, rolls and croissants, coffee, strawberry jam and butter, carrot sticks and small sandwiches, homemade pizzas, beef daube, beer, pizza and French fries, tea and lavender cakes, Malteasers, Manchego cheese, bananas, potatoes, salmon, broccoli and new potatoes, fruit cake, chocolate cake, cupcakes, sponge cake smothered in strawberries and cream, apples, filo with lemon cream, fresh dill and tiny shrimp, bouillabaisse, marinated salmon, baked crab patties, broad beans in oil, pureed raspberries, orange juice, champagne, steak, pies, salad, bread with olives,ginger beer, sausages, okra, sage, wild thyme and honey, wine, tomatoes, lettuce, cucumber, pots of yogurt, black olives, cheese-and-spinach pie, flat yellow peaches, lemon cake, ice cream, cherries, flaky fish and curled tentacles in tomato sauce, casserole, baked potatoes, fruit smoothies with tamarind, potatoes with butter and parsley, chicken in an herb-scented sauce, tomato soup and toast, jam sandwiches, crisps, chocolate biscuits, macarons, crumpets, chocolate cake, toast, sausages and beans, chocolate mini rolls, mashed potatoes, and lemonade.
For my book-inspired dish, I went with the trip to Greece the families in the book made which was basically the beginning of the end of the happier times. A Greek villa owned by Eve's family was the setting and so I thought a Greek salad would be a good pairing with the book. Since I needed some protein and had wild shrimp in the freezer, I decided to roast some to top my salad.
Although it shares some of the ingredients mentioned in the book for characters' time at Eve's house in Greece, the recipe for this salad and the shrimp came mainly from the ingredients I had available in my pantry saving me a midweek grocery run. You could of course add things like olives and mint and other veggies and leave off the shrimp or replace it with another protein. The beauty of salads is how adaptable they are.
Simple Greek Salad with Roasted Shrimp
By Deb, Kahakai Kitchen
(Serves 2)
Shrimp:
12 extra jumbo (16-20 per lb) shrimp, peeled and deveined
olive oil
sea salt and black pepper
smoked paprika
Salad:
1 pint cherry or grape tomatoes, halved
3 mini persian cucumbers sliced, or 1 English cucumber, halved & sliced
2 Tbsp red onion, diced
3 garlic cloves, minced
2 teaspoons chopped dill (fresh or freeze dried)
1 1/2 Tbsp capers, drained
1/3 cup Greek yogurt
1 Tbsp olive oil
1 Tbsp lemon juice, or to taste
sea salt and black pepper to taste
3-4 oz feta cheese, in chunks
Preheat oven to 400 degrees F. cover a roasting pan with foil. Toss shrimp with olive oil, salt, pepper and paprika and spread in a single layer on pan. Cook for about 7-8 minutes or until shrimp is opaque, pink and cooked through. Set aside.
Meanwhile place tomatoes, cucumbers, red onion, minced garlic, dill, and capers in a bowl and gently mix together. Add Greek yogurt, olive oil, and lemon juice and gently toss together with ingredients until everything is mixed and coated. Very gently mix in feta cheese chunks. Taste and season with salt, pepper and additional lemon juice as needed.
To serve, mound salad on plates and top with the roasted shrimp. Enjoy.
Notes/Results: A fresh tasting salad in a creamy dressing, topped with the sweet and juicy shrimp and salty feta cubes made for a quick and tasty dinner--satisfying while still light. With the capers I didn't miss the olives--although they would have been a nice addition, as would more herbs like mint and parsley. Everytime I make and eat a Greek salad I always wonder why I don't make them more often. yum. ;-)
I am sharing this salad with Souper Sundays here at Kahakai Kitchen--a weekly opportunity to share soups, salads, and sandwiches from me and other bloggers who join in. Here's the link to this week's post.
I'm also
sharing this post with the
Weekend Cooking
event at
Beth Fish Reads
, a weekly
event that is open to anyone who has any kind of food-related post to share. For more information, see the
welcome post
.
Note: A review copy of "The Playground was provided to me by the author and the publisher, Harper Collins, via TLC Book Tours. I was not compensated for my review and as always, my thoughts and opinions are my own.
You can see the other stops for this TLC Book Tour and what other bloggers thought of the book here.