It's Aloha Friday and time for another opportunity to be a stop on the TLC Book Tour for Africaville, a new novel by Jeffery Colvin. I've paired my review of this absorbing debut novel about a Nova Scotia black community and multiple generations of a family with Griddled Fish Cakes from an article on black cooking in Nova Scotia.
Structured as a triptych, Africaville chronicles the lives of three generations of the Sebolt family—Kath Ella, her son Omar/Etienne, and her grandson Warner—whose lives unfold against the tumultuous events of the twentieth century from the Great Depression of the 1930s, through the social protests of the 1960s to the economic upheavals in the 1980s.
A century earlier, Kath Ella's ancestors established a new home in Nova Scotia. Like her ancestors, Kath Ella's life is shaped by hardship—she struggles to conceive and to provide for her family during the long, bitter Canadian winters. She must also contend with the locals' lingering suspicions about the dark-skinned "outsiders" who live in their midst.
Kath Ella's fierce love for her son, Omar, cannot help her overcome the racial prejudices that linger in this remote, tight-knit place. As he grows up, the rebellious Omar refutes the past and decides to break from the family, threatening to upend all that Kath Ella and her people have tried to build. Over the decades, each successive generation drifts further from Africaville, yet they take a piece of this indelible place with them as they make their way to Montreal, Vermont, and beyond, to the deep South of America.
As it explores notions of identity, passing, cross-racial relationships, the importance of place, and the meaning of home, Africaville tells the larger story of the black experience in parts of Canada and the United States. Vibrant and lyrical, filled with colorful details, and told in a powerful, haunting voice, this extraordinary novel—as atmospheric and steeped in history as The Known World, Barracoon, The Underground Railroad, and The Twelve Tribes of Hattie—is a landmark work from a sure-to-be major literary talent.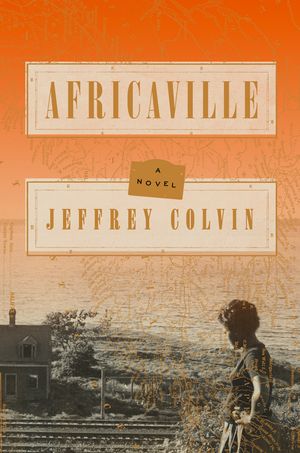 Hardcover:
384 pages
Publisher: Amistad (December 10, 2019)
My Review:
I love when I find a book that teaches me about a piece of history that I never knew about and Africaville did exactly that. Chronicling the history of the Sebolt family, it tells the tale of the community a group of former slaves from a variety of origins establish for themselves on the windswept bluffs of Halifax, Nova Scotia. Established in the 1800s, it was a hardscrabble life for its occupants who faced poverty, prejudice and turmoil through decades before it was ultimately designated as a National Historic Site of Canada in 1996. The history of the community itself is fascinating and the story of the Sebolt family and the other families who made it their home touches the heart. Kath Ella Sebolt comes of age in the 1930s and wants nothing more than to leave Woods Bluff and works for a scholarship to study in Montreal. Her son Omar spends little time there after single mother Kath Ella marries, and goes by his new first name of Etienne. He spends his life distancing himself from his Halifax relatives and lives as white in Alabama while Etienne's son Warner learns of his heritage and wants to know more. All three generations are seeking a sense of belonging and look for it in different and sometimes destructive ways. I don't want to go into too much detail of how the plot unfolds so I will just say that Africaville is a beautifully written book that moved back-and-forth through time, place, and point of view, which made it a bit slow moving at times, but kept my interest throughout the stories and made me think about race, prejudice, and identity. Readers who love history--especially the lesser-known bits, family dramas and multi-generational sagas, diverse books and characters, and powerful and poetic writing will find themselves as caught up by this moving and memorable novel as I was.
-----
Author Notes: Jeffrey Colvin served in the United States Marine Corps and is a graduate of the United States Naval Academy, Harvard University, and Columbia University, where he received an MFA in fiction. His work has appeared in Narrative, Hot Metal Bridge, Painted Bride Quarterly, Rain Taxi Review of Books, The Millions, The Brooklyn Rail, and elsewhere. He is a member of the National Book Critics Circle and is an assistant editor at Narrative magazine. He lives in New York City.
Find out more at his website.
-----
Food Inspiration:
There was a mix of food in Africaville, some familiar and some not, and included dishes from Nova Scotia and Montreal, Alabama and Vermont like sweet milk and lemon bitter, butterscotch jawbreakers, a hard biscuit with a smear of canned raspberry preserves, hindquarter meat, potatoes, hard-boiled egg, a thumb-sized portion of dried goose dusted with bee sugar, walnut trees, sausage and potatoes, Strawberry Cassandra, spaghetti with clams, four-layer lemon cake, cantaloupes, Jump-Up cake with peach jam icing, buttered bread and soup, butter cookies, iced tea, onions, sandwiches including a pork chop sandwich, fried potato wedges, saltwater taffy, cold fried chicken, egg sandwich, beef Stroganoff, peppermint candies, cream soda and a bag of pommes frites, "
a cocktail of prune and apple juice," trays of pies and cakes, fish cakes, meat pies, and lime punch, fried code, chick
en, rice and greens, cheese sandwich and stewed figs, fried eggs and potatoes, rabbit and wild cabbages, broiled halibut and kidney beans, haddock cake, a dinner at a steak house, ice cream, crushed pistachio nuts, oranges, beer, bottles of cranberry carbonate, vodka, tequila, corned beef and cabbage, bratwurst, freshly baked rice pudding, Scotch and ginger, Vienna sausages in tomato sauce, Nehi soda, rum shots, popcorn, peanut brittle, MoonPies, green beans, rum and coke, grilled chicken thighs, assorted donuts, potato salad, creamed carrots, runny corned-beef sandwiches, soggy apple pie, peach-chester cake, a bag of apples, scrambled eggs and grits, poison-laced gumbo, oatmeal, salmon minicroquettes, sardines, pecan saplings, Italian food, delivery dinners of chicken, fried shrimp, spaghetti with meat sauce and ham with mustard greens.
I wasn't sure what to make and ended up googling "black cooking Nova Scotia" and there were several articles but a Saveur Magazine article was the first thing that popped up. It's very interesting and I highly recommend it if you have an interest in the food of the region, culture and era. Attached to the article was a recipe for Griddled Fish Cakes that immediately caught my eye as I rarely meet a fish cake that I don't like. ;-) This recipe says it might be served with green tomato chow-chow but as green tomatoes are scarce this time a month, I just served mine with a simple aioli with smoked paprika and cayenne.
Saveur Magazine says, "
Haddock is often used for these fish cakes, though any firm white fish will do. This recipe, adapted from Nova Scotia Cookery, Then and Now (Nimbus, 2018), creates tender cakes with golden edges. The mixture can be shaped into patties a day ahead and refrigerated, but don't roll the patties in bread crumbs until just before frying."
Griddled Fish Cakes
Slightly Adapted from Saveur Magazine
(Makes 8 Cakes)
1 small Yukon Gold potato (5 oz), peeled

(I used prepared mashed potatoes)
2 lbs firm white fish fillets (haddock, cod or hake)

(I used monk fish)
1 1/2 cups bread crumbs

(I used seasoned panko)
1/4 cup finely-chopped parsley
1/4 cup finely chopped scallions
1/4 cup sour cream
1/4 tsp cayenne pepper (I used 1 heaping teaspoon of this Where the Crawdads Zing seasoning blend from bookclubcookbook.com)
fresh lemon juice
kosher salt
freshly ground black pepper
1 cup extra-virgin olive oil
Preheat the oven to 350°F. Line a baking sheet with parchment paper and set aside.
In a small pot, add the potato and enough cold water to cover; bring to a boil over high heat and cook until the potato is tender when pierced with a knife, 13–15 minutes. Drain, and let cool. When the potato is cool enough to touch, coarsely mash with a fork and set aside.
Meanwhile, cook the fish: Set the fillets on the baking sheet, transfer to the oven, and roast until the fish flakes easily, about 15 minutes. Pour the bread crumbs onto a plate and set aside. Remove the fish from the oven and cool slightly. In a large bowl, break the fish into chunks. Add the mashed potato, parsley, scallion, sour cream, and cayenne; mix well, then season to taste with fresh lemon juice, kosher salt, and black pepper. Form the mixture into eight patties, then roll each in bread crumbs.
Line a platter with paper towels and set by the stove. In a heavy skillet over medium-high heat, add the oil. Once hot, add the fish cakes in batches and let cook, turning once, until golden brown and heated through, 3–4 minutes per side. Transfer the cakes to the platter and serve hot, with green tomato chow-chow, if desired.
Notes/Results: These were not the firmest fishcakes--my first few broke up a bit but they were quite delicious and I got a few good ones. I attribute it to deli prepared mashed potatoes but on a weeknight, I didn't want to take the time to boil and mash one. I liked the seasoning blend I used which is nicely spicy but adds additional flavor--as did the seasoned panko bread crumbs. Monkfish looked the freshest at the market and its mild flavor worked well. I ate my crumbled fishcakes that didn't hold their shape for lunch the next day as sort of a fish "pie" and enjoyed it as much as the whole cakes. I would happily make them again.
I'm also
sharing this post with the
Weekend Cooking
event at
Beth Fish Reads
, a weekly
event that is open to anyone who has any kind of food-related post to share. For more information, see the
welcome post
.
Note: A review copy of "Africaville" was provided to me by the author and the publisher, Harper Collins, via TLC Book Tours. I was not compensated for my review and as always, my thoughts and opinions are my own.
You can see the other stops for this TLC Book Tour and what other bloggers thought of the book here.