Happy Aloha Friday! December is flying by and with all kinds of things going on at work and home, I find myself trying to multitask and combine my efforts on different tasks and projects. Whether that means listening to an audio book while audio-shopping for gifts and then audio-wrapping them or combining two reviews that fit naturally together like my TLC Book Tour Review of The Clergyman's Wife by Molly Greeley with my product review of The Book Club Cookbook's Dried and Prejudice Seasoned Salt.
Why do these two things pair so nicely? Well, Dried and Prejudice is of course inspired by and named for my favorite novel, Pride and Prejudice and so is The Clergyman's Wife, which is the story of Charlotte Lucas after she marries William Collins and goes to live at Hunsford. Accompanying my reviews is a very nontraditional and modernized take on the White Soup, mentioned in Pride and Prejudice...but let's start with the book
Publisher's Blurb:
For everyone who loved Pride and Prejudice—and legions of historical fiction lovers—an inspired debut novel set in Austen's world.
Charlotte Collins, nee Lucas, is the respectable wife of Hunsford's vicar, and sees to her duties by rote: keeping house, caring for their adorable daughter, visiting parishioners, and patiently tolerating the lectures of her awkward husband and his condescending patroness, Lady Catherine de Bourgh. Intelligent, pragmatic, and anxious to escape the shame of spinsterhood,
Charlotte chose this life, an inevitable one so socially acceptable that its quietness threatens to overwhelm her. Then she makes the acquaintance of Mr. Travis, a local farmer and tenant of Lady Catherine..
In Mr. Travis' company, Charlotte feels appreciated, heard, and seen. For the first time in her life, Charlotte begins to understand emotional intimacy and its effect on the heart—and how breakable that heart can be. With her sensible nature confronted, and her own future about to take a turn, Charlotte must now question the role of love and passion in a woman's life, and whether they truly matter for a clergyman's wife.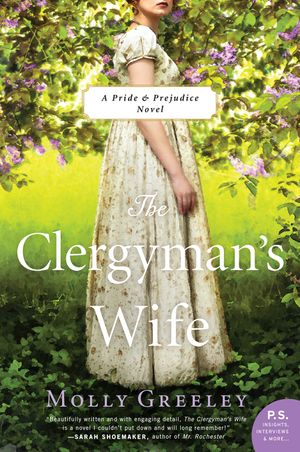 Publisher: William Morrow Paperbacks (December 3, 2019)
My Review:
I find it very hard to resist a Pride and Prejudice retelling or variation so I immediately jumped on the tour for The Clergyman's Wife as Charlotte's story is an intriguing one and I always wonder at her long-term happiness with the choice she made to marry a fairly ridiculous man without any feeling behind it in order to quit her spinsterhood status and have her own home. The book picks up a few years into Charlotte's marriage and she has a young daughter and a quiet, placid life that she is going through the motions for until she becomes acquainted with a local farmer. Mr. Travis is probably the first man in Charlotte's life who is interested in getting to know her as her fathers, brothers, and husband have not been interested in seeing more than her surface. Told from Charlotte's point of view, I very much liked how the book gets into her head and illuminates what in her background and society lead to her making the choices she did. There is romance but it is the feelings rather than any inappropriate actions that occur. The Clergyman's Wife is Molly Greeley's first novel and she has a deft hand with capturing the feeling and tone of Austen's work without slavishly copying it and it is clear she has done her research on Regency times. I was happy to get a peek at my favorites Lizzy and Darcy who come to Rosings for a visit, as well as hear about the lives of other characters. If you are fond of Charlotte as I am, you will only like her more after the The Clergyman's Wife, and if you dislike her pragmatism and choices in Pride and Prejudice, this book will make you reconsider your opinions. At times it made me a bit melancholy but overall, a delight to read for Austen fans and for anyone interested in historical fiction or country life in Regency England. I look forward to more books from Molly Greeley, whether more on Charlotte or maybe another supporting character like Mary or Kitty, less well-drawn in Pride and Prejudice or another of Austen's works.
-----
Author Notes: Molly Greeley earned her bachelor's degree in English, with a creative writing emphasis, from Michigan State University, where she was the recipient of the Louis B. Sudler Prize in the Arts for Creative Writing. Her short stories and essays have been published in
Cicada
,
Carve
, and
Literary Mama.
She works on social media for a local business, is married and the mother of three children but her Sunday afternoons are devoted to weaving stories into books.
Find out more about Molly at her
website
, and connect with her on
Twitter
,
Facebook
, and
Instagram
.
-----
Food Inspiration:
On to the food... There was more than I thought there would be mentioned in the story and the Hunsford gardens provided much of it as they grew lettuces, spring cabbages, asparagus, winter parsnips, cauliflower, pumpkins, beans, potatoes and herbs as well as plum, pear and apple trees, gooseberries and currants, strawberries and raspberries. There is a pig, fattened up to be used for its pork and bacon as winter approaches and Charlotte and the parsonage housekeeper do a lot of preserving and pickling of their produce. There are preserves and honey for bread and for mead and elderberry wine and homemade jam. Other mentions include soup and wine for dinner, toast, cake, tea and lemon cakes, cottage pie, seed cake, plum cake, chicken, pigeon, and hares, almonds in a wedding cake of dried nuts and fruit with icing flavored with almonds and rosewater, and rum cake.
For my bookish dish, I wanted to make a white soup because it is mentioned in Pride and Prejudice (Bingley is going to have the ball at Netherfield when his cook has made enough white soup) and the Collins family eat soup for dinner. It is unlikely it would be white soup as it was more of classic Regency party dish for balls than an everyday food, but there are dinners at Rosings and the Autumn festival, and Marla where perhaps it could have been enjoyed. Since the classic recipes I googled included chicken and things like "a knuckle of veal" and I don't eat meat, I took inspiration from some white ingredients from the garden--potatoes, cauliflower, and a parsnip and the almonds in Maria Lucas's wedding cake icing to make my soup.
For flavor I used my Dried and Prejudice Seasoned Salt which is made up of sea salt, demerara sugar, paprika, garlic, onion, mustard, Mexican oregano, celery seed, black pepper and cinnamon, and is tagged as "salty and slightly sweet with some subtle garlic notes." I thought the touch of sweetness would play well with the parsnip and the the blend would work well with the other ingredients. I used the blanched almonds to thicken and cream for its richness and of course used my high-speed blender to modernize the preparation. Weeknight cooking does not bode well for straining through muslin or other traditional preparation methods. ;-) Finally I had some leftover pomegranate seeds and had read the soup might be topped with them, so I sprinkled them on the soup along with a little of the seasoning blend for color.
(Not So Traditional Vegetarian) White Soup
By Deb, Kahakai Kitchen
(Makes about 8 Appetizer Servings)
1 Tbsp olive oil
1 small sweet onion, chopped
1 stalk celery, chopped
1 clove garlic, minced
2 tsp Dried & Prejudice Seasoning Blend
1/2 cup blanched almonds
2 large white potatoes, cubed
1 large parsnip, chopped
1 package frozen cauliflower florets
4 cups light chicken or non-chicken veggie broth + more if needed
1/2 cup cream or half-and-half
salt and black pepper
To serve: pomegranate seeds
Heat olive oil in a large, heavy-bottom soup pot over medium heat. Add the onion and celery and saute for about 57 minutes, until onion is softened and translucent. Add the garlic and saute another minute or two. Stir the seasoning into the mix, then add almonds, potatoes, parsnip, cauliflower, and broth and bring to a boil.
Cover pot, reduce heat to low and simmer for about 30 minutes until vegetables are soft and cooked through. Add additional stock to ensure vegetables are covered if needed. Use a immersion blender to blend soup until smooth or blend in batches in a high speed blender until very smooth. Return to stove and stir in the cream. Season to taste with salt, pepper and additional Dried and Prejudice as desired.
Notes/Results: Like a vichyssoise in style and texture, only richer, this soup was a pleasant surprise. It had good flavor from the seasoning salt and was quite sippable and delicious. There is no one element that stands out in it but everything marries well--the sweetness is there but is tempered by the savory herbs and the tart bites of the pomegranate. I can see why the traditional soup would have been popular, but I quite liked my vegetarian version and would proudly serve it to Jane Austen at me imaginary dinner party. ;-) We have had some cooler, rainy weather this week and this soup has been an enjoyable snack and starter. I will happily make it again.
Dried and Prejudice Seasoning Notes: I quite like this blend and how it elevates a mild vegetable like potatoes or cauliflower. I think it will work well in eggs, topping other vegetables and would be excellent stirred into a pot of beans. I think there are endless uses and I like that the sweetness is subtle. I have some fingerling potatoes that I want to roast with this blend on top and I may have to try some oven potato chips with it too. (Yes I do love my potatoes). Between foodies and Austen addicts or foodies who are Austen addicts, it would be a perfect stocking stuffer--or pairing with one of the beautiful editions of Pride and Prejudice that are available.
Many thanks to The Book Club Cookbook for providing me with this tasty seasoning blend. I received no compensation for taking part in the #BlendsBash and my thoughts and experience using the blends are my own.
You can see my first Bookish Blend review (Where the Crawdads Zing) here!
You can check out all the bloggers participating in the
#BlendsBash here
:
Of course this soup is going to be shared with Souper (Soup, Salad & Sammie) Sundays here at Kahakai Kitchen, where I featured my own weekly soups, salads and sandwiches as well as those of my friends. (See the details to join in on this week's link up.)
I'm also
sharing this post with the
Weekend Cooking
event at
Beth Fish Reads
, a weekly
event that is open to anyone who has any kind of food-related post to share. For more information, see the
welcome post
.
Note: A review copy of "The Clergyman's Wife" was provided to me by the author and the publisher, Harper Collins, via TLC Book Tours. I was not compensated for my review and as always, my thoughts and opinions are my own.
You can see the other stops for this TLC Book Tour and what other bloggers thought of the book here.