Friday the 13th and a full micromoon make this Friday a bit more unique than many. If you want to learn and remember the history and science behind it but just don't learn or remember quickly, today's TLC Book Tour of The Only Skill That Matters by Jonathan Levi is for you. It's a book about becoming a superlearner--reading faster and remembering more. To fuel your learning, there's a recipe for Baked Eggs in Avocado with Salsa paired with my review.
Publisher's Blurb
In the next ten years, every knowledge worker on earth will become one of two things: invaluable or obsolete. No matter the industry, the pace of progress and new information is faster today than ever before in human history—and it's accelerating exponentially.
In this new reality, how can we possibly hope to keep up? How can we learn, unlearn, and relearn fast enough to stay relevant in the world to come?
In The Only Skill That Matters, Jonathan Levi unveils a powerful, neuroscience-based approach to reading faster, remembering more, and learning more effectively. You'll master the ancient techniques being used by world record holders and competitive memory athletes to unlock the incredible capacity of the human brain. You'll learn to double or triple your reading speed, enhance your focus, and optimize your cognitive performance. Most importantly, you'll be empowered to confidently approach any subject—from technical skills, to names and faces, to foreign languages, and even speeches—and learn it with ease.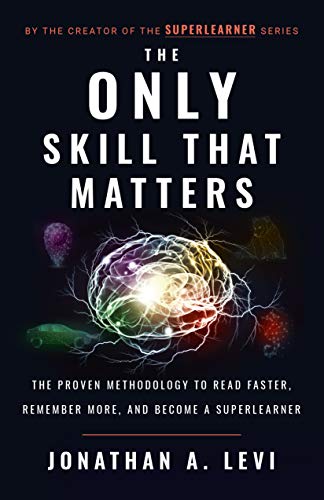 My Review:
I consider myself to be a relatively fast learner and reader and pretty good about remembering what I am interested in learning about but The Only Skill That Matters taught me a lot in under 200 pages. Jonathan Levi breaks down the science of the brain in an easy and intriguing way, teaching techniques for chunking down learning and reading in order to move through it quickly while still retaining what you've read. A few of the techniques I had heard of or used before but I was interested to read the reasons behind why they work. I found Levi's methods for remembering names particularly helpful as it normally takes me several times of hearing a person's name before I have it down. I made a point of using his highly detailed visualizations for the names of the new hires in the orientation I led this week, and found myself remembering their names more quickly and easily than ever before. Levi freely admits most of his methods take effort and practice, making them go beyond "quick hacks"--but he provides exercises and supplements them with extra information and free tools on his website including a Speed Reading Flight Checklist and a Learning Preparation Worksheet. There are also several interesting interviews about memory and learning and Superlearner Success Stories in video and podcast form. I think this book will appeal to students and younger learners as well as those of us "older dogs" who want to learn new skills and keep our retention and memory capacity at an optimum level. I am looking forward to practicing more of Levi's techniques and exploring some of the tools he mentions.
-----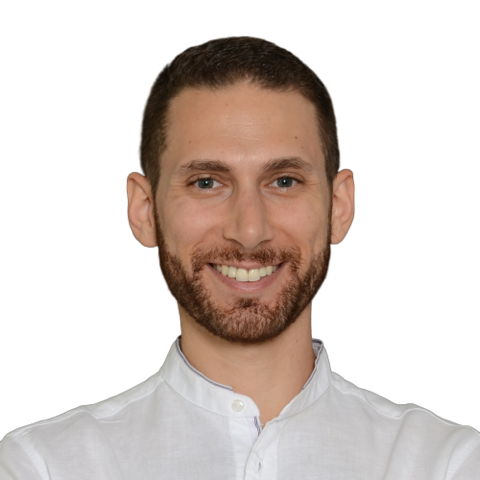 Author Notes:
JONATHAN LEVI is a serial entrepreneur, keynote speaker, podcaster, and bestselling author of the Become a SuperLearner book and online course series. After struggling for decades as a student and "slow learner," Jonathan discovered a powerful methodology for learning faster and remembering more. Since 2014, Jonathan has taught this methodology to over 220,000 people in 205 countries and territories. His award-winning podcast, SuperHuman Academy, has been downloaded over 3 million times. Jonathan has been featured in such media outlets as The Wall Street Journal, Inc., BusinessInsider, and LifeHacker UK. He lives in Tel Aviv, Israel, with his wife, Limmor. To learn more, visit superhumanacademy.com.
-----
Food Inspiration:
In a short book about learning and memory there was not much food focus, however Levi offers a chapter about good habits to get into like getting enough sleep, napping, and eating right. He recommends getting plenty of Omega 3s through things like fish and chia seeds and suggests switching out your breakfast bread and cereal for the healthy fats and protein in eggs and avocado. So for my book-inspired dish I decided to make eggs bake in an avocado and top it with salsa for extra flavor.
There are plenty of recipes for the keto-friendly avocado baked eggs online. I kept it simple with just a few ingredients and a big punch of flavor from the chunky salsa on top.
Baked Eggs in Avocado with Salsa
By Deb, Kahakai Kitchen
(Serves 1 or 2)
1 large, ripe avocado
2 small eggs
sea salt and black pepper
1/4 cup salsa
Preheat the oven to 400 degrees, F.
Slice avocado in half and remove pit. If the pit is small, spoon out a bit more of the avocado flesh to make room for the egg.
Gently crack the eggs into a bowl, be careful to keep the yoke unbroken. Place the avocado halves in a small baking pan, keeping them against the edges so avocados don't tip. Spoon a yolk into the avocado half and spoon in enough egg white to fill the the rest of the hole. Repeat with the remaining avocado half. Gently place pan in oven and bake for about 15-17 minutes until egg whites are set.
Top the baked avocados with salsa and serve immediately. Enjoy.
Notes/Results:
J
ust an easy and satisfying breakfast or dinner that takes just a few minutes to prepare. I loved the creamy avocado and runny-egg-yolk combination--the whites set just right and the slightly spicy salsa on top. I'll happily make it again.
I'm sharing this post with the Weekend Cooking event at Beth Fish Reads, a

weekly

event that is open to anyone who has any kind of food-related post to share. For more information, see the

welcome post

.
Note: A review copy of "The Only Skill That Matters" was provided to me by the author and the publisher, via TLC Book Tours. I was not compensated for my review and as always, my thoughts and opinions are my own.
You can see the other stops for this TLC Book Tour and what other bloggers thought of the book here.