Happy Tuesday! I'm brightening up the day by reviewing The House on Harbor Hill, a novel by Shelly Stratton as a stop on the TLC Book Tour. I'm pairing my review with a recipe for sunny and delicious Cara Cara Orange Marmalade inspired by the book, and there's also a giveaway with a chance to win a copy of your own.
Publisher's Blurb:
Set in the past and present, The House on Harbor Hill is a murder mystery that tackles the issues of racial prejudice and spousal abuse in the lives of two very different women…
She's generous, kind, and compassionate–yet Delilah Grey will forever be an outcast in the small seaside town of Camden Beach, Maryland. She takes in women shattered by abuse, poverty, illness, or events beyond their control. But no matter how far she's come or how many she's helped find their way back, there is no safe place for Delilah. Acquitted of her rich husband's mysterious death decades ago, she lives in her beautiful mansion consumed by secrets–and mistakes she feels she can never atone for. . . . Until she takes in desperate mother Tracey Walters and her two young children.
Tracey won't say where she's from or what sent her into hiding. But her determination and refusal to give up reminds Delilah of the spirited, hopeful girl she once was–and the dreams she still cherishes. As Tracey takes tentative steps to rebuild her life, her unexpected attraction to Delilah's handsome, troubled caretaker inadvertently brings Delilah face to face with the past. And when Tracey's worst fears come brutally calling, both women must find even more strength to confront truths they can no longer ignore–and at last learn how to truly be free . . .
Resonant, moving, and unforgettable, The House on Harbor Hill paints an unforgettable portrait of two women struggling to forgive themselves, take a chance on change, and challenge each other to finally live.
Publisher: Dafina (March 27, 2018)
My Review:
I think I fell a bit in love with Delilah and The House on Harbor Hill. It's the story of a friendship, of a brave woman helping other women and has some historical fiction aspects and a touch of romance. It also hits on some tough issues--domestic violence, racism and bigotry, and it successfully combines two eras--the late 1960s and present day. Shelly Stratton manages to weave it all together into a story that crawls into your heart and stays there.
Delilah Grey grew up wanting more than what the other black women she knew in Camden Beach, Maryland had--but unfortunately that desire to escape the boundaries of her world led her into an abusive relationship with the wealthy brother of her employer. When she becomes pregnant, he marries her (to the dismay of his high-society family for the shame of a biracial relationship in that era) and when he dies shortly after, she is blamed. Although she's eventually acquitted, Delilah spends decades enduring the gossip and notoriety that life in a small town brings. She spends her time taking in women in need and giving them shelter in Harbor Hill, the house her husband left for her--both trying to make up for the past and to experience the family life she never had. Tracey Walters is on the run from her abusive husband and struggling to make a better life for her two young children when Delilah offers her sanctuary. Both Delilah and Tracey are great characters--although Delilah is the one I most wanted to spend time with, both to uncover the mysteries that surround her and to bask in her care.
The story is told from both characters' points of view with Tracey's in the present day and Delilah's going back and forth through past and present. Rather than chapter-by-chapter, the switch in time is separated in five parts with several chapters in each section, and I liked how this made the story flow and avoided the choppiness that alternating times and POVs can often cause. The supporting characters are well-written, although the villains are pretty clear and some of what happens is fairly easy to predict. But, even guessing part of the outcome didn't take away from the beauty of the story. If you like women's fiction with strong female characters, growth, and friendships, add The House on Harbor Hill to your Spring TBR stack. (U.S.-based readers can enter to win a copy below!)
-----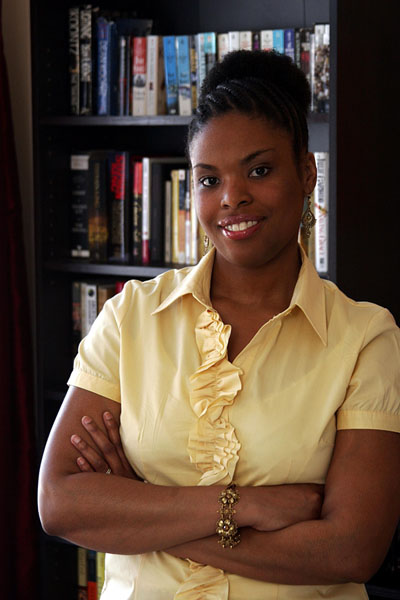 Author Notes:
Shelly Stratton is an award-winning journalist who earned her degree at the University of Maryland, College Park. Another Woman's Man, her novel written under the pseudonym Shelly Ellis, was nominated for a 2014 NAACP Image Award. A film buff and amateur painter, she lives with her husband not far from Washington, D.C.
Visit her online at www.shellyellisbooks.com or on Facebook or Twitter.
-----
Food Inspiration:
Although not a lot of them, there were some food mentions in The House on Harbor Hill, including: frozen scallops and over-cooked lobster, fresh tuna, lemonade, Snowballs and Twinkies, grapes, squash, carrots, ice tea, Red Velvet cupcakes, wine and cheese, fried clams, crab legs, shrimp po'boys and curly fries with Old Bay Seasoning, oranges, lemons and grapefruit, cantaloupes and apples, gelato, ice cream and hot fudge sundaes, sweet potato pie, roast beef sandwich and soup, fried chicken, mashed potatoes, panini and iced coffee, blackberry jam, cranberry preserves and marmalade, deviled eggs and champagne, collards, grits, canned pineapple, a burger and fries, steak, wheatgrass, Acai berry smoothies, glazed and frosted donuts, quiche, breakfast foods, apple pie, meatloaf, pork chops, and macaroni and cheese.
There wasn't one food that I felt stood out as representative of the book, but I found myself caught up by Delilah's description of a morning free of her abusive husband and her peace for that small slice of time:
"Today is one of the rare days that Cee is away from Harbor Hill, and I am enjoying my freedom. This morning, I sat at the kitchen table in my nightgown and bare feet, eating toast smothered in marmalade without a plate, which he hates. I turned up the volume on the radio--something else he doesn't like--so I can hear the Hit Parade in every room. I made hot cocoa for myself and gave a mug to our groundskeeper, Tobias,..."
I decided to make marmalade on toast and serve it (without a plate) with a cup of hot cocoa. It isn't made clear what flavor of marmalade Delilah's was, but I had a small hoard of my favorite cara cara oranges, so I decided on orange marmalade with a touch of vanilla.
I looked at several orange marmalade recipes on line. Many of them had the oranges peeled and then the pith scraped off the rind and them the rind sliced into pieces. It removes some bitterness but it seemed like WAY too much hassle to me for a busy week and when I saw that several people, including Alton Brown, left the rinds on their oranges, that's what I did. Usually I try to reduce sugar and use honey in my preserves and I often use chia seeds for thickening things up, but I was craving something old-school-ish, so I used regular sugar and kept the chia seeds in the pantry for another jam. Even though the oranges are sweet, I think with the peel you need a bit more sugar--although not as much as Alton used--and if you cook it long enough, the gelling will happen. Although I looked to Alton and a few other recipes for inspiration, I ended up doing my own thing.
Cara Cara Orange Marmalade
by Deb, Kahakai Kitchen
(Makes about 3 Cups)
1 lb oranges (I used Cara Cara oranges ), about 4 medium
1 cup water
1 1/2 cups sugar
1 tiny pinch sea salt
juice and zest of one lemon
2 tsp vanilla extract
Wash the oranges thoroughly, halve them and cut them thinly--into about 1/8-inch slices. (Pick out any seeds you may find.) Stack the orange slices and cut them in half.
Place the orange slices into a large pot with the water and sugar and bring to a boil. Reduce to a simmer and cook about 45 to 50 minutes, or until fruit is very soft, stirring frequently. Add sea salt, lemon juice and zest and vanilla extract and stir into the jam mixture. Continue to simmer another 10 minutes or so. Marmalade should have thickened and slightly darkened in color.
(Alton Brown suggests
testing the readiness of marmalade by placing a teaspoon of the mixture onto a small chilled plate and letting it it for 30 seconds. Wen you tilt the plate, the jam should be a soft gel that moves slightly--if it's thin and runs easily, it's not ready, so continue to cook until it has thickened enough.)
Allow to cool and transfer marmalade to jars or an airtight container and place in the fridge. It will last about two weeks kept airtight in the refrigerator, or freeze it for up to six months.
Notes/Results: I really like this marmalade. It captures the flavor of the cara cara oranges (and the color is gorgeous!) and the vanilla rounds out the flavor and gives it a creamsicle vibe. The slight bitterness of the rinds and pith is welcome to me and keeps it from being too sweet--although from an aesthetics standpoint, next time I might add an extra orange or two, peeling a few of the oranges and discarding their peels--just to have a little less rind in the mix. But, since I love chunky jams or preserves anyway, this still works. I thought it was terrific on toasted bread, drizzled with melted (salted) butter and paired with the hot chocolate and I think it will be aces, stirred into some plain Greek yogurt. I would definitely make it again.
I'm sharing this post with the Weekend Cooking event at Beth Fish Reads, a

weekly

event that is open to anyone who has any kind of food-related post to share. For more information, see the

welcome post

.
***Book Giveaway***
The publisher is generously providing a copy of The House on Harbor Hill to give away (U.S. addresses only, sorry)
here at Kahakai Kitchen.
To enter the Rafflecopter Giveaway below, leave a comment
(Because I like to read them!) ;-) The book is set in a small seaside town in Maryland, so tell me about your favorite beach OR tell me why you'd like to win a copy of this book.
There are a couple of other optional ways to get more entries to win: 1) Tweet about this giveaway or 2) follow me on Twitter (@DebinHawaii) and/or Author Shelly Stratton (@sstrattonbooks)
on Twitter. (Note: You can still get extra entries even if you already follow me or the author on Twitter.)
Deadline for entry is

midnight on Tuesday

, April 10th.
a Rafflecopter giveaway
Note: A review copy of "The House on Harbor Hill" was provided to me by the author and the publisher, via TLC Book Tours. I was not compensated for this review and as always, my thoughts and opinions are my own.
You can see the stops for the rest of this TLC Book Tour and what other reviewers thought about the book here.