Aloha. I am happy to be a stop on the TLC Book Tour for The Essence of Nathan Biddle by J William Lewis. Accompanying my review is a Fresh Blackberry Milkshake inspired by my reading.
Publisher's Blurb:

A subtly wicked, almost Southern Gothic tale of existential angst told by 18-year-old Kit Biddle, an anti-Gumpian southern boy struggling with the complexities of life. The story unfolds against a backdrop of painful chaos: Kit's revered uncle, Nathaniel Tyler Biddle, Jr., has sacrificed his only son on direct and specific orders, according to Rev. Biddle, from God himself. As Kierkegaard has suggested, the comic and the tragic converge on Kit's desperate search for meaning in a willy-nilly world of opaque walls and filtered light.
The enigmatic Anna appears with all the attributes of Kit's yearning and imagination and then, just like that, she disappears like a phantom in a fog, only to be replaced by the enigmatic Sarah who reverses the roles and projects onto Kit all her desires and imaginings. Standing on one leg in the darkness, Death beckons to Kit with a promise of light and comfort but instead leaves him lying in his own blood on hot pavement with neither clarity nor relief. Who is Kit Biddle? He may actually be Nathan Biddle but who in the world is that?
When the fog dissipates—if the clarity he seeks finally appears—does Kit really want the answers he finds?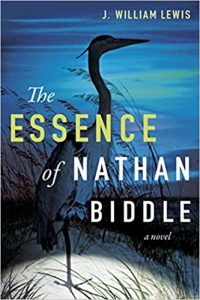 Greenleaf Book Group Press (June 1, 2021)
My Review:

I have mixed feelings about The Essence of Nathan Biddle. On one hand I enjoyed the atmospheric setting of the book in Alabama in the late 1950s and I was empathetic to the main character, Kit Biddle, a very smart and very angsty young man on the cusp of adulthood. On the other hand, I think this book is much more intelligent and intellectual than I ever claim to be and that meant the dialogue between Kit and his friends (and really most everyone in the book as he worked through his existential crisis), felt forced and many times I was wondering what happened and what I missed. The book is told in four sections and I had trouble with some of the jumps and back-tracking to what had taken place as Kit relates it, primarily to his therapist, in the second half of the book. Kit's story is certainly intriguing, especially some of the secrets and mystery surrounding his family, but at the end I was still scratching my head about what was real and what wasn't and feeling like I wanted more answers and closure.
The writing is beautiful and there were some quotes that I loved and highlighted: "It really is a lot easier to see up when you're lying on your back." (About a calamity making you see the upside of life.) and "Maybe the really beautiful things are like that: little glowing sparks in the mundane darkness of everyday existence." I do think there are those who will love this book, especially fans of coming of age stories like The Catcher in the Rye fans and lovers of Southern Gothic fiction and stories set in the South. For me, I am glad I read it and I'm still thinking about it, but it won't go down as a favorite.
-----
Author Notes: Alabama native J. William Lewis is a former lawyer who lives in Shoal Creek, a suburb of Birmingham, Alabama. Born in Chickasaw, Alabama, Lewis grew up in Mobile. He graduated from Spring Hill College (A.B., magna cum laude, English and Philosophy) where he was a member of Alpha Sigma Nu and recipient of the Merihl Award. While in college, Lewis served as editor-in-chief of the literary magazine The Motley. Lewis received his J.D. from the University of Virginia School of Law and served on the Editorial Board of the Virginia Law Review. After a clerkship for the Honorable Walter P. Gewin on the U.S. Fifth Circuit Court of Appeals, Lewis practiced law in Birmingham for over three and a half decades.Presently, Lewis serves as executive officer of his family's investment company, Seaman Capital, LLC, and related companies. He has been married to Lorraine Seaman Lewis for more than half a century. The Essence of Nathan Biddle is his debut novel.
-----

Food Inspiration:
There's not a lot of great, inspiring food in the book but mentions included: orange juice, sandwiches, Coke, beer, pickled boiled eggs in a jar, saltine crackers and beef jerky, Snickers and Milk Duds, Krispy Kreme donut, hotdogs, daiquiris, cookies, cereal, French fries, blackberry vines, cornfields, scrambled eggs, vanilla ice cream, a barbecue restaurant, a peanut butter sandwich and a glass of milk, donuts and coffee.
For my bookish dish, I decided to combine a few mentions of blackberry vines in the countryside with some vanilla ice cream that Kit eats while in the hospital. One of my favorite things in life is a Fresh Blackberry Milkshake. If you are ever in Oregon and the Pacific Northwest during blackberry season, I highly recommend local chain Burgerville's fresh blackberry ice cream shakes as a gold standard. But, if you can't make it there while they feature them, you can easily get some fresh (or frozen) blackberries and make it yourself.
Instead of plain vanilla ice cream, I bought one of my all-time favorites, Tillamook's Marionberry Pie Ice Cream. It is a rich, creamy vanilla base with berries and little chunks of pie crust in it. So good!
Fresh Blackberry Milkshake
By Deb, Kahakai Kitchen
(Makes 1 large Milkshake)
1 cup fresh blackberries

sugar, honey or other sweetener of choice as needed depending on blackberry sweetness

2 cups good vanilla ice cream, or berry-flavored ice cream as mentioned above

1/4 cup heavy cream or half-and-half + more as needed
Place the blackberries and sweetener if using into a high-speed blender and puree. Add ice cream and cream or half-and-half and blend until smooth. Add more cream/half-and-half as needed to thin out to desired consistency. Serve and enjoy!
Notes/Results: Sweet, a little tangy, there's few milkshakes I find more delicious that a fresh blackberry milkshake. My berries were sweeter than I expected and so I didn't add any additional sweetener, but definitely taste as you go and add as necessary. Also, if you don't like seeds, you can cook the berries down and strain out the juice and discard the seeds. I don't mind them--along with the bites of crust in the Marionberry Pie ice cream I used, they give it a little texture. I will happily make it again.
I'm sharing this post with the Weekend Cooking event being hosted by Marg at The Adventures of An Intrepid Reader. It's a weekly event that is open to anyone who has any kind of food-related post to share. Here's a link to this week's post.
Note:
A review copy of The Essence of Nathan Biddle was provided to me by the author and the publisher via TLC Book Tours. I was not compensated for this review and as always, my thoughts and opinions are my own.
You can see the stops for the rest of this TLC Book Tour and what other reviewers thought about the book here.