It's the start to the weekend after another crazy week and I am excited to kick it off with a review of Women: The National Geographic Image Collection, a gorgeous book of photographs celebrating women across the world. Paired with my review is a simple recipe for Crispy Fingerling Potatoes from one of my favorite women in food, Ruth Reichl.
Publisher's Blurb:

This powerful photography collection, drawn from the celebrated National Geographic archive, reveals the lives of women from around the globe, accompanied by revelatory new interviews and portraits of contemporary trailblazers including Oprah Winfrey, Jane Goodall, and Christiane Amanpour.
#MeToo. #GirlBoss. Time's Up. From Silicon Valley to politics and beyond, women are reshaping our world. Now, in anticipation of the 100th anniversary of the 19th amendment, this bold and inspiring book from National Geographic mines 130 years of photography to showcase their past, their present, and their future. With 300+ stunning images from more than 50 countries, each page of this glorious book offers compelling testimony about what it means to be female, from historic suffragettes to the haunting, green-eyed "Afghan girl."
Organized around chapter themes like grit, love, and joy, the book features brand-new commentary from a wide swath of luminaries including Laura Bush, Gloria Allred, Roxane Gay, Melinda Gates, New Zealand prime minister Jacinda Ardern, and the founders of the #MeToo and Black Lives Matter movements. Each is accompanied by a bold new portrait, shot by acclaimed NG photographer Erika Larsen. The ultimate coffee table book, this iconic collection provides definitive proof that the future is female.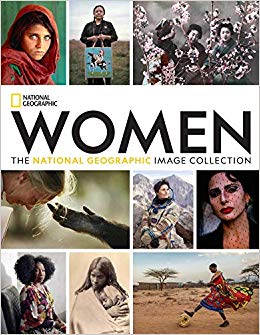 Publisher:

National Geographic (October 15, 2019)
My Review:
I am a sucker for beautiful coffee table books and big books of photographs. I reviewed two of National Geographic's books last year, Tasting Italy and All Over the Map and so I was happy to sign up to review Women: The National Geographic Image Collection this year. The book showcases women from across the globe with pictures from the last 130 years of women from all walks of life. Some photos are iconic images from the magazine, other were unfamiliar to me, all are stunning and fascinating. The book is set up by chapters titled Joy, Beauty, Love, Wisdom, Strength and Hope. In between the chapters of images are Portraits of Power with interviews of strong and amazing women I was pleased to see authors Roxane Gay and Chimamanda Ngozi Adiche, my hero Jane Goodall, and other impressive women like Oprah, Melinda Gates, Christine Amanpour, and Laura Bush--just some of the 24 women featured. I also really enjoyed the history of women appearing in National Geographic Magazine photos and the Through the Lens snippets where photographers (women) talk about their work and the images they captured. These features make it more than just a book of stunning pictures.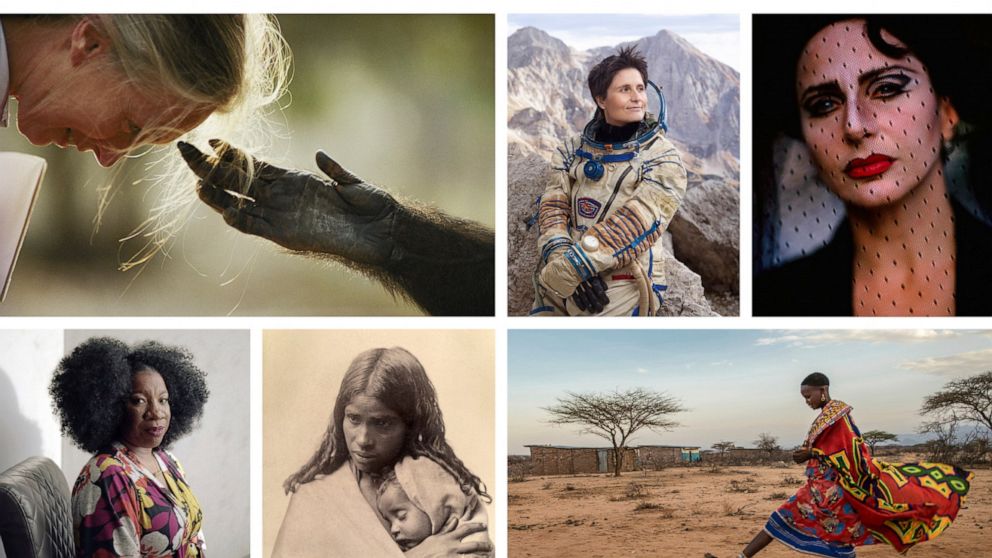 There are photographs that made me smile and those that made me catch my breath and made me tear up and feel strong emotion. From the fanciful to the gritty, all aspects of women are captured. I have paged through the 512 pages and found myself absorbed and entertained and will be going back in to look, enjoy, and be inspired some more. Women would make an excellent gift for the strong women of all ages in your life and mine will be displayed proudly on my coffee table.
Since there is little food that I found in the book itself, I decided to go with the theme of strong women and picked one of my favorite food icons, Ruth Reichl. I had a small bag of multicolored baby potatoes and found an easy recipe for Crispy Fingerling Potatoes from Ruth's blog (from Are French Fries Old Hat?) that contained some favorite ingredients (olive oil, garlic, lemon zest and sea salt) all of which I had in my pantry. I used a mock chicken broth to boil my potatoes but otherwise, followed the recipe as written.
Crisp, Lemony Baby Potatoes
(Serves 4)
Put two pounds of baby potatoes (they use Red Bliss, but I used Yukon Golds) in a skillet or a pot, add three cups of chicken stock that contains the zest of one lemon and a couple cloves of garlic. (The stock may not cover the potatoes.) Bring to a boil, cover and cook for 8 minutes.
Drain, reserving lemon zest.
Put them on a sheet pan that is liberally covered with olive oil. Gently flatten each potato, using the back of a chef's knife, a rolling pin or a small skillet. Drizzle with olive oil and the zest from the chicken stock

and roast for about forty minutes, until the potatoes are so crisp they crackle when you take a bite.
Sprinkle with sea salt, and if you really want to gild the lily, shower them with grated Parmesan cheese.
Notes/Results: Okay, I confess... I ate the bowl of potatoes for dinner and I do not regret it one bit. Other than I now have no crispy potatoes. Oh well, they are super easy to make and so I can and will have more. The parmesan shavings were "gilding the lily" as Ruth said, but totally delicious. Crispy on the outside, creamy inside, lightly lemony and pretty addicting, I will make them again.
Linking up with I Heart Cooking Clubs where this week's theme is "I Am Thankful For..." dishes with ingredients we love and give thanks for (like potatoes, lemon zest, garlic and olive oil!). ;-)
I'm also sharing this post with the Weekend Cooking event at Beth Fish Reads, a weekly

event that is open to anyone who has any kind of food-related post to share. For more information, see the

welcome post

.
Note: A review copy of "Women: The National Geographic Image Collection" was provided to me by the author and the publisher via TLC Book Tours. I was not compensated for my review and as always, my thoughts and opinions are my own.
You can see the other stops for this TLC Book Tour and what other bloggers thought of the book here.