Another week is winding down and I am happy to be a stop on the TLC Book Tour for Maggie's Ruse, a novel by Anne Leigh Parrish. Served with my review is an easy and delicious comfort food dish of Gnocchi and Cauliflower Casserole.
Publisher's Blurb:
Maggie and Marta Dugan, twenty-seven-year-old identical twins, live the good life in New York City on their stepfather's money. Each has a glamorous calling. Maggie paints; Marta appears onstage. Success, though, eludes them. Marta's roles are few and far between. Maggie's endorsements are infrequent at best. When gallery after gallery passes on her work, she begins to doubt her talent. Home alone one afternoon, fueled by frustration, she is seized by a sudden, wild impulse to masquerade as Marta when a friend of hers drops by. The ruse is quickly discovered when Marta returns from another shopping spree, a rift between the sisters ensues, and they go their separate ways. But living apart proves harder than either thought at first. Each carries the other firmly within her, making any true independence nearly impossible. As the weeks pass, the weight of absence sometimes becomes difficult to bear. Both find a surprising degree of success in their respective efforts, due perhaps to their newfound freedom, yet the bond between them remains firm. Can they come back together, and under what circumstances would a reunion be viable? Has the time come for an open discussion of their issues with each other? Unable to fully answer these questions, each knows only that she needs the other to feel whole.
Publisher: Unsolicited Press (October 1, 2019)
My Review:
I
struggled a bit with this book. I was acquainted with the Dugan family after reading and reviewing the author's Our Love Could Light the World, a set of connected short stories about them back in 2014 (see my review & recipe for it here). At the time I said "The Dugans however are that family--the glaringly dysfunctional one we know and tend to sit in judgment of--way too many kids and issues, way too little money and care for those around them." In that book, Maggie and Marta are young twins while in Maggie's Ruse they are twenty-seven, living in New York City and supported by their stepfather's money. They are not pleasant girls and have maintained my observation that they have little care for those around them is fully ingrained. Maggie is an artist, struggling to find her rhythm in painting and Marta is an actress with two small roles as her body of professional work. They are selfish and do what they please, manipulating people that cross their path. The premise of the book is that when the man Marta likes stops by, Maggie pretends to be her and is soon making out with him. Marta walks in and is not amused. This puts them on a path to separating their lives when Maggie moves away from the city and both sisters struggle with being apart. Can I like a book where I actively dislike both main characters and feel no connection to them? It is difficult. I didn't like how manipulative they both were and the lack of feeling and responsibility they posses. I tried to be sympathetic because of the way they were raised (mostly left alone) and their family being a hot mess in the earlier book--but at the end of the day, I wasn't that caring of whether either sister succeeded. I think that the short story format made the Dugan's more tolerable while in this novel the relatively short 272 pages felt longer and gave me more opportunities to be irritated at the twins as I waited for the conclusion.
As much as I disliked Maggie and Marta, Anne Leigh Parrish is a talented writer and I did find the book tough to put down for too long as I wanted to know how things would play out. Both twins grow, but just slightly, and begin to find themselves and that was interesting to observe, as is twin relationships and behavior in general as I find it fascinating. It was also intriguing to look in on the Dugan family and see what they were up to and to learn that Parrish has written or is writing about other Dugan family members and told their stories and I am interesting in taking a look. A bit like a train wreck that you can't turn away from, they do manage to make me think and appreciate my own family. ;-)
-----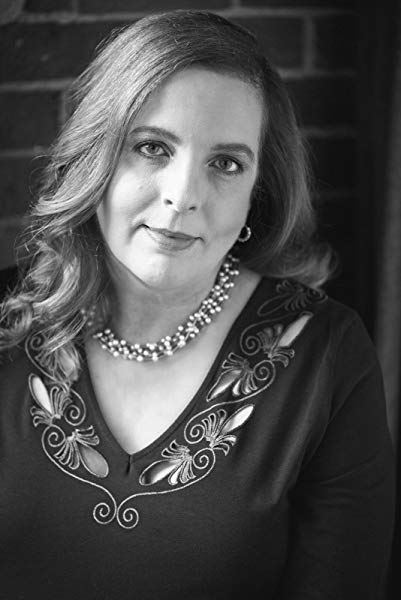 Author Notes:
Anne Leigh Parrish is the author of five previously published books of fiction: Women Within, a novel (Black Rose Writing, 2017); By The Wayside, stories (Unsolicited Press, 2017); What Is Found, What Is Lost, a novel (She Writes Press, 2014); Our Love Could Light The World, stories (She Writes Press, 2013); and All The Roads That Lead From Home, stories, (Press 53, 2011). She is the author of over forty-five published short stories, and numerous essays on the art and craft of writing.
Learn more by visiting her website at www.anneleighparrish.com.
-----
There was food and drink mentioned in Maggie's Ruse, although not a lot. Mentions included champagne, roast chicken with rosemary, a salad or pre-washed lettuce and ranch dressing, white and red wine, Maker's Mark (straight up), potato chips, baked ham, peach yogurt, cottage cheese, butter, pizza, deviled eggs, tea, chocolate layer cake, Chinese food, a carton of fried chicken, a plastic tub of pasta salad, spaghetti with meatballs, a non-fat latte, a grilled cheese sandwich with both goat cheese and cheddar with a cup of homemade tomato soup, breadsticks and Italian food, Chianti, sherry, Italian hoagies, Oreos, a roast beef sandwich, Americanos, Mexican food with guacamole and margaritas, canned soup, a dinner of salty pork chops, brown lettuce with bottled dressing and frozen macaroni and cheese, spaghetti with garlic and red pepper flakes, Pop Tarts, chicken breasts stuffed with cheese and olives, and salad with bleu cheese dressing.
For my book-inspired dish, I had a bit of trouble getting inspired by the food. I ended up stretching things a bit and making a dish involving baked cauliflower and cheese, a nod to the character Josh's asking about the dinner he is invited to at Marta and Maggies apartment.
'"What are you making?" he asked. Seafood wasn't his thing. Nor any kind of gross vegetable like artichokes or eggplant. Cauliflower he could stand, but only if it were baked and smothered in cheese."
(Many thank to Abrams Books and #AbramsDinner Party for this delightful new cookbook that I know will become a favorite part of my collection. This post is sponsored by Abrams Books, as part of the Abrams Dinner Party, however my thoughts, feelings and experiences cooking from it are my own. #sponsored)
I had tagged a recipe for Gnocchi & Cauliflower Casserole from the Forest Feast Mediterranean: Simple Vegetarian Recipes Inspired By My Travels by Erin Gleeson. I received this gorgeous book as part of #AbramsDinnerParty from Abrams Books. I'll be reviewing the cookbook soon and couldn't resist pairing this simple weeknight-perfect recipe with the book as I think even a veggie hater would like it.
As I am reviewing the book soon and will be sharing a recipe or two then, I am not going to print it here. That being said, the dish is so simple, you can make it without one quite easily. Cook a small head of cauliflower into small florets and boil for a few minutes, then add a 17-oz pack of gnocchi and boil according to package instructions. Drain and mix with about 3/4 of a cup of grated Parmesan along with a couple of tablespoons of butter, a little olive oil and salt and pepper, then broil for about 3 minutes, until the top is golden.
I took the liberty of sprinkling a little herbed panko breadcrumbs on top of mine and used a mix of Parmesan and grated Romano cheeses but otherwise kept the recipe the same.
Notes/Results: This was so simple and really good--cheesy and comforting and on the table in about 15-minutes from start to finish. Add a salad and eat it as a main dish or you could serve it on the side with the rosemary roast chicken mentioned in the book. I took my leftovers to work yesterday and liked it reheated too. I will happily make it again.
Note: I do have to mention that I sent the first photo of the casserole and book cover (at the top of the post) to my friends and she said the cover was creepy and that the casserole dish I used is the same shape as the woman's face. Hah! I kind of like the pairing visuals! ;-)
I'm sharing this post with the Weekend Cooking event at Beth Fish Reads, a

weekly

event that is open to anyone who has any kind of food-related post to share. For more information, see the

welcome post

.
Note: A review copy of "Maggie's Ruse" was provided to me by the author and the publisher via TLC Book Tours. I was not compensated for my review and as always, my thoughts and opinions are my own.
You can see the other stops for this TLC Book Tour and what other bloggers thought of the book here.