Happy Aloha Friday! It has been a long, crazy and rainy week and I can't tell you how happy I am that the weekend has finally arrived. I'm kicking it off with a summer-perfect new book, The Islanders by Meg Mitchell Moore as I'm today's stop on the TLC Book Tour. I've paired it with a recipe for tasty "Essence-of-Summer" Strawberry, Peach and Blueberry Crisps inspired by the book.
Plublisher's Blurb:
J. Courtney Sullivan's Maine meets the works of Elin Hilderbrand in this delicious summer read involving three strangers, one island, and a season packed with unexpected romance, well-meaning lies, and damaging secrets.
Anthony Puckett was a rising literary star. The son of an uber-famous thriller writer, Anthony's debut novel spent two years on the bestseller list and won the adoration of critics. But something went very wrong with his second work. Now Anthony's borrowing an old college's friend's crumbling beach house on Block Island in the hopes that solitude will help him get back to the person he used to be.
Joy Sousa owns and runs Block Island's beloved whoopie pie café. She came to this quiet space eleven years ago, newly divorced and with a young daughter, and built a life for them here. To her customers and friends, Joy is a model of independence, hard-working and happy. And mostly she is. But this summer she's thrown off balance. A food truck from a famous New York City brand is roving around the island, selling goodies—and threatening her business.
Lu Trusdale is spending the summer on her in-laws' dime, living on Block Island with her two young sons while her surgeon husband commutes to the mainland hospital. When Lu's second son was born, she and her husband made a deal: he'd work and she'd quit her corporate law job to stay home with the boys. But a few years ago, Lu quietly began working on a private project that has becoming increasingly demanding on her time. Torn between her work and home, she's beginning to question that deal she made.
Over the twelve short weeks of summer, these three strangers will meet and grow close, will share secrets and bury lies. And as the promise of June turns into the chilly nights of August, the truth will come out, forcing each of them to decide what they value most, and what they are willing to give up to keep it.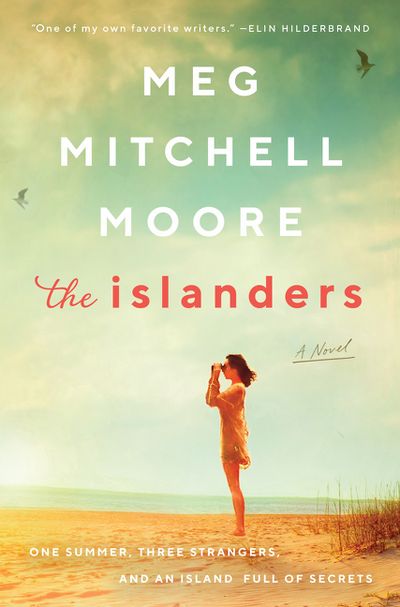 Hardcover:
432 pages
Publisher: William Morrow (June 11, 2019)
My Review:
The Islanders spoke my love language with its focus on food (a bakery owner and a blogger), writers, and a picturesque island community--it's set on the real Block Island in Rhode Island, so I went in pretty convinced that it would be a win for me and it was. Three characters have stories that the author weaves together well, building my interest in all of them and making me root for Anthony, Joy and Lu.
Joy is a single mother who lives year-round on Block Island, selling her delicious whoopie pies out of her bakery/cafe and parenting a teenager. Lu, a stay-at-home-mom and her two young sons are staying on the island while her surgeon husband commutes there when his schedule allows. Lu has been keeping some pretty big secrets from her husband and the rest of the world and needs to decide what she wants to do with her popular food blog. Anthony is a talented writer and the son of a famous thriller author. While his first book won him praise from critics and fans alike, a plagiarizing accusation on his second book and his imploding marriage have him going incognito on the island. I liked each of these characters and was never disappointed when the perspectives changed with the chapter unlike other books where I gravitate to one character or story. It felt like much less than 432 pages and I was sorry to see the book end. The setting and its sights, smells, sounds, the food (of course) and the people are all vividly described and had me easily picturing it in my mind. Living on a more tropical island in the Pacific, I find myself drawn to reading about the Atlantic coastal shoreline and the little communities along it and on nearby islands. I'd love to spend time on Block Island--especially if the real-life restaurants are as good as the fictional ones the author created. ;-)
The Islanders is my first book from Meg Mitchell Moore and I am sure it won't be my last. if you like women's fiction, coastal and small town/community settings, intertwining stories, and novels that include a foodie focus, it will make a great addition to your summer book stack and is perfect for reading at the beach or pool.
-----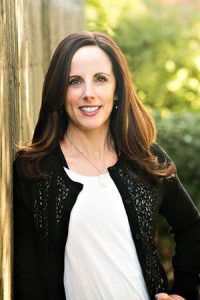 Meg Mitchell Moore works as a non-fiction writer in Newburyport, Massachusetts, where she lives with her husband and three young daughters.
Find out more about Meg at her website, and connect with her on Facebook and Instagram.
-----
With the owner of a whoopie pie shop/bakery (Joy Bombs) and a secret food blogger, The Islanders was full of delicious-sounding food. Mentions included whoopie pies flavors of raspberry cream, pumpkin spice, gingerbread, apple cinnamon and double-chocolate fudge, coffee, screwdrivers, summer chili with lots of vegetables and yellow squash, tacos, salads, lemon ricotta pancakes, broken artichoke salad to go on the side of pasta puttanesca, chicken nuggets, giant blueberry muffins dusted with cinnamon sugar, a farro salad with mozzarella and tomatoes, fresh strawberry and peppermint stick ice cream, a salad with bacon and a poached egg over arugula with homemade Parmesan croutons, spaghetti with clam sauce, a french food truck with salad Nicoise, croque monsieur and madame, pommes frites and macarons, banana chocolate bread pudding with mint creme anglaise, pickles of all sorts of veggies and peaches, grilled cheese, bagels, caramel popcorn, digging for clams, summer vegetable lasagna, roasted broccoli--charred and sprinkled with sea salt, a simple caprese salad with grilled tuna, calamari, tomato and burrata salad, ginger-rubbed swordfish, Thai mango salad with peanut dressing and grilled or stir-fried tofu, shrimp or salmon, macaroni and cheese, grilled scallops, black bean tostadas, skillet cornbread with jalapeno peppers, honey and cheese, spaghetti carbonara with duck confit, grilled tenderloin, cheese souffle, friend chicken, meatloaf, chicken and lobster potpies, banana pancakes spread with homemade almond butter, milk,
rosé wine, sangria and Dark 'n' Stormies, fried clams, chocolate Heath bar ice cream, Moscow Mules, salt-and-pepper calamari, a grilled fish sandwich with fries, summer shrimp salad, and strawberry and arugula salad with jalapeno, radishes and feta or goat cheese.
Although there is a whoopie pie recipe in the back of the book, I am not a baker and even if I was, it's been too hot and too busy to bake so I decided to pick something else as my book-inspired dish. There were actually quite a lot of dishes that I considered making, especially some of the salad combinations. In the end I was drawn to Lu developing an "essence-of-summer" cobbler for her blog. The one challenge is that I much prefer the oat and brown sugar goodness of a crisp or crumble topping than a cobbler crust, so I deviated from the book and made mine an Essence-of-Summer Crisp. In the book, it just has Lu looking at a package of strawberries but I decided that combining multiple fruits says "summer" to me and used strawberries, frozen peaches and blueberries and added sliced almonds to the crust.
"Essence of Summer' Strawberry, Peach & Blueberry Crisps
By Deb, Kahakai Kitchen
(Serves 4 with Ice Cream)
fruit:
about 1 lb fresh strawberries, cored and sliced
1 1/2 cups frozen peaches, thawed and chopped into thirds
1 pint fresh blueberries
1/3 cup brown sugar,or more depending on sweetness of your berries
1 Tbsp fresh lemon juice
2 tsp ground cinnamon, or to taste
1 1/2 Tbsp cornstarch
topping:
1/2 cup all-purpose flour
1/2 cup brown sugar
1 heaping cup old-fashioned rolled oats
1 Tbsp ground cinnamon, or to taste
1/3 cup sliced almonds
4
Tbsp salted butter, cold, cut into tiny cubes
Preheat oven to 350 degrees F. Line a pan with parchment or foil and set aside.
Place the fruit in a medium bowl. In a small bowl whisk the cornstarch into the lemon juice with about 1/4 cup of water until completely blended, pour over fruit and toss until well mixed. Place fruit into an even layer into four (lightly buttered) small oven-safe ramekins and set aside.
For the topping, mix the flour, brown sugar, oats, cinnamon, and sliced almonds into a mixing bowl. Add the pieces of butter to the mixture and use your fingers to work them into the dry mixture until it is the texture of course meal.
Spoon topping evening over the fruit, packing down lightly. Place in the oven and bake at 350 degrees F. for about 25-30 minutes, or until the filling is bubbling up through the topping and the topping is golden-brown. If topping seem to be getting too dark/done, cover with foil and continue baking.
Let the crisps sit for about 15 to 20 minutes and serve warm with ice cream or half-and-half. Enjoy!
Notes/Results: I was very happy with these little crisps, especially with a scoop of Tillamook Marionberry Ice cream on top. The flat ramekins bubbled over a bit, but I was prepared with a well-lined pan underneaths o no real messes were made. Crisps are such big bang for low effort desserts, I will happily make this one again.
I'm sharing this post with the Weekend Cooking event at Beth Fish Reads, a

weekly

event that is open to anyone who has any kind of food-related post to share. For more information, see the

welcome post

.
Note:
A review copy of "The Islanders" was provided to me by the author and the publisher, Harper Collins, via TLC Book Tours. I was not compensated for this review and as always, my thoughts and opinions are my own.
You can see the stops for the rest of this TLC Book Tour and what other reviewers thought about the book here.