Today's TLC Book Tour stop has us visiting the quaint town of Ashland Oregon, where the local Shakespeare Festival and a family owned bakery are the setting for Fudge and Jury by Ellie Alexander, the fifth book in the Bakeshop Mystery series.

Accompanying

my review of

this book and the series is a tropical

Ma

n

go

C

hai Latte and some decadent Chocolate Truffles from the book

.
Publisher's Blurb:
Welcome to Torte–a friendly, small-town family bakery where the pastries are delicious…and, now, suspicious.
It's almost spring in Ashland, Oregon, and the town is preparing for the Shakespeare and the annual Chocolate Festival. Business is cookin' at Torte, and the store is expanding as Jules' team whips up crèpes filled with mascarpone cheese and dark chocolate. Torte stands a chance of being this year's confectionery belle of the ball! Life couldn't be sweeter—unless murder taints the batter.
Evan Rowe, of Confections Couture, makes a chocolate fountain that would put Willy Wonka to shame, and his truffles are to die for—literally? Yes, the world-renowned chocolatier has just turned up dead…right after sampling a slice of Jules' decadent four-layer chocolate cake. Now all eyes are on Jules as she tries to find the mysterious ingredient in her own recipe. Can she sift out the truth before another contestant bites the buttercream?
Series: A Bakeshop Mystery (Book 5)
Mass Market Paperback: 320 pages
Publisher: St. Martin's Paperbacks (January 3, 2017)
My Review:
T

h

e Series: I love a cozy mystery, especially a foodie cozy mystery so I was excited to jump on the blog tour for Fudge and Jury. But, it drives me crazy to read series books out of order, so when I had the opportunity to review e-book copies of the first four books

I was thrilled and I quickly immersed myself in the town of Ashland, Oregon and the delectable goings-on at Torte, the bakeshop owned

b

y the Capshaw family. Juliet Montague Capshaw (she goes by Jules) has been the head pastry chef on a cruise ship since graduating from culinary school. When a betrayal of trust by her husband has Jules headed back to Ashland to think things through, she becomes caught up in helping her widowed mother run Torte and get involved in her first mystery when the newest board member of the Oregon

Shakespeare

Festival turns up dead in Torte's backroom.
Jules is a likable character, loyal, a bit stubborn, a foodie and talented chef and baker.

S

upporting her are her mother (Helen), high school boyfriend and cop (Thomas), Thomas's detective boss, the crew at Torte, and her new friend, the OSF director (Lance). Ellie Armstrong sets a fun tone with with the characters, the other townspeople and tourists, and the town of Ashland itself. Growing up in Oregon, I spent time in Ashland and love its quirky charm. The mysteries are not too difficult to solve (typical in cozies) and they are accompanied by plenty of food--not just bakery and pastry items, as well as recipes for some of the dishes highlighted in the book. It makes for both fun and delicious reading. (And of course the titles are perfect!) ;-) If you aren't set on series books being in order like I am, you could certainly start with Fudge and Jury

or read them out of order,

however I really enjoyed learning Jules's backstory and watching her grow

and change over the several months the books are set.
Fudge and Jury: The fifth book in the series, Fudge and Jury begins in March, when Ashland hosts an annual Chocolate Festival and Jules and team are getting Torte ready to represent. They are also taking time to renovate the bakery and put in the new ovens that will help them keep up with the demand they hope will continue to increase. Jules is creating new chocolate creations and planning on moving into custom wedding cakes, so a good showing at the festi

val is important. Unfortunately, a famous local
chocolatier appears to have a fatal allergic reaction immediately after trying a few bites of Torte's

chocolate cake sample and Juliet is plunged into another investigation.
The only thing better than baked goods are baked goods and chocolate and with the descriptions of the dishes Jules and friends make and eat, you won't want to read Fudge and Jury on an empty stomach. I liked that this mystery had a couple of small twists that I didn't see coming and that kept things interesting. In addition to the recipes and food descriptions, I like the little cooking and baking tips that the author peppers into the story. I consider myself to be fairly knowledgeable about chocolate but

I

picked up some good tips and ideas. I think Fudge and Jury (and the whole series) does a great job of balancing the food and characters with the mystery plot

and keeps everyth

ing engaging

an

d entertaining.

I am looking forward to the next book, A

Crime of Passion Fruit

, (another great title) which comes out in June.
-----
Author Notes: Ellie Alexander writes the bestselling Bakeshop Mystery series for St. Martin's Press, set in the Shakespearean town of Ashland, Oregon and featuring a romantic, artisan pastry chef, Juliet Montague Capshaw.
Ellie is a Pacific Northwest native who spends ample time testing pastry recipes in her home kitchen or at one of the many famed coffeehouses nearby. When she's not coated in flour, you'll find her outside exploring hiking trails and trying to burn off calories consumed in the name of research.
Connect with Ellie on Facebook, Twitter & Instagram
-----
Food Inspiration:
There are so many delicious sounding dishes in these books like bakery treats including chocolate tarts, eclairs, chocolate cake, cookies, chocolate bark, marble fudge, and Torte's Chocolate Pasta with white chocolate sauce, hand-dipped chocolate truffles, snickerdoodles, brownies, buttery scones with clotted cream and strawberry jam, sausage rolls, banananut muffins, cheese Danish, peanut butter and jam cookies, and cherry almond shortbread
On the non-bakery food side there was a squid-ink spaghetti and shrimp dish, a peanut butter and marionberry jam sandwich, rack of lamb, pork belly, meat loaf and smashed garlic mashed potatoes, meatloaf sandwiches, a composed salad, cheese and sausage quiche, gyros, sea scallops sauteed in butter, pancetta and leek soup, beer and cheese soup, and spring salads with lemon grilled chicken, dried cranberries and hazelnuts. And finally for beverages, there coffee drinks including a tropical-flavored latte, a classic double latte with just a dash of brown sugar, a chocolate slushy, Spanish coffees, and a potent martini.
For my book/food pairing, I definitely wanted chocolate--preferably chocolate truffles so I decided to follow the book's simple recipe for them. I used a good dark bittersweet chocolate and flavored my truffles with a combination of almond and coffee extracts

giving them s

ort of an almond latte-ish vibe. Although the author suggests playing around with flavors and toppings, I kept it simple and rolled my truffles into

a European hot chocolate mix, giving the outside a bit of sweetness that was nice.
Torte's resident barista Andy, is always experimenting with coffee and tea drinks and I was intrigued by his tropical Mango Latte. By

intrigued

I mean that I

wasn't completely sure

whether the pairing of the chai spices with the tropical fruit flavors sounded good or not--but I had to try

--so I made the latte too.
Ellie Alexander says, "Andy's tropical chai tea creation made with spicy Oregon Chai will have you dreaming of sunny beaches and warm, blue seas."
Mango Chai Latte
From Fudge and Jury by Ellie Alexander
(Serves 1)
3 oz chai tea mix (Andy uses Oregon Chai but any black tea blend will work)
1 cup coconut milk
2 Tbsp mango puree
1 tsp fresh pineapple juice
Heat chai and steam coconut milk. Mix the mango puree and pineapple juice in the bottom of your favorite coffee mug. Add steamed coconut milk and stir. Pour in chai tea. Can be served hot or over ice.
Chocolate Truffles with Coffee & Almond
Adapted from
Fudge and Jury by Ellie Alexander
(Makes about

30

truffles)
12 oz semisweet chocolate chips (I used Guittard: Sunset-a bittersweet dark chocolate)
1 1/4 cups heavy cream
1 tsp extract (play with flavor combinations--vanilla, orange, coconut, almond, etc.) (I used a mix of almond and coffee extract)
Toppings (play with flavor combinations--toasted coconut, sprinkles, cocoa powder, powdered sugar, etc.) (I kept it simple with European hot chocolate mix)
Melt chocolate on low heat. Slowly whisk in heavy cream. Remove from heat once mixture is completely melted and add extract. Transfer to a glass or plastic bowl. Cover with plastic wrap and allow to cool for two to three hours.
Use a melon scoop or large spoon to form chocolate into one-inch balls. Roll balls in topping(s). Use your fingers to make sure the entire ball is coated with the topping. Then place in an airtight container. Refrigerate.
Truffles will keep for up to a week. Be sure to remove them from the refrigerator one hour prior to serving. (Unless you live in a tropical climate--in which case 15-20 minutes is plenty.)
Notes/Results: The truffles were simple, rich and decadent--all important in my book. I just made a half-batch, which made about 15 truffles (probably would have made more without my 'sampling' throughout the process). The hot cocoa mix worked well with the dark chocolate and I liked the simple beauty of the lighter coating with the darker base. The chai latte turned out better than I expected. It is a little sweet for me to drink

regularly

but the mango and pineapple complemented the spicy chai flavors well. I tried it hot but think I might have to make and chill

some

as I think I will like it even more as an

iced beverage. I would make both of these recipes again.
Fudge and Jury
is my first
foodie book entry for the Foodies Read

2017

event. You can
check out the

January 2017

Foodies Read linkup, hosted by Heather at Based on a True Story, to see what everyone is reading this month.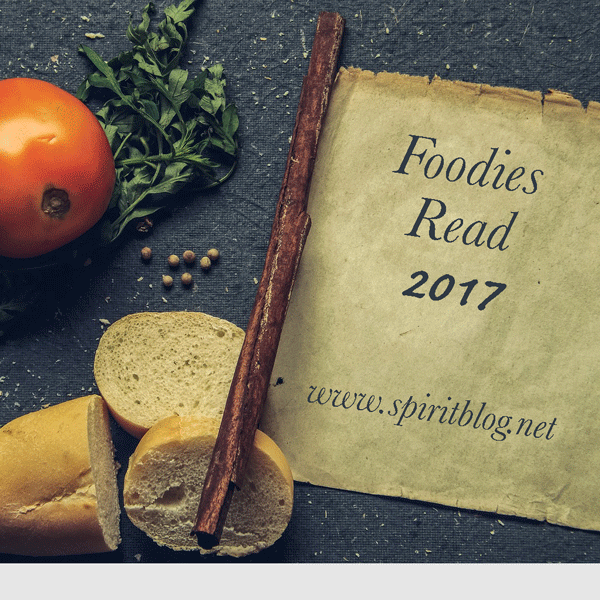 I'm also linking this post up to the Weekend Cooking event at Beth Fish Reads, a

weekly

event that is open to anyone who has any kind of food-related post to share. For more information, see the

welcome post

.
Note:
A review copy of "Fudge & Jury" and the other series books was provided to me by the publisher and TLC Book Tours. I was not compensated for this review and as always, my thoughts and opinions are my own.
You can see the stops for the rest of this TLC Book Tour and what other reviewers thought about the book here.