I am kicking of the TL

C Book Tour

for Sugar Crush: How to Reduce Inflammation, Reverse Nerve Damage, and Reclaim Good Health by Dr. Richard Jacoby and Raquel Baldelomar, released in paperback

this week

. Sugar Crush is a sobering look at how sugar negatively impacts our health, something I firmly believe. Accompanying my review on today's tour stop is a healthy (and delicious) rec

ipe, inspired by the book.
Publisher's Blurb:
Sugar = Chronic Inflammation + Trauma = Nerve Damage, Pain, and Dysfunction
Do you suffer from ailments your doctors can't seem to diagnose or help—mysterious rashes, unpredictable digestive problems, debilitating headaches, mood and energy swings, constant tiredness? If so, nerve compression is likely the cause.
What Grain Brain did for wheat, leading peripheral nerve surgeon Dr. Richard Jacoby now does for sugar, exposing the shocking truth that a diet high in sugar, processed carbohydrates, and wheat can compress and damage the peripheral nerves of the body, and lead to pain, numbness, and tingling in the hands and feet, as well as a host of related conditions, from migraines, autism, and ALS to gallbladder disease and diabetes.
Over the years, Dr. Richard Jacoby has treated thousands of patients with peripheral neuropathy. Now he shares his insights and tells the story of how he connected the dots to determine how sugar is the common denominator of many chronic diseases.
Practical and accessible, Sugar Crush breaks down our dangerous addiction to sweets, offering a unique, holistic understanding of the toll sugar and carbs take on the body, and demonstrating how dietary changes can help nerves regain their normal function dramatically.
Whether you have diabetes or prediabetes, or are even just concerned about your health, Sugar Crush is the essential guide to knowing the dangers of nerve compression. Complete with dietary advice, the latest thinking on ways to prevent and reverse neuropathy, and a quiz to help you assess your nerve damage, this book will give you the tools you need to quit sugar, calm your nerves, and reclaim well-being.
Publisher: Harper Wave (Paperback Edition

:

February 16, 201

6

)
My Review:
I was drawn to this book for

a few

reasons; first is coming from a family with diabetes (dad, brother, sister-in-law) and w

anting to learn more and protect myself

, I was also very interested in hearing more about sugar's impact on inflammation--especially as it pertains to chronic allergies, which I suffer fro

m

, and finally, I have a fascination of how what we eat impacts our

health,

doing

some work as a certified health coach

and

teaching people how to eat, cook and take care of

their health and wellness.
Sugar Crush is essentially a scared straight book for diabetics (or those on their way to diabetes) and the authors do a great job in emphatically stating why sugar is so terrible

.

I completely agree that sugar is bad and

is definitely killing America, and I do agree with a lot of what is in the book. For the most part the information, if not always in la

yman's

terms, is well explained and backed up. There are a few tangents and times when the information gets a bit

repetitive

but the message is clear--

STOP EATING SUGAR

, and it's told with enough force and reasoning that it will make a reader think twice about ordering a soda (full sugar or diet) and hopefully turn over packages and look at the nutrition labels

. Is it enough to sway a sugar addict suffering from nerve pain and damage? I hope so.
With all of the good information,

I do wish there was more help for the average person on the "what to do" portion of the book, beyond "don't eat sugar." There are charts on what foods to eat and avoid whether you are striving for a Ketogenic diet--zero to very little carbohydrates

moderate grass-fed protein, and plenty of grass-fed fats.

(Plan A in the book,

pretty drastic and rigid,

and how Dr. J

ac

oby eats) or a Blood Sugar Reduction Diet--focusing on food with low glycemic load. (Plan B in the book,

somewhat easier to maintain for the average person

and a gradual shift in reducing sugar in the diet.

)

T

here are some tips on what to eat--mainl

y

when traveling or at restaurant

s

, but I think the book could have benefited from some daily eating plan suggestions--"here's what a day

/week's

meals might look like under each plan.

"

When I have worked with people striving to eat better for health reasons, they are often bewildered and want to quit because they just can't figure out what or how to cook when the processed food goes away. I don't know that it needed recipes--it's a more medical than lifestyle book, but the more resources people have

the better. There is one point that bothered me--it is said to avoid

processed meats like bacon and deli meats due to the additives and cancerous nitrates, but then under 'suggested foods' at both a diner and hotel, it mentions bacon and eggs being a good thing to order. While

bacon

may be the lesser of evils in the sugar world when compared with chocolate chips pancakes with syrup, most diners and hotels aren't buying naturally cured bacon and even if they are, many brands of bacon also have some sort of sugar (cane syrup

or

even honey) added to them in the curing. Although

avoiding

all processed sugar is the big push here, D. Jacoby warns of diets high in sugar--including fruits, honey, starches, etc. without exercise as a pathway to Type 2 diabetes. I am not at the point where I am considering fruit only as an occasional treat but certainly see the sense in lowering the amount of added sugars and sweeteners and grains and starches overall that I consume and making sure I get plenty of healthy fats and protein in my diet

.
Personally, I was looking for more information on su

gar's impact on

allergies and sinusitis even though I knew the focus was on

diabetes

, but I found Sugar Crush to be a relatively fast and interesting read with a compelling

argument

for the role diet plays

in

our health. With family members currently battling diabetes and MS, I plan on sharing the book with them

.

For me, since I have low to moderate risk (dar

n

family history) on the nerve damage quiz, I will continue to avoid processed sugar and grains and limit less-processed sugars like honey and maple syrup somewhat, but I am unlikely to give up my fruit consumption. (Hey, I live in fruit paradise here.) ;-)
-----
Author Notes: Dr. Richard Jacoby is one of the country's leading peripheral nerve surgeons. He practices in Scottsdale, Arizona, and specializes in the treatment of peripheral neuropathy. He is one of the cofounders of the Scottsdale Healthcare Wound Management Center and is the former president of the Arizona Podiatry Association and the Association of Extremity Nerve Surgeons. He is a diplomate of the American Board of Podiatric Sur-gery and is a member of the American Podiatry Association, the Arizona Podiatry Association, and the Association of Extremity Nerve Surgeons. He lives in Scottsdale with his wife and two children.
Raque

l

Baldelomar is the founder of Quaintise, a health care marketing and advertising agency. An expert in medical marketing strategies, she helps organizations transform sick care into true health care. She is a contributing writer for Advertising Age, Modern Healthcare, and Physician magazine, and is a reporter on how digital health and wireless technology empower consumers to take control of their own health. She lives in Santa Monica, California.
-----
As I mentioned, there are some dietary suggestions in the book of what to eat (including bulletproof coffee--black coffee with grassfed butter

)

, but there is not much food inspiration or focus on

the

wonderful food you can

enjoy

on a sugar-free diet versus everything you can't have. I decided to take my inspiration from the charts of allowable food and come up with a dinner recipe that would fit within the guidelines and still taste delicious.
I am currently not eating grains and having fun with my Inspiralizer, so I knew some veggie noodles would be the base of my dish. I chose zucchini as it comes with less moderation warning than some of the starchier vegetable choices. I added grilled salmon with its healthy fats, and a pesto made with sunflower seeds, watercress and herbs for flavor. All of the ingredients for this dinner are on

the

"Primary

F

oods" chart (salmon, watercress, coconut oil, olive oil, garlic, herbs

)

or are considered low to moderately glycemic on

t

he "Secondary/Cautionary Foods" chart

(lemon, s

unflower seeds

)

.
Watercress, Herb & Sunflower Seed Pesto
By Deb, Kahakai Kitchen
(Makes 1 cup)
2 cups watercress
1/2 cup fresh herbs of choice (I used savory and basil)
2 garlic cloves
1/3 cup roasted, unsalted sunflower seeds
1/3 cup extra virgin olive oil
juice of 1 lemon, or to taste
water to thin to smooth consistency
sea salt and freshly ground black pepper to taste.
Wash watercress well and remove larger stems. Put watercress in a high-speed blender or food processor with other ingredients and blend, adding water until pesto is smooth and pureed. Taste for seasoning.
Notes/Results:
Satisfying and delicious and

simple to make

. The watercress has a peppery bite which smooths out with the sunflower seeds and partners well with the salmon. For a creamier sauce like a pesto, I like the

heavier

fettuccine-size zucchini noodles. I spiralized these

and to release some of the moisture, I

lightly salted them and let them drain for an hour, then patted

the zoodles

dry and sauteed they in a bit of

coconut

oil until al dente. If you don't have a spiralizing tool, you could make noodles with a vegetable

peeler--either using them thick or slicing them into narrow zoodles.

This dish is one I w

ould

happily eat even not trying to cut sugar and other

high

glycemic foods. I will make it again.
Sugar Crush

is my

fourth

entry for the Foodies Read 2016 event. You can
check out the February Foodies Read linkup, hosted by
by Heather at Based on a True Story, to see what everyone is reading this month.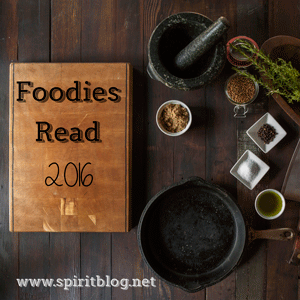 Note:
A review copy of "Sugar Crush" was provided to me by the publisher and TLC Book Tours in return for a fair and honest review. I was not compensated for this review and as always my thoughts and opinions are my own.
You can see the stops for the rest of this Book Tour and learn what other reviewers thought about the book here on the TLC Book Tour Website.