Our theme this week at I Heart Cooking Clubs is Any Way You Slice It--Ellie Krieger recipes that can be sliced. I went back to an Ellie recipe I have made and posted before (in 2008 no less), her Peanut Butter Crispy Rice Treats. I have been craving some peanut butter goodness and I also had a box of brown rice cereal that needed to be used up, along with all the other ingredients stocked in my pantry.
Ellie's recipe has dried cherries which I kept in but I also thought it would be nice to have a little bit of chocolate. Rather than stir in the chocolate chips, I thought it would add more visual appeal to drizzle melted chocolate on top and, since the peanut butter I am using is just ground up roasted peanuts with no salt, I thought a sprinkle of sea salt on top would be a nice touch. My changes are in red below.
Ellie says, "Sticky sweet squares of crispy rice make you feel like a kid again--when you are making them and when you are eating them. Here the family favorite is updated, with whole grain cereal and peanut butter and honey instead of marshmallow. I added chewy, tangy dried cherries to the mix here, but it works well with any dried fruit--or even chocolate chips."
Peanut Butter Crispy Rice Treats
Adapted Slightly from So Easy by Ellie Krieger
(Makes 12-15 Bars--depending on how you cut them) ;-)
3/4 cup chunky, natural-style peanut butter
3/4 cup honey
6 cups crispy brown rice cereal
2/3 cup chopped dried cherries
cooking spray
(I added 1/3 cup vegan dark chocolate chips, melted)
(I added a sprinkle of flaky sea salt)
Combine peanut butter and honey in a large pot; cook over medium-low heat until peanut butter and honey are melted (about 2-3 minutes). Add crispy brown rice cereal and chopped dried cherries to the mixture; stir until sticky.
Press into a 9- x 13-inch pan coated with cooking spray. (I drizzled the top of my crispy rice mixture with the melted dark chocolate and sprinkled lightly with flaky sea salt.)
Chill in refrigerator 40 minutes. Cut into 15 (2 1/2 - x 3-inch) squares; serve.
Notes/Results: These are yummy little treats--light and crispy-crunchy with good peanut flavor that contrasts well with the tart dried cherries. I find the dark chocolate and sea salt to be a great addition as it gives just enough chocolaty goodness without making them too sweet and nothing beats a little sweet & salty combo. I wasn't paying attention to Ellie's cutting directions and used a slightly smaller pan and cut them into twelve squares. These are very flexible--use almond butter or sunflower butter if there are allergy issues, use any kind of dried fruit you like--it's all good. Fast, easy, healthy for a sweet treat, and re

ally

good

--

I am sure I will be making them again.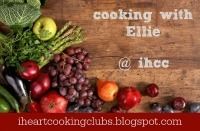 You can see what slice-able dishes everyone at IHCC made by checking out the picture links on the post.