I'm so happy to be today's stop on the TLC Book Tour for The Shape of Family by Shilpi Somaya Gowda as she has become a favorite author of mine. Accompanying my review is a recipe for a simple and tasty
Peas and Potatoes Cooked in a Bihari Style by Madhur Jaffrey, i
nspired by my reading.
Publisher's Blurb:
The Olander family embodies the modern American Dream in a globalized world. Jaya, the cultured daughter of an Indian diplomat and Keith, an ambitious banker from middle-class Philadelphia, meet in a London pub in 1988 and make a life together in suburban California. Their strong marriage is built on shared beliefs and love for their two children: headstrong teenager Karina and young son Prem, the light of their home.
But love and prosperity cannot protect them from sudden, unspeakable tragedy, and the family's foundation cracks as each member struggles to seek a way forward. Jaya finds solace in spirituality. Keith wagers on his high-powered career. Karina focuses relentlessly on her future and independence. And Prem watches helplessly as his once close-knit family drifts apart.
When Karina heads off to college for a fresh start, her search for identity and belonging leads her down a dark path, forcing her and her family to reckon with the past, the secrets they've held and the weight of their choices.
The Shape of Family is an intimate portrayal of four individuals as they grapple with what it means to be a family and how to move from a painful past into a hopeful future. It is a profoundly moving exploration of the ways we all seek belonging—in our families, our communities and ultimately, within ourselves.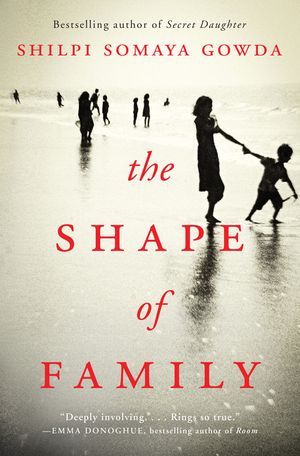 Hardcover: 352 pages
Publisher: William Morrow (March 17, 2020)
My Review:
Shilpi Somaya Gowda writes books that are about family in all of its complexities, joys, and sorrows, and tells stories that tug at the heart. I picked up her first book, The Secret Daughter and loved it, and was equally as fond of her second book, The Golden Son (see my book tour review here). Her books are smart, poignant without being maudlin, and so easy to get absorbed in. The Shape of Family tells of the Olanders, parents Jaya and Keith and their children Karina and Prem. Jaya grew up around the world with a diplomat father and a dancer mother, and Keith, an investment banker, was raised in Philadelphia. They now live in California with their two children; Karina is your typical teenager, and Prem a precocious young boy. We meet them before a tragedy strikes and when it does, this seemingly close family breaks apart from each other in their grief. Jaya finds comfort in the religious teachings of a Guru while Keith focuses on his work and the couple separates. Karina goes to college but has trouble feeling like she fits in the world and struggles with her guilt and pain, while Prem is there to watch each of them spin off and away from each other. The book is about grief and loss, and the choices made by each of the characters in absorbing an unthinkable tragedy and trying to move on. The story is beautifully and compassionately written, and it made me care about this family completely. We spend the most time with Karina, which means we get less of the other family members but I was most interested in her story, so that worked for me. I don't want to give too much away but there is a touch of magical realism that may connect with some readers more than others, but that I found gave the story a strong feeling of peace and hope. The Shape of Family touched me and I look forward to reading Gowda's next book.
-----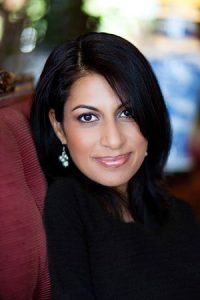 Author Notes: Shilpi Somaya Gowda was born and raised in Toronto, Canada. Her previous novels, Secret Daughter and The Golden Son became international bestsellers, selling over one million copies worldwide. She holds an MBA from Stanford University and a Bachelor's Degree in Economics from the University of North Carolina at Chapel Hill, where she was a Morehead-Cain scholar. She lives in California with her husband and children.
Find out more about Shilpi at her website, and connect with her on Facebook, Instagram, and Twitter.
-----
Food Inspiration:
There is so much food in The Shape of Family, it almost reads like a foodie novel. Mentions included: rice and vegetable curry, dosas, lamb curries, cabbage and kale, cake and ice cream, strawberries, garlic fries, beer, champagne, single malt whiskey, paan, chocolate chip cookies, ice cream sandwiches, cold cereal, hardboiled eggs seasoned with salt and red chili pepper, buttered wheat toast and a sliced banana, chocolate chip pancakes and waffles, linguini with tomato sauce, ahi dipped in soy sauce, basil on a slice of buffalo mozzarella, aged balsamic on strawberries, slow simmered Bolognese, coq au vin, linguine with clams, Thai coconut curry and jasmine rice, heal tea, frozen yogurt, crackers, pizza, salad, ginger ale, popcorn, green beans, cheese toast, dinosaur shaped chicken nuggets dipped in ketchup, apples, pears, grapes, chapatis, dal, Chinese buffet, turkey or peanut butter sandwiches, a picnic of cheese, bread, grapes and wine, roasted tomatoes blended into a rice sauce, asparagus, rhubarb, romaine lettuce, rainbow chard, roots zucchini, poblanos and other veggies, creamy mashed potatoes with chives, port-wine gravy, haricots vets with toasted almonds, candy cane beets, an eclectic Thanksgiving meal with traditional and multi-cultural dishes, burritos, roasted chicken with lemon and thyme served with carrots, parsnips, turnips, and wild rice, soft scrambled eggs and toast, grilled lamb chops, guacamole and chips, Greek yogurt with homemade spicy cinnamon granola, carrot-ginger juice, jicama slaw, vanilla milkshake, Mexican-style corn, coconut water, pan-seared halibut with a lemon-herb crust, wilted greens, and French lentils, spinach and cheese omelets, salmon, apple pie, vegetarian meals: lentil stews, tofu curries and cauliflower steaks, pepperoni pizza, and mashed potatoes with mole. Whew--that wasn't even all of it!
For my bookish dish, I wanted a quick and simple recipe with ingredients I had at home due to the state of things and limited grocery runs. I found Madhur Jaffrey's Peas and Potatoes online. I thought it was a good example of a simple dish that Jaya might cook (although it did say in the book that she wasn't using garlic, chilies, and onion based on the teachings of the Guru she follows that "they are not good for her spiritual being.") Yikes! I think those things are very good for my spiritual being. ;-) I had a 5 lb bag of Yukon Gold potatoes in my pantry (potatoes are my love language), ginger, onion and a chili in my veggie drawer, and frozen peas in my pantry so I was all set to make it.

Peas and Potatoes Cooked in a Bihari Style
Adapted from Madhur Jaffrey via NationalPost.com
(Serves 4)
2 tbsp olive, peanut or mustard oil
½ tsp whole cumin seeds
1 medium onion, chopped
1 tbsp peeled, finely grated, fresh ginger root
1 to 3 fresh, hot green chilies, finely chopped

(I used 1 jalapeño)


1/4 tsp ground turmeric
2-1/3 cups green peas, parboiled and drained if fresh, defrosted if frozen
1 medium waxy potato, boiled, peeled, diced

(I used 2 large Yukon Gold Potatoes)


1 tsp salt or to taste
freshly ground pepper
In a medium non-stick frying pan, heat oil over medium heat. Add cumin seeds and let them sizzle for 10 seconds. Add onions and stir and fry them for about five minutes, or until just softened.
Add ginger, green chilies, and turmeric and cook, stirring, for a minute. Then add peas, potatoes, salt and pepper and cook, stirring, for two to three minutes. If mixture dries out, add a little water, heat and serve
Notes/Results: A very simple but tasty dish that I used for my main dish, but would also be great as a side. The bright colors and delicious flavors made me happy. I only had one jalapeño in my veggie drawer but I left in some of the seeds and it was a good level of spice for me. The recipe says it serves 4, but I used two potatoes and had two servings as a main course. You could serve it with rice or a salad to round it out more as a meal but I was content with a bowl for dinner and another bowl for breakfast/lunch. I will happily make this again.
Linking up this Madhur Jaffrey dish with I Heart Cooking Clubs where it is Potluck this week. Actually due to the difficulty in readily finding some ingredients and making due with what you have, we at IHCC are making all of our themes in April (after we welcome our newest featured chef Julia Child next week) a "Needs, Must" theme. Just like a month of Potlucks--any recipe from any of the 20 featured chefs (some are pictured below) making due with what you have in your pantry to cook with. Stop in and join us!
I
'm also sharing it at the
Weekend Cooking
event at Beth Fish Reads, a weekly
event that is open to anyone who has any kind of food-related post to share. For more information, see the
welcome post
.
Note:
A review copy of "The Shape of Family" was provided to me by the author and the publisher Harper Collins via TLC Book Tours. I was not compensated for my review and as always, my thoughts and opinions are my own.
You can see the stops for the rest of this TLC Book Tour and what other reviewers thought about the book here
.