I am very excited to be a stop on the TLC Book Tour for The Hollows by Jess Montgomery, the second book in her Kinship series of historical mysteries. Accompanying my review are some Corn Pone cakes, topped with jam, inspired by my reading.
Publisher's Blurb:
Jess Montgomery showcases her skills as a storyteller in

The Hollows

: a powerful, big-hearted and exquisitely written follow-up to her highly acclaimed debut

The Widows

.
Ohio, 1926: For many years, the railroad track in Moonvale Tunnel has been used as a shortcut through the Appalachian hills. When an elderly woman is killed walking along the tracks, the brakeman tells tales of seeing a ghostly female figure dressed all in white.
Newly elected Sheriff Lily Ross is called on to the case to dispel the myths. With the help of her friends Marvena Whitcomb and Hildy Cooper, Lily follows the woman's trail to The Hollows–a notorious asylum–and they begin to expose dark secrets long-hidden by time and the mountains.
Series:

The Kinship Series (Book 2)
Hardcover:

352 pages
Publisher:

Minotaur Books (January 14, 2020)
My Review:
I will confess that because I enjoyed Montgomery's The Widows, (the first book in her series) so much, I was bitterly disappointed that I somehow missed being on the tour for The Hollows and made my disappointment known on TLC Book Tour's Instagram page. Thankfully, Lisa was able to get me a last-hour e-book copy and a tour date. (While not dignified, pouting can work!). ;-) It does mean no pretty book cover shots so I had to cut and paste a bit, but needs must. So with that start, in the back of my mind was whether this second book would be as good as the first and worth the fuss, and I am happy to report that it is. The Hollows turned out to be even better than The Widows, and an engrossing read. Set in 1926s, Lily Ross is still the sheriff of Kinship, Ohio (due to her husband's murder the previous year, covered in the first book) and is facing a contentious reelection, when she investigates a woman hit by a train by the Moonvale Tunnel, outside of town. When it turns out that the elderly woman was very likely pushed to her death, Lily's investigation starts unraveling long-buried secrets just as her campaign is heating up, the local mine is integrating, and a group of the Women's Ku Klux Klan (WKKK) is stirring up violence and trouble in the community.
I think what made this book so fascinating to me was the WKKK as I knew almost nothing about these women who used the suffrage movement to advance their recruitment, and used their political power, protest, and violent acts to promote traditional roles and values and preserve their white protestant rights and privileges. I ended up looking up additional information on the WKKK and its activities, prompted by this book and that is something that I love about historical fiction. Montgomery's afterward mentions that although she did not find direct evidence of the WKKK in the location the book is set, Ohio has a state with a strong presence of the group in the 1920s. I enjoyed getting back to the characters of Lily Ross and her friends Marvena and Hildy. Montgomery makes their stories compelling, and I appreciate both their strengths and the fact that they are not perfect--each struggles with the constraints put on them from the era but fights hard for her beliefs and for justice. The mystery in the book was good and kept me guessing--(although I did successfully predict some parts), and the tension built kept me not wanting to put it down until the end. If you like historical fiction and mysteries, strong female characters, and rural America in the 1920s, the Kinship series is excellent. Start with The Widows so that you get all of the back story of the characters and their relationships.
-----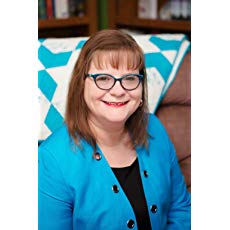 Author Notes:
Jess Montgomery is the Literary Life columnist for the Dayton Daily News and Executive Director of the renowned Antioch Writers' Workshop in Yellow Springs, Ohio. Based on early chapters of
The Widows
, Jess was awarded an Ohio Arts Council individual artist's grant for literary arts and the John E. Nance Writer-in-Residence at Thurber House in Columbus. She lives in her native state of Ohio.
You can connect with Jess on her website, Facebook, Twitter, and Instagram.
-----
Food Inspiration:
There is a good amount of food mentioned in The Hollows including pawpaws, coffee, sorghum cookies, sandwiches, a garden full of tomato, squash and pole beans, soup beans, corn pone and dried-apple stack cake, sassafras, elderberry, chamomile, and peppermint teas, canned peas, tomato aspic, bacon and buttermilk biscuits,
a sandwich of ham, butter and greens between sliced corn pone, applesauce,
scrambled eggs and fried green tomatoes, chicken and dumplings with biscuits, Campbell's tomato soup all the way from Columbus, apple cake, a bologna sandwich, vinegar pie, hot milk with a dollop of brown sugar, ham salad sandwiches, briny pickles, penny candy, a jar of licorice, biscuits and jam, string beans, sugar cookies, lemonade, fried chicken and potato salad, a breakfast of leftover corn pone and buttermilk, a taffy pull cookies and tea, strawberries, eggs, potato pierogies and a poke salad, canned late harvest tomatoes, sorghum and sugar cream pies, a meal "heavy and exotic" in an Italian restaurant in the city of "soup with meatballs and spinach, salad with black olives, lasagna rich with mozzarella cheese, garlicky breadsticks, and a dessert she's never heard of before: a slice of zuccotto, a cream-filled sponge cake topped with chocolate icing," chicken noodle soup and a roll, ham, green tomato pie, bone broth, and a four-tiered wedding cake.
Recipe Inspiration:
I ended up picking corn pone (an eggless cornbread, fried or baked) or my bookish dish as it appears throughout the book as a side, breakfast, sandwich, etc. and I had all I needed to make this simple staple food. I decided to make it into round, biscuit-like shapes (a nod to all of the biscuits in the book) and top them with jam. I had a jar of apricot jam open, so that's what I used.There were a plethora of recipes on line but I went with a really basic one from Cookstr from Southern Chef, Edna Lewis.
"The rather stiff batter would be shaped with both hands, fingers closed, to make a large egg shape — the shape of your hand. The pones were about 3 inches wide, and were placed an inch apart on a baking sheet. Baked in a fairly hot oven, when done they were golden brown in color and very crusty outside, which made them more delicious. We would cut them in half and butter them."
Corn Pone
Recipe from The Taste of Country Cooking by Edna Lewis, via Cookstr.com
(Makes 4 Pones--about 3-in wide, 1 1/2-in tall and 4-in long)
2 cups water-ground white cornmeal
1 tsp baking powder
1/2 tsp salt
1/2 cup milk
1 tbsp melted lard or butter
Sift the meal, baking powder, and salt into a mixing bowl. Add the water and milk. Stir well, add melted fat, and let the mixture rest for 10 minutes.
Then take the batter and shape it into pones by cupping both hands together and patting it into form.
Place each pone upon a baking sheet an inch apart from the others and bake in a preheated 375 degrees F oven for 15 to 20 minutes — no longer or the bread will dry out.
Notes/Results: OK, I am more a fan of the softer, bready cornbread than this tougher biscuit, but warm, buttered and topped with apricot preserves, these were a tasty little snack. I can see how some of the recipe additions like milk or bacon fat would be appealing in upping the corn pone flavor profile. Still, quick and easy and if you keep cornmeal in your pantry, a good biscuit substitute when you *need* one.
I'm sharing this post with the Weekend Cooking event at Beth Fish Reads, a weekly
event that is open to anyone who has any kind of food-related post to share. For more information, see the
welcome post
.
N
ote:
A review copy of "The Hollows" was provided to me by the author and the publisher via TLC Book Tours. I was not compensated for this review and as always, my thoughts and opinions are my own.
You can see the stops for the rest of this TLC Book Tour and what other reviewers thought about the book here.