I am a huge Questlove fan from the tonight show and I was so excited to see his new cookbook, Mixtape Potluck as one of Abrams Books fall lineup and to receive a copy to review as part of #AbramsDinnerParty. I love the party vibe of this cookbook where Questlove features recipes from from his friends and along with the songs he selects for them. I picked the Chocolate Chili recipe by Maya Rudolph to accompany my review.
I have no illusions that I am in any way cool enough to hang out with Questlove but I would love too and
Mixtape Potluck
is likely the next best thing and makes me feel cooler just by having a copy. ;-) It mixes music and food so well with a forward by Martha Stewart and an introduction to Questlove's dinner parties or what started as "
food salons
" where he brought in chefs to cook dishes that could be eaten partly standing up for his guests from a of different worlds. An epiphany at one food salon had him deciding to create an event where the guests would bring recipes and he would give them a song inspired by what he knew about them. His goal is a book for parties as well as one for quiet family meals but in his hope is that the food is communal and shared.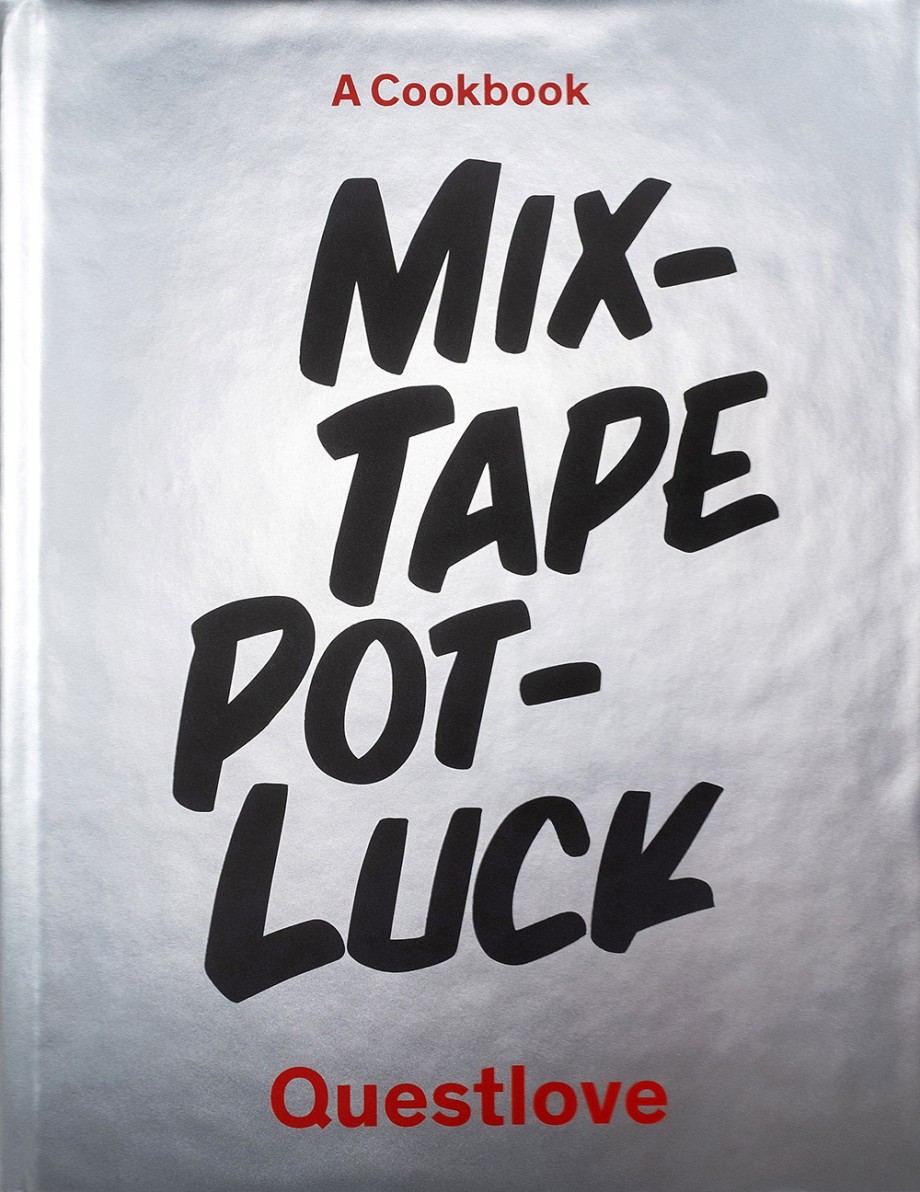 Imprint:

Abrams Image

Publication Date:

October 15, 2019
Recipes are grouped by Arrival Snacks, Start It Up Small, Bring It Right On Over! Soups and Stews, Right There Next to it: Sides and Salads, Veg Friends You Wanna Impress, Carb Jonez, Meat Eaters, Bittersweet Ending, Raise a Glass, and After the Party: Late Night Snacks. There is an afterword about hosting a potluck, Questlove's Mixtape Potluck Playlist ,and tips for creating a good playlist. Finally there is an index of the dishes, contributors, and key ingredients. The food photos are artsy with a retro vibe and there are great party illustrations on the end papers. Although there are chapters of meat and seafood recipes, there is a great presence of veg-friendly recipes too--something that I look for in the cookbook I choose.
Mixtape Potluck
would be a great gift for yourself and your foodie friends, music lovers, and art and design fans. I had a lot of fun reading it and finding recipes to make--the hardest part was choosing one for my review.
I tagged lots of recipes to make including the Pimento Cheese Dip with Biscuit Crackers by Carla Hall, Plantains Two Ways by Fred Armisen, Chickpea and Spinach Tapas by Padma Lakshmi, Sweet Potato Kimchi Pancake by Nyesha Arrington, New Orleans-Style BBQ Shrimp and Burrata Toast by Kelly Fields, Shep's Maui Onion and Ginger Soup by Shep Gordon, South Philly Seafood Stew by Tariq Trotter, Bok Choy and Cucumber Salad by Zooey Deschanel, Peppers a'la Famiglia Tomei by Marisa Tomei, Herbed Shrimp Salad with Fried Green Tomatoes by Edouardo Jordan, Easy Veggie Party Quiche (That Will Blow Everyone's Minds) by Amy Poehler, Spinach Pie by Natalie Portman, Whole Roasted Cauliflower with Two Sauces by Jessica Seifeld, Old Dirty Basmati Rice by Tanya Holland, Coconut Jollof Rice by Yvonne Orji, Blueberry Crunch Cake by Jessica Biel, Ginger Beer by Thelma Gordon, Bourbon Raspberry Tea by Gabrielle Union, and Mac and Cheese by Q-Tip.
Maya Rudolph's Chocolate Chili was the recipe that called to me the most. (OK Carla Hall's Pimento Cheese Dip with Biscuit Crackers was close!) I was immediately intrigued by the idea of a simple vegetarian chili served with chocolate chips and Fritos (plus some other yummy toppings). I have made chili with cocoa powder, with beer, and with coffee but just sprinkling chocolate chips on top seemed like a fun and bold move. I stuck to the recipe with the exception of using two cans of pinto beans instead of white beans (I didn't look closely at my pantry bean collection) and adding pickled onions to my topping list. I love the extra hit of acidity. I also cooked it on the stove as I have a small kitchen and sometimes getting the slow cooker down from the shelf and wiping it out to use is more trouble than it's worth. She has notes for stovetop and oven preparation below.
Questlove says, "If I didn't love Maya enough already, I fell head over heels in love with her all over again because of her chili. Anyone who combines chocolate chips and Fritos is a hero. Be a hero yourself. Bring her dish to your next Potluck."
Questlove's song pick for Maya is Herbet Harper's Free Press News by Muddy Waters:
Chocolate Chili
Recipe by Maya Rudolph via Mixtape Potluck by Questlove
(Serves 8-10)
Prep Time: 20 minutes
Cook Time: 2 1/2 hours
1 Tbsp vegetable oil
1 large yellow onion, diced
2 cloves garlic, finely chopped
2 Tbsp chili powder\
1 Tbsp ground cumin
2 bay leaves
1 (15 oz) can kidney beans, drained & rinsed
1 (15 oz) can pinto beans, drained & rinsed
1 (15 oz) can black beans, drained & rinsed
1 (15 oz) can white beans, drained & rinsed
1 (28 oz) can diced tomatoes with juices
2 (15 oz) cans tomato juice
2 tsp kosher salt + more to taste
For Serving:
-chocolate chips
-plain Greek yogurt
-grated cheddar cheese
-sliced scallions
-Fritos
-lime wedges
-Cholula or another hot sauce
Heat 1 tablespoon of the oil in a large Dutch oven or other heavy-bottomed large pot over medium heat until simmering. Add the onion and cook for about 3 minutes, until translucent. Add the garlic and cook for 1 minute, or until fragrant. Transfer to a slow cooker. If you don't have a slow cooker you can easily make this dish on your stovetop or in your oven (see Note).
Add the remaining ingredients to the slow cooker, stir well, cover, and cook on low for two hours.
Set out the chocolate chips and all other garnishments and let guests help themselves.
Note: For stovetop: Once all the ingredients are added to the Dutch oven, cook on low heat for about an hour, stirring occasionally to ensure nothing is sticking.
For oven: Preheat oven to 250 degrees F. In an oven safe-pot, cook the chili uncovered for 1 to 1 1/2 hours, stirring occasionally to ensure nothing is sticking.
Notes/Results: An easy and very tasty chili with plenty of flavor from the chili powder and cumin. Of course the magic happens in the toppings. I used Guittard Extra Dark Chips and the combination with the yogurt, lime, shredded and salty Fritos is delicious. I think darker or bittersweet chocolate is the way to go here. A fun and satisfying chili that I will happily make again. (And I am also stealing the chocolate chip topping idea for future chilis--trust me, give it a try.)
Many thank to Abrams Books and #AbramsDinner Party for this very cool new cookbook for my collection. This post is sponsored by Abrams Books, as part of the Abrams Dinner Party however my thoughts, feelings and experiences cooking from it are my own. #sponsored
I''m also sharing this post with the Weekend Cooking event at Beth Fish Reads, a weekly

event that is open to anyone who has any kind of food-related post to share. For more information, see the

welcome post

.
I'm also linking up to
this month's Foodies Read. You can check out November's Foodies Read linkup, hosted by Heather at Based on a True Story, to see what everyone is reading this month.
Now let's look into the Souper Sundays kitchen and see who is here.
Tina of Squirrel Head Manor brings Sink Soup (Not the Lizard!) this week and says, "
This lovely book called The Complete Irish Pub cookbook has many good recipes as well as photos of the Irish countryside. It's fun just to look through and will make you wish for a trip to the Emerald Isles.
It's a quick soup to make if you have some chicken already cooked. We happened to have leftover rotisserie so I shredded two thighs for the soup."
Debra of Eliot's Eats shares Persian Noodle Soup inspired by The Temporary Bride and says, "
Almost all of the ingredients could be prepped the day ahead to make meal time easier. Soaking the beans overnight and chopping and sautéing the onions are the hardest part to this soup. I halved the original recipe and this still made four hearty servings. I heated up some of the leftovers for us and added a bit of chicken stock to stretch it a bit. It was better the second day."
Thanks to Tina and Debra for joining in this week!

(If you aren't familiar with Souper Sundays, you can read about of the origins of it here.
If you would like to join in Souper (Soup, Salad, and Sammie) Sundays, I would love to have you! Here's how...



To join in this week's Souper Sunday's linkup with your soup, salad or sandwich:
Link up your soup (stew, chili, soupy curries, etc. are fine), salad, or sandwich dish, (preferably one from the current week or month--but we'll take older posts too) on the picture link below and leave a comment on this post so I am sure not to miss you.

Also please see below for what to do on your blog post that you link up to Souper Sundays in order to be included in the weekly round-up.
and
On your entry post (on your blog):
Mention Souper

(Soup, Salad & Sammies)

Sundays at Kahakai Kitchen and add a link back to this post. (Not to be a pain but it's polite and only fair to link back to events you link up at--so if you link a post up here without linking back to this post or my blog on your post, it will be removed.)
You are welcome to add the Souper Sundays logo to your post and/or blog (

completely optional

).
Have a happy, healthy week!