Happy Aloha Friday! To celebrate the weekend I have a review of a gorgeous new cookbook, The Art of Escapism Cooking by Mandy Lee for TLC Book Tours. Paired with my review is the delectable Poached Eggs with Miso-Browned Butter Hollandaise from the book.
Publisher's Blurb:
In this inventive and intensely personal cookbook, the blogger behind the award-winning ladyandpups.com reveals how she cooked her way out of an untenable living situation, with more than eighty delicious Asian-inspired dishes with influences from around the world.
For Mandy Lee, moving from New York to Beijing for her husband's work wasn't an exotic adventure—it was an ordeal. Growing increasingly exasperated with China's stifling political climate, its infuriating bureaucracy, and its choking pollution, she began "an unapologetically angry food blog," LadyandPups.com, to keep herself from going mad.
Mandy cooked because it channeled her focus, helping her cope with the difficult circumstances of her new life. She filled her kitchen with warming spices and sticky sauces while she shared recipes and observations about life, food, and cooking in her blog posts. Born in Taiwan and raised in Vancouver, she came of age food-wise in New York City and now lives in Hong Kong; her food reflects the many places she's lived. This entertaining and unusual cookbook is the story of how "escapism cooking"—using the kitchen as a refuge and ultimately creating delicious and satisfying meals—helped her crawl out of her expat limbo.
Illustrated with her own gorgeous photography, The Art of Escapism Cooking provides that comforting feeling a good meal provides. Here are dozens of innovative and often Asian-influenced recipes, divided into categories by mood and occasion, such as:
For Getting Out of Bed
Poached Eggs with Miso-Browned Butter Hollandaise
Crackling Pancake with Caramel-Clustered Blueberries and Balsamic Honey
For Slurping
Buffalo Fried Chicken Ramen
Crab Bisque Tsukemen
For a Crowd
Cumin Lamb Rib Burger
Italian Meatballs in Taiwanese Rouzao Sauce
For Snacking
Wontons with Shrimp and Chili Coconut Oil and Herbed Yogurt
Spicy Chickpea Poppers
For Sweets
Mochi with Peanut Brown Sugar and Ice Cream
Recycled Nuts and Caramel Apple Cake
Every dish is sublimely delicious and worth the time and attention required. Mandy also demystifies unfamiliar ingredients and where to find them, shares her favorite tools, and provides instructions for essential condiments for the pantry and fridge, such as Ramen Seasoning, Fried Chili Verde Sauce, Caramelized Onion Powder Paste, and her Ultimate Sichuan Chile Oil.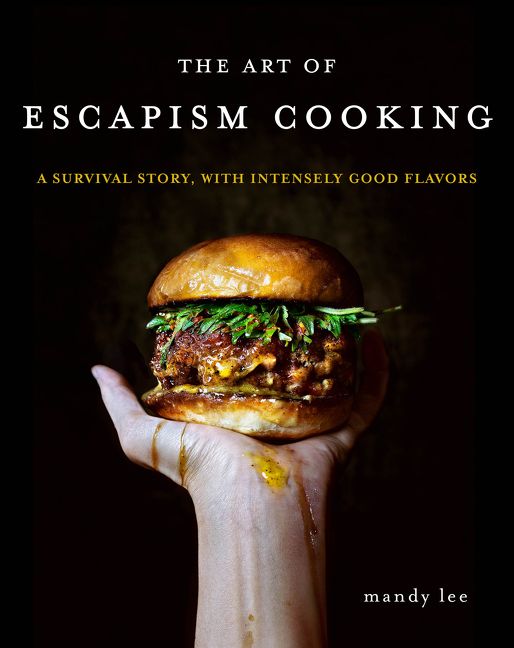 Hardcover: 400 pages
Publisher: William Morrow Cookbooks (October 15, 2019)
My Review:
I love cookbooks best when they tell me stories about the cook and about the recipes inside and The Art of Escapism Cooking does that well. From the chapter titles to the descriptions of each recipe, Mandy Lee's voice is strong and her words passionate and evocative. I was not familiar with her blog (Lady & Pups) but I spent some time on there while paging through her cookbook and have a feeling I will visit often. The book is gorgeous--the photography, by Lee herself, is stunning and had even the non-meat-eating side of me craving a burger, duck, and pork belly. It does have a definite meat focus to it but there are enough options that I found plenty to be inspired by. Lee was born in Taiwan, raised in Vancouver BC and "slow-aged" in New York City until she moved to Beijing with her husband. She now lives in Hong Kong and her cooking style reflects a mix of cultures from her background, as well as the places she has traveled. It's an eclectic and intriguing group of dishes (there are even homemade dog treats) and likely to drive people without well-stocked Asian markets or who don't order ingredients online a bit crazy. She does do an excellent job explaining her pantry of ingredients in the beginning of the book and gives some great make-your-own condiments (more detail on that below), but many of those condiments, sauces and seasonings also have ingredients that may not be readily available to some. I am lucky that in Hawaii most things are easily obtainable and I already stock a good portion of her pantry items in my own cupboards.
For Lee, cooking is an escape--particularly when she was living in China and frustrated with her life there. I like to escape into cooking too, but one of the big differences between us is that I am often a lazy cook and like simple but delicious recipes full of flavor, while Lee's recipes for the most part are for cooks who like fully immersing themselves in the details of the recipes. The ingredient lists are often long and there are many steps. In some recipes, the steps seem to have steps. Even the section titled "Shit I Eat When I'm By Myself" has more complexity than I like on a weeknight after a long day at work or a weekend spent recovering from a long week. That, and the meat emphasis will end up making The Art of Escapism Cooking a book that I pull out to read and for inspiration rather than one I would rely on for regular meals. I will use it mainly for that condiments section, various components of the dishes, and for flavor inspiration (oh yeah, and for the Miso-Browned Butter Hollandaise Sauce recipe that I would lick off a stick). ;-P There is nothing wrong with having a cookbook for special occasions and inspiration, and I am lucky to add this stunning volume to my cookbook collection.
-----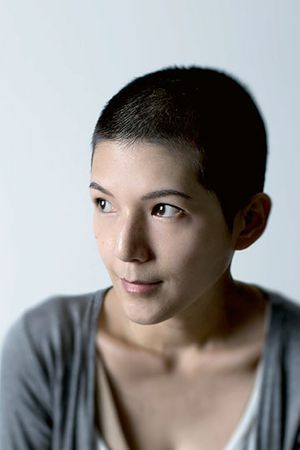 Author Notes: Mandy Lee founded her award-winning "angry food blog," Lady and Pups, in 2012 out of sheer frustration after moving from New York City to Beijing. She and her blog have been featured in numerous publications and sites, including Saveur, FoodandWine.com, CNN.com, Yahoo, Food52, and WashingtonPost.com. She currently lives in Hong Kong with her husband and pups.
Check out her blog, Lady and Pups, and follow her on Instagram, Facebook, Twitter, and Pinterest.
-----
The recipes I most wanted to make were for the seasonings like the Ramen Seasoning in it's regular and vegan version, the Makrut Lime Leaf Oil (a perfect use for the lime leaves I buy when I see them at the market which are marked kaffir but the same thing. Apparently Makrut is the politically correct name--see this article.), Garlic Confit Sauce, Fried Chile Verde Sauce, Caramelized Onion Powdered Paste, Sweet Soy Sauce, and Fried Garlic Powder. Also the Semi-Instant Laksa Mix, Spicy Chickpea Poppers, Black Hummus, Mapo Tofummus, and Chongqing Melted Cheese all look do-able and delicious.
Between the weather and my schedule, I just didn't have the time or inclination to fuss over recipes, and so as I went through The Art of Escapism Cooking, I looked for something relatively easy to make. At first it was going to be a seasoning or a sauce but then I read the description for Poached Eggs with Miso-Browned Butter Sauce and it became stuck in my head with it hitting on so many of my food favorites like breakfast, miso, eggs with runny yolks, capers, pickled vegetables (in this case shallots), browned butter and toasted bread. It also had fewer steps than most of the other recipes. I also had all of the ingredients except the shallots and bread so it became my Sunday morning project.
I'm not going to print the recipe as the sublime Miso-Browned Butter Sauce is worth purchasing the book yourself, but here is a link to Mandy Lee's Burnt/Browned Butter Hollandaise on her Lady & Pups site. Add 2 1/2 Tbsp of medium/yellow miso paste and a pinch of sugar and a little more lemon juice and you have it. For the pickled shallots, Lee gives a pantry recipe for Pickled Chilies or says to use whatever jarred chile pickle juice you have on hand--like jalapeño juice which I just happened to have. Lee also suggests using an immersion blender for the sauce to limit the splatters of ingredients in a blender--a good suggestion but I used my Vitamix and had no issues.
Notes/Results: The Miso-Browned Butter Hollandaise Sauce will become a regular in my kitchen as in addition to eggs, I can see it drizzled over veggies and topping a piece of cooked fish. I can also see myself eating it straight from the bender cup. ;-) It is that perfect umami, especially with the capers and shallots on top. I put two eggs on my toast, drenched the whole thing in the sauce and had an amazing Sunday brunch that made cleaning the several pans more than worth it. I will happily make it again.
I'm sharing this post with the Weekend Cooking event at Beth Fish Reads, a

weekly

event that is open to anyone who has any kind of food-related post to share. For more information, see the

welcome post

.
Note: A review copy of "The Art of Escapism Cooing" was provided to me by the author and the publisher Harper Collins, via TLC Book Tours. I was not compensated for my review and as always, my thoughts and opinions are my own.
You can see the other stops for this TLC Book Tour and what other bloggers thought of the book here.