This is our last week cooking with Jacques
Pépin at I Heart Cooking Clubs--at least on a weekly basis. I'm sending him off with two recipes from his More Fast Food My Way; Middle Eastern Couscous and a Crispy Onion-Crusted Mahi Mahi.
I first made and posted the couscous back in September 2008 and I have made it a few times since, loving the color, aroma, and flavor from the saffron. I like it as a side dish for fish and had some local mahi mahi to use up this weekend. I liked the idea of crumbing the mahi with pulverized canned or packaged french-fried onions before pan-frying it, and took that preparation from Jacques's Onion-Crusted Sole with Anchovy Butter.
It's always fun to go back and remember the recipes I have cooked with the current IHCC chef and choose the ones that stand out as my favorites.
I am afraid that I did not do Jacques Pépin justice this past six months in quantity of recipes. Much of the time was tough personally for me, I took a blogging break, and I was not in the mood to spend much time in the kitchen so I picked mostly quick and easy dishes to make. I thought I would only be able to come up with my top five recipes, but actually when I went back and looked, I had ten recipes that I really liked. Most of these are pretty simple to make and all had a masterful combination of flavors and ingredients that I have come to associate with Chef
Pépin

.
My Top Ten Favorite Jacques
Pépin Recipes
Middle Eastern Couscous with Saffron
Adapted From Jacques
Pépin:

More Fast Food My Way
(Serves 4)
2/3 cup finely chopped onion
About 1 tsp crushed saffron pistils
1 1/2 cups chicken stock (homemade or low-salt prepared) (I used veggie stock)
1/4 tsp freshly ground black pepper
4 sprigs fresh tarragon or parsley for garnish (I used fresh cilantro)
Heat the oil in a medium saucepan over high heat and add the onion, pumpkin seeds and saffron. Cook for 1 to 2 minutes, then add the couscous and mix well.
Add the chicken stock, salt and pepper, mix well, and bring to a boil. Reduce the heat to very low, cover, and cook for 10 minutes. Uncover and cook over medium heat, stirring occasionally, for 2-3 minutes longer to dry the grains and make them fluffy.
Serve garnished with the herb sprigs.
-----
Onion-Crusted Mahi Mahi
Adapted From Jacques
Pépin:

More Fast Food My Way
(Makes 4 Servings)
2 large eggs
4 mahi mahi fillets (about 6 oz each), or fish of your choice
1/2 tsp salt
6-oz french-fried onions (I used garlic black pepper onions)
3 Tbsp canola or peanut oil
1 lemon, quartered
Beat the eggs in a shallow bowl until smooth and well combined. Pat the fish fillets with paper towels to dry them thoroughly. Sprinkle both sides with salt. Put the fried onions in a food processor and process until smooth and powdery. Transfer the onion mixture to a large plate.
Heat the oil in a large nonstick skillet. Dip the fish fillets in the eggs and then into the powdered onion. Cook on each side, until well-browned and just barley cooked in the center (about 2-3 minutes per side depending on the thickness of your fish), turning carefully with a large spatula. Serve with lemon.
Notes/Results:
The couscous remains one of my go-to side dishes. It is quick and easy to make but looks elegant, exotic, and pretty on the plate. The onion coating on the mahi mahi added so much flavor (I used a package of garlic and black pepper fried onions) and the fish was moist and tender. I didn't make the anchovy butter that accompanied the fish recipe this time as I felt the couscous and fish pairing didn't need it, but I will next time. An easy dinner and a great way to end six months with Chef
Pépin.
I am linking this post up at IHCC where you can see how everyone said "Au Revoir Chef
Pépin!" by checking out the picture links on the post.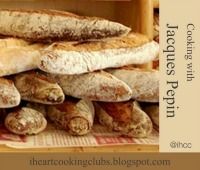 We will be spending the next six months at I Heart Cooking Clubs exploring healthy and delicious recipes with cookbook author, registered dietitian, and healthy cooking expert, Ellie Krieger--so come join us!